While Brooks Koepka was settling into life as the new world number one in golf following his PGA Championship victory, Irish caddie Ricky Elliott admitted that it was a dream come through to be part of the journey.
Portrush native Elliott has been on the bag for the American since the PGA Championship at Oak Hill in 2013 before joining Koepka on the European Challenge Tour.
And six years on and Koepka has just made history to become the first golfer to win back-to-back US Open and PGA Championship titles following his two-shot victory at Bethpage Black on Sunday night.
Koepka proved to be a wire-to-wire champion at the New York event, as his opening seven-under-par 63 on Thursday was followed up by an equally impressive 65 on Friday, before the American shot a level-par round on Saturday to enjoy a seven-shot lead heading into Sunday's finale.
But the victory was not so straightforward, as Dustin Johnson had gained three shots on the front nine on Sunday, before Koepka hit four straight bogeys on the back nine with the lead a mere one shot as his opponent set off up the 16th hole.
Back-to-back Johnson bogeys afforded Koepka a modicum of breathing space for his final stretch, and despite bogeying the penultimate hole, the champion took a two-shot lead down 18 and was able to play a cautious lay-up from the bunker before getting up and down to win by two.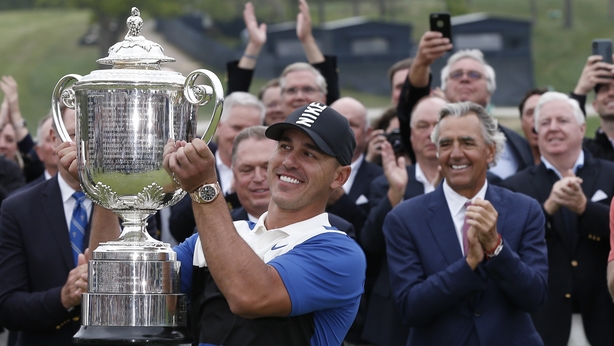 "The holes were just so difficult," said Elliott, speaking to RTE Sport's Greg Allen after the win, in relation to the testing, windy conditions on the back nine.
"Eleven was [like] a par five, nearly. 12 was a par five, with a 40mph wind coming in off the left, which meant he had to draw it. 13 was about a par six!
"Those holes were so difficult coming in, so he didn't have to do too much wrong to bogey them."
Maintaining a positive frame of mind and saying all the right things to Koepka would have been high priority for Elliott as the lead was diminishing throughout that incredible back nine.
"I kept reiterating, 'we're still in the lead, we're still in the lead. He still has some difficult holes to play'.
"Then he birdied 15! And that was like, oh no.
"But we always had the lead. Maybe, for some reason, if he had drawn level, I couldn't use that any more.
"So when DJ bogeyed 16 and Brooks hit a good drive, it was only a matter of making a few pars coming in."
"Absolutely, by a mile," admitted Elliott when asked was that last hour and a half the most trying part of his caddying career.
"It was so difficult. It is such a difficult course when it's calm and 75 degrees, so then it got colder, windy, the light was going down and the greens were still flying."
Elliott admitted that he pondered the unimaginable as Johnson got nearer and was sure that the thoughts were also going through his employer's mind.
"It crept into my mind, and I'm sure that it was very much in Brooks' mind. He was going to make history either way, so fortunately he made it the right way. But a seven-shot lead with Dustin Johnson running you down can disappear very quickly."
And while Elliott would not concur that it was the most enjoyable of Koepka's four major wins, he did concede that it was the most satisfying.
"It is probably the most satisfying. It is unbelievable. To get over the line in four out of eight majors that he has played is something that no one saw coming, not even Brooks.
"It's incredible. He is one of my best friends as well, so just to see him do it and to be able to walk up the last hole in majors, and being right beside the now number one player in the world is a dream come through really."