JP McManus toasted a "special" day in sport as the dust settled on his great friend Tiger Woods' fairytale win at the Masters, and said the 15-time Major winner has an aura around him that opponents simply cannot live with.
Woods stepped on the gas when it really matter to close out a one-shot victory at Augusta, 3,954 days after his last Major success at the US Open in 2008.
It was the ultimate redemption, the most improbable of comebacks just two years after the 43-year-old could barely walk due to chronic injuries. His much-publicised personal problems heightened the perception that his race had run, but he has defied all the odds to taste glory once again.
Renowned businessman and racehorse owner McManus has enjoyed a long and close friendship with the American. He savoured every second.
"I could feel the adrenaline running through me," he told RTÉ 2fm's Game On.
"It was something else. No matter how short the putt [to win it] was, you were always worried it might not happen! But knowing Tiger, it had to happen.
"This was one of the iconic moments in sport. People will remember where they were when Tiger won the Masters in 2019. It was the most remarkable comeback for a man who was beset by injuries; his strength of character and mind to do that, after being in the wilderness, or out of the limelight I should say, for a long time.
"He made some poor shots - not that many - but he never followed a poor shot with a mistake.
"It's just so special, and it's so good for golf."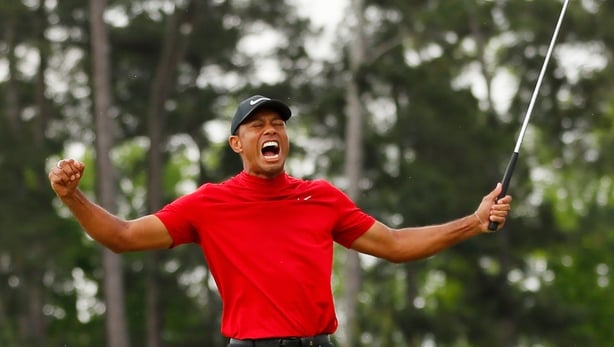 Elaborating on Woods's unique talents, McManus said: "He has such a great strength of mind. He knows where the winning post is as well. I think people playing with him out there get a little intimidated to see Tiger's name on the leaderboard, to play with Tiger.
"I think he broke down Francesco [Molinari] eventually. You have to stay with him. Tiger is just different.
"You often look at events and you see who plays with Tiger. They play with him the first two days, and you generally find in the third round they fall apart, because they've probably played well when they're playing with Tiger, but when they get away from him and have to play without him the next day they find it very difficult to raise their game. It affects them."
Woods will play in the JP McManus Pro-Am event at Adare Manor for the fourth time in July, 2020.
He confirmed his participation last August, capping a memorable week for proud Limerick man McManus - who had just witnessed his native county end a 45-year wait for the Liam MacCarthy.
"The planning has been going on for a while," McManus added of the tournament. "It's exciting to have Tiger. He announced he was playing after Limerick won the All-Ireland which made it a great week for us. A lot of the other top players in the world have committed to coming. It's exciting times."
And exciting times too for the Treaty County, who have brought their sizzling form from last summer into this year, lifting the league title over the spring and looking in good shape to defend their All-Ireland crown.
"They're an outstanding bunch of lads and they have a great coach, a great manager, a great trainer. They are very committed.
"They're like one big family and long may it last."