Shane Lowry has backed Rory McIlroy's decision to skip this year's Irish Open and believes a change of date is needed to attract more players.
Lowry, who met McIlroy last week and got insight into the thought behind his call, said that the four-time major winner owes nothing to his home tournament.
The Offaly man told Game On on 2fm: "I think people have short memories, especially in sport. I'm not sure there would be an Irish Open if it wasn't for Rory so I'm not sure he owes the tournament anything. There was one really bad article in particular.
"Every player and every Irish player involved in golf in Ireland that actually knows something about golf in Ireland won't have a bad word to say about him, and not playing the Irish Open. I had dinner with him last week and he explained it to me.
"The Open Championship is the biggest tournament he'll play, being in Portrush, and he feels like he needs to prepare for that.
"I definitely won't have anything to say about him. It'll still be a great tournament in Lahinch and I'm certainly looking forward to going there."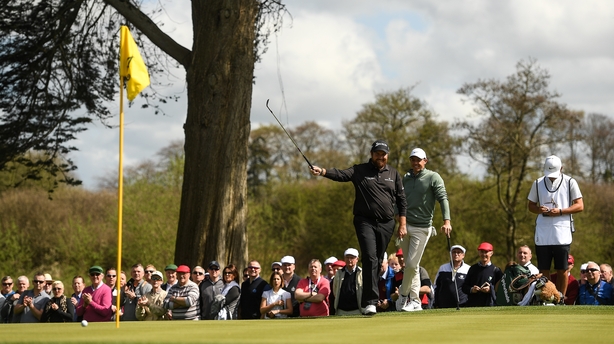 The build-up to the Open Championship sees the Irish Open (4-7 July) quickly followed by the Scottish equivalent (11-14), which Lowry feels that players are wary of, in case it is a strain two weeks before the major.
He revealed that the event doesn't suit the schedule for many players.
Lowry added: "The Irish Open isn't an ideal date for me either. Playing two weeks of links golf before the Open Championship, where you don't know what weather you are going to get because it could be wind and rain, and all of a sudden you're going into the Open Championship a bit jaded and not really feeling it.
"I personally would like to see a change of date. I think there is a great opportunity for them to have it just before Wentworth in September. That'd be a great date.
"You'd get some guys over to play two Rolex Series events in a row and then the Dunhill Links after. I'm not one to comment on whether it'll be a permanent thing for Rory.
"I highly doubt it. It's not an ideal date. If I was an American player coming over to play in the Open, I'd play in the Scottish Open and then the Open the week after.
"I wouldn't play the Irish Open because it's not a great date in the schedule."