Leona Maguire has revealed a chat with Padraig Harrington reinforced her commitment to education and - ultimately - professional golf as she reflected on another year in which she's made huge forward strides.
The 24-year-old Cavan woman finally turned pro last June after an amateur career laden with accolades and trophies.
Three years running, between 2015 and 2017, she collected the Mark H McCormack Medal as the top women's player in the World Amateur Golf Ranking.
But she held off on the move up to pro status to complete her degree at Duke University in North Carolina. 
"I've never been one to half do anything," she said of her degree when speaking to RTÉ Sport's Greg Allen.
"I didn't want to to leave that unfinished. I obviously could have spent less time studying [and more playing golf] but it was something that was equally important to me.
"I remember talking to Padraig Harrington at an awards ceremony quite a while ago and he said the dedication and the hard work that would go into completing my studies would be the same as what it would take in the professional game. Padraig has a wise head on his shoulders as we know! 
"For me it's about doing everything the best I can in whatever I choose to do. That was a good use of my time. My four years in Duke were very well spent. I wouldn't change it for the world."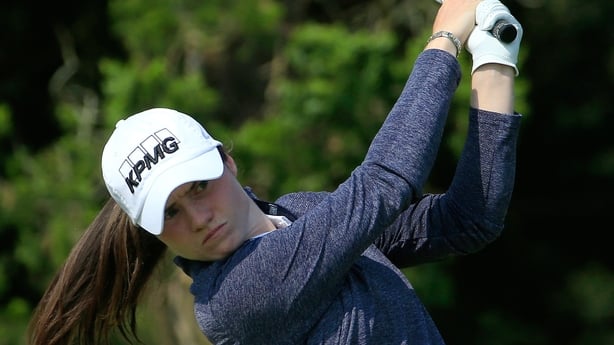 When she did turn professional, Maguire hit the ground running. A hugely impressive tied 15th finish at the ShopRite LPGA Classic was a great start.
In October, she suffered frustration at the LPGA Tour Q-School in Florida last month, missing the second stage of qualifying by one shot.
She'll next try to earn a European Tour card at the Tour School finals in Morocco in December and is sticking to the the processes that have served her so well thus far. 
"To turn pro in June, it was an exciting moment for everybody involved in my journey so far," Maguire added.
"I always said I'd turn pro when I was ready. I sort of felt like I had all my ducks in a row. 
"I'll have the entire year to plan out. There'll be a few gaps at the start of the year. I'll hopefully fill them with some LPGA or European Tour invites and see how they go, try and get my world ranking down as low as I can. 
"There's always room to improve. I need to get a bit longer off the tee and get my putting a bit better. That's the big difference between the players at the top of the leaderboard every week and the ones further down.
"I pick my targets and try to play my golf. There's a lot of ways of doing it - and you really have to stick to your own game. 
"I'm still playing the same game, it's still just me on a golf course. People expect me to do things I did in the amateur game in the professional game. I set very high expectations for myself, that's really all I'm worried about."