The stage is set and what a stage it is.
The Ryder Cup grows ever bigger as an event and at 7.10am tomorrow as Brooks Koepka and Tony Finau for America and Justin Rose and Jon Rahm for Europe prepare to hit the tee shots in the opening fourball of the 42nd Ryder Cup, they will surely feel as nervous as they ever have on a golf course.
The crowds will be many deep all the way to the green and the giant stand behind the tee that holds almost 7,000 spectators will be raucous as the players are introduced and fall deathly silent as the players take a final look down the fairway where they hope their ball will land moments later.
The pairings are now known for the opening morning fourballs at the Ryder Cup. @gregallenRTE gives us the lowdown pic.twitter.com/PVPN9DgqAS

— RTEgolf (@RTEgolf) September 27, 2018
Accuracy off the tee is paramount at Le Golf National and even though many will take an iron off the first, they will all be hugely relieved to find the short grass and set up a relatively easy approach to the opening green.
As American skipper Jim Furyk put it in his press conference after the opening ceremony, "the guys are as nervous as they are ever going to be and they are excited.
"It's the ultimate competition. They get to test their games under all of those conditions, which is all any sportsman ever really wants. It is to be given that stage and that opportunity."
Furyk's European counterpart, Thomas Bjorn, had similar sentiments. "I've always said one thing about the game of golf: Players, they stand up and they are counted for what they do in the greatest events in the world.
"But legends are made in this event. It's an opportunity to go out there and be the best you can be on a grand stage."
Match 1 (7.10am)
Brooks Koepka and Tony Finay vs Justin Rose and John Rahm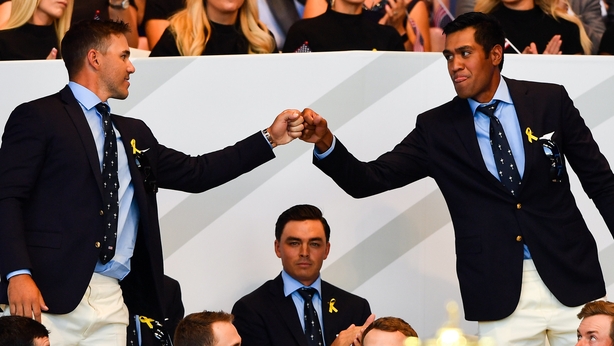 Furyk: "I think we love the chemistry there. Both guys really talk about team, really talk about the energy of their partner.
"Both explosive without a doubt, but just they are excited with the opportunity to go number one in that first group. They both really jumped on it, saw me out in practise today and made a beeline for me and said they would like that opportunity."
Bjorn: "Jon's a guy that wants to be out there. He wants to have a responsibility. It's not every rookie in the world, you take and put them on the first tee in the first match of The Ryder Cup, but this one is pretty special, and not talking about him as this week, but just in general.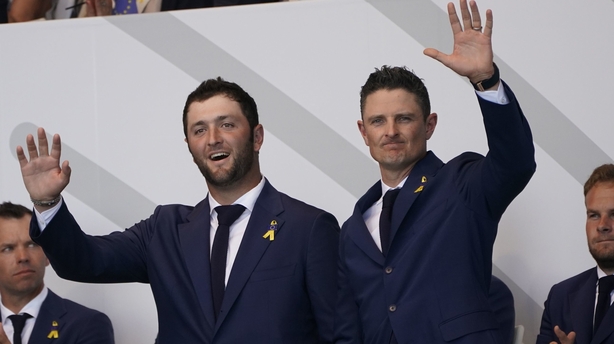 "He's just a pure quality and competitive, and just wants to be out there.
"So we'll send him out tomorrow morning with probably one of the best players or the best player in the world, arguably, at the moment. That's a pretty good place to be for a rookie. I would look forward to it if it was me"
Match 2 (7.25am)
Dustin Johnson and Rickie Fowler vs Rory McIlroy and Thorbjorn Olesen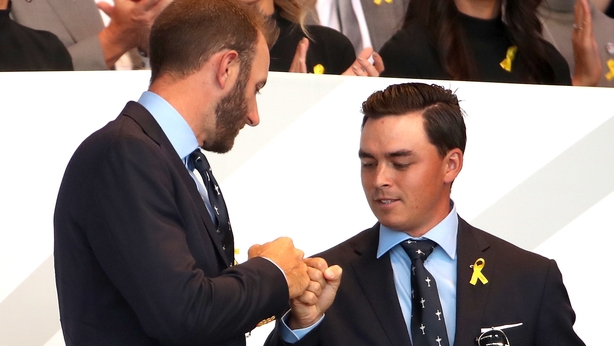 Johnson: "I'm very excited. We practised together the last three days. We're good buddies and we always spend a lot of time at home or even on the road. So we know each other pretty well.
"I think we're definitely excited about playing with each other. He's a great player, and I'm definitely excited to be his partner."
Bjorn: "Well, they both wanted to play with each other. That's a good start. And then if you asked the guys in our team, "Who do you want to play with," I mean, Rory is not far away from most of their lips.
"It's a pretty easy choice. But they get on really well, and they spend a lot of time together.
"The thing about Thorbjørn is that a lot of people would think, 'Oh, is that a big thing for him?' He'll go out in that match and he'll take it on and really enjoy it."
Match 3 (7.40am)
Jordan Spieth and Justin Thomas vs Paul Casey and Tyrrell Hatton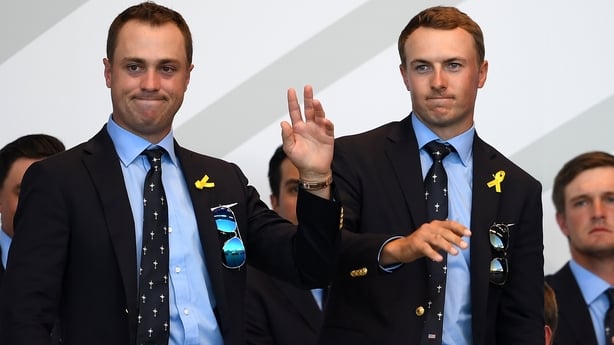 Furyk: "There's a lot of reasons why I think they match up, but surely the fact that they are good friends, and they have that relationship and bond and have played a lot of golf together is always key, as well."
Casey: " I can't wait. Tyrrell is phenomenal. We paired up earlier this year.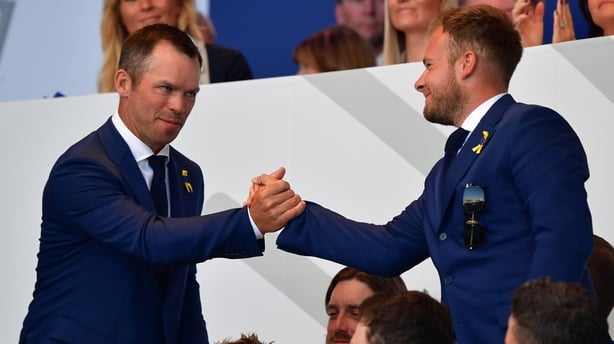 "We've had success so far this week. We beat Sergio and Alex today. I mean, this is going to be an amazing week. It's really been fantastic to this point.
"I'm excited for him to make his debut tomorrow and see what it's all about, and then he'll be a Ryder Cupper. We're playing great golf, and I have confidence in our team."
Match 4 (7.55am)
Patrick Reed and Tiger Woods vs Francesco Molinari and Tommy Fleetwood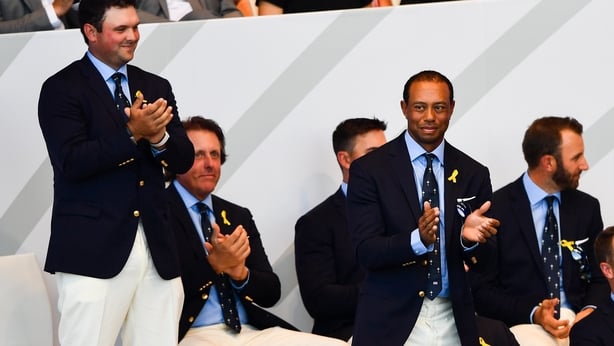 Furyk: "Their knowledge of each other's games, surely of Tiger knowing Patrick's game, helped a significant amount.
"You know, Patrick's a guy that really enjoys that moment and enjoys that big stage, and Tiger's the one that brings it. We thought it would be a good pair."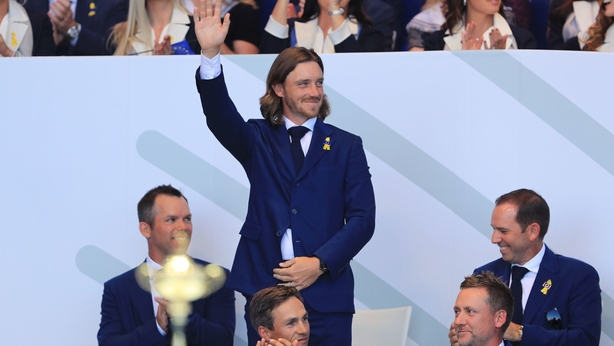 Fleetwood: "It doesn't get any better. If you said my first Ryder Cup match, I couldn't pick a better person to play with. We get on great. I love this guy, and he's pretty good at golf, too.
"You know, it's a massive match, of course it is, but they are all going to be big, and of course everybody is looking at Tiger's return.
"But, you know, for us, when we get to that golf course and when we get on the first tee, it's down to what we do, and you know, we've practiced our whole lives for this and we are just going to play our game and hopefully that will be good enough at the end of it."
Follow all three days of the Ryder Cup via our live blogs on RTÉ.ie and the RTE News Now app.