A
Animosity. The Ryder Cup needs it to thrive. Never mind the stuffy exhortations towards gentlemanliness. The '99 Ryder Cup was miles better than the 2002 Ryder Cup. 
B
Belfry. A rather bland looking course in Birmingham that has held the Ryder Cup about a thousand times.
The chief reason being that it was deliberately designed as an American style parkland course in the UK and thus would be fair. 
C
Captains obviously.
A Ryder Cup captain is a once competitive professional on the verge of the Seniors Tour who spends the weekend making speeches, riding around in a golf buggy and talking urgently into his walkie-talkie. 
More usefully, they set the pairings and decide the order in which the players head out on singles Sunday.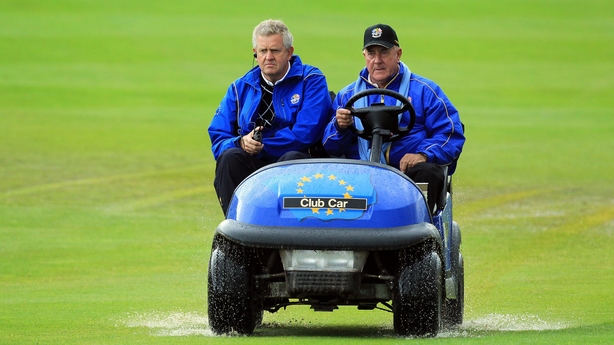 D
Dormy. Time for a public information message for those unfamiliar with the matchplay format. You'll be hearing it a lot. Not a slang term for a boarding school bedroom but the word used to describe the situation when a player's lead is the same number as the amount of holes remaining. They can't lose but worst case scenario they might not win. 
E
EU. A source of inspiration in Hazeltine in 2016. On singles Sunday, the five players from countries intent on remaining in the European Union beyond March 2019 amassed a highly creditable tally of four and a half points. 
The tally from the seven players from the country determined to leave the EU - 0 points. 
F
France. Holding the event for the first time. Not exactly the home of golf. On the plus side, they like booing Americans.  
G
GUR. Meaning 'Ground under Repair'. There'll be none of that at this Ryder Cup venue nor any future Ryder Cup venue. 
But when you arrive at your local course two days after the Ryder Cup - like a man inspired to pitch up at a tennis court during Wimbledon fortnight - there'll be plenty of it around.  
H
H is for hyperbole. I'm afraid it has to be. You know it and I know it. 
Winston Churchill said in 1946: "We must build a kind of United States of Europe. In this way only will the hundreds of millions of toilers be able to regain the simple joys and hopes that make life worth living."
No less a man, Thomas Bjorn, said in 2018: "This is the one time when Europe is united. This is the week more than ever that that flag represents the boundary of this great continent."
One continent. United under Golf. 
I
Irish players. By all accounts, they have an uncanny knack for being in the right place in the singles order in order to clinch the point that seals the win. 
This tendency has occasionally been exaggerated.
We've a slighter contingent over in Paris this time. Only the divisive personage of Rory McIlroy to represent golfers from this island. 
J
Jingoism. The special sauce that makes a Ryder Cup great. As ever, the gold standard here is Brookline '99, when Ben Crenshaw - the player who holds the PGA Tour record for donations to Republican party candidates (stiff competition there, too) - invited George W Bush to recite 'The Travis letter' from the Alamo on the night before the singles when the US were four points down.
The Americans abandoned golf's civilities the following day as chants of USA! USA! USA! rang around the course.
They hollered and fist-pumped their way to a notorious 14 1/2 to 13 1/2 which left some of the stuffier Europeans smarting.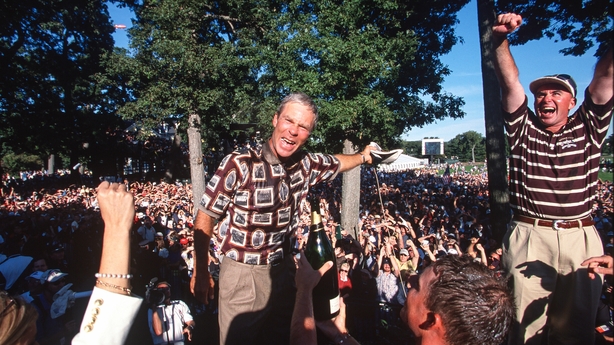 K
The K Club in Kildare hosted the event the only time it was staged an Ireland, a weekend which many of us will remember as the absolute apex of the Celtic Tiger. 
As a friend of the writer noted, you were nobody if you didn't arrive at the course in a helicopter. 
L
Losing streaks. The Ryder Cup, for most of its history, was the USA v Great Britain & Ireland. But the latter was so hopelessly uncompetitive for most of its existence that they had to invite a few continentals in to make it a fairer fight. Boy did that work. 
Between 1995 and 2014, the USA went on their own dismal run, winning just two from ten competitions. And this despite their players dominating the majors for much of that time. 
This presumably contributed to Mickelson's outburst in 2014, he played in every Ryder Cup during this run.  
M
Monty. Couldn't get over the line in the majors but a giant in the Ryder Cup.
By common consensus, the greatest RC figure of them all. 
Montgomerie never lost a singles match in eight tournaments and was a decisive figure in several competitions.
Tended to let his putter fall on the ground before strutting around like Napoleon when he won a match.    
N
Nick Faldo.
Europe's most successful ever golfer in terms of major titles, Faldo was also a smashing Ryder Cup performer, playing a critical role in several European wins, most notably 1995 when he beat Curtis Strange in a vital singles match. 
That all counted for nowt when he captained the team in 2008 and was generally agreed to have made a hames of the job. 
One can't help feeling that his widespread unpopularity left him facing an uphill battle from the off. No wonder he once thanked the UK press "from the heart of my bottom". 
O
O'Connor. You don't need me to tell you what he did in 1989. Christy played only one foursomes game over the previous two days which he lost with Ronan Rafferty. But he made a memorable impact on the singles against Freddie Couples.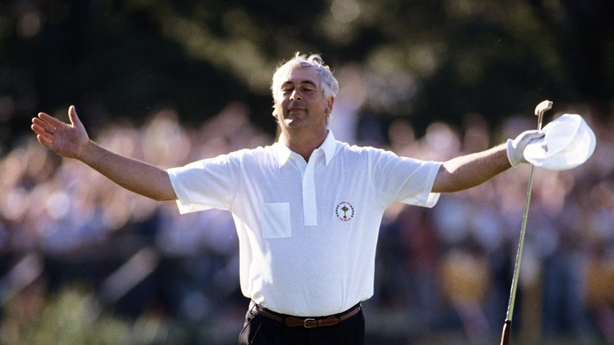 P
P is for Presidents. It's fair to say that the Ryder Cup is unusual among sporting events in that former US Presidents regularly ride around as part of the entourage. 
George H. W Bush was a Ryder Cup staple though he's 94 now and not as mobile as he used to be. Still, there's a fair chance you'll see Bill Clinton or Dubya hanging around, joshing with the vice-captains.
R
Republicans. There'll be plenty of them there and we have to make clear we mean that in the American rather than the Irish sense of the word.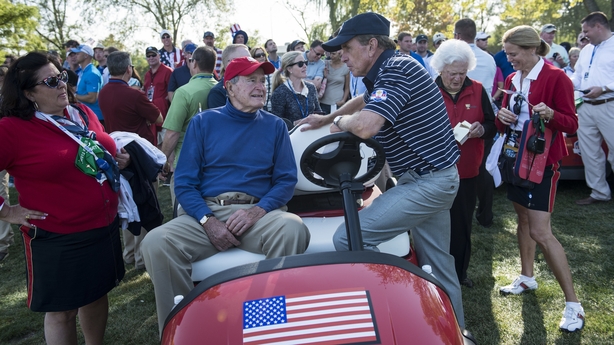 S
Samuel Ryder. The man who founded the yoke. A businessman and a golf promoter. The only wonder is that there hasn't been a United Passions style hagiography made in his honour. 
T
Tiger. Woods is playing in his eighth Ryder Cup and his first since 2012. 
His presence is regarded as a major boon for the Americans. 
How many winning US teams has he been part of? One. 
So, might not be that terrifying. Said in 2002 that he could think of a million different reasons why he'd rather win a WGC in Mount Juliet that he would the Ryder Cup in the Belfry the following week. 
They reckon he's a less surly, less individualistic presence now, though. 
Q
Qualification. Q was always going to be tricky.  
U
USA!!! USA!!! USA!!! USA!!! USA!!! USA!!! USA!!! USA!!! USA!!! USA!!! USA!!! USA!!! USA!!! USA!!! USA!!! USA!!! USA!!! USA!!! USA!!! USA!!! USA!!! USA!!! USA!!!USA!!! USA!!! USA!!! USA!!! USA!!! US-
It's in France this time, at least.
V
Vice-captains. 
No one is entirely clear what they do but captains are becoming increasingly adamant that they need a lot of them.
The way things are going, by 2030, there'll be more vice-captains than players. 
The most pivotal vice-captaincy in the history of the competition was that of Padraig Harrington, who, in 2014, retrieved a player's wedge after he left in one of the makeshift toilets at the back of one of the greens. 
With such key interventions are Ryder Cups won and lost.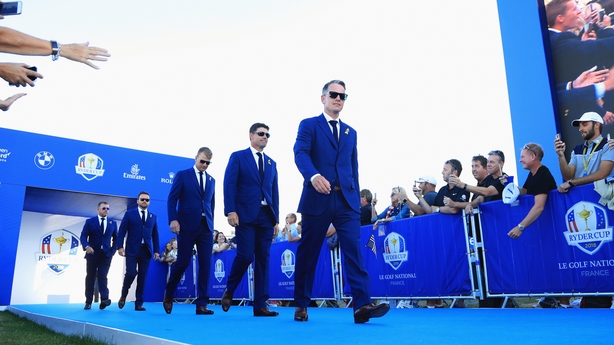 W
Wives. They're there. You'll see them invading the green when the winning putt is sunk. Hopefully after the opposing player has had his go at putting. 
An alternative 'w' is Weekly - as in Boo Weekly - who spent the 2008 competition geeing up the crowd and riding his iron up and down the course like a cowboy. 
X 
Xander Schauffle was not picked for this Ryder Cup despite being touted as a possible captain's pick, a decision of Jim Furyk's which makes the A-Z link considerably more tenuous. 
It's regrettable.  
Y
You the man!!! Americans like to yell it split seconds after wood connects with Titleist. 
Z
'Zinger' is Paul Azinger's nickname, thank God. The most lauded US captain in the history of Ryder Cup. He ended America's losing streak in 2008 by utilising a wondrous 'pod system' which Phil Mickelson wouldn't shut up about six years later.