Shane Lowry is the best of the Irish after day one of the US PGA at Bellerive Country Club in Missouri, finishing on one under par, four shots off the clubhouse lead.
In fact, he's the only Irish golfer to break par, with Rory McIlroy shooting an even par 70, Padraig Harrington making it around in one over and Paul Dunne finishing on plus three.
"The pins were on a lot of knobs and mounds and they were tricky," noted Lowry. "I played nice; a crucial part of my round was I made a great five on 14 – that was my round and I did it right there. Those are the sort of things that weren't going for me the past few months.
"The tee shot on 14 came out of nowhere – I haven't hit a tee shot left in a couple of weeks. The way I have been hitting it the last few weeks I've been taking the left out of play. It was one of those shots and I did well to make five.
"I made some lovely shots, hit some lovely irons on the way in and some nice drives so I'm happy.
"I knocked that in, birdied 17, shoot one under and I'm happy as Larry. I felt like I was plodding around, playing my way into the tournament. "
McIlroy still feels very much in contention at the final major of the year and he explained the reason he was wearing patches on his right arm during Thursday's opening round.
"I started to feel my wrist last weekend at Firestone," he said. "It's a bit of inflammation, a bit of tightness in the forearm and I'm feeling it down into the side of the hand.
"Everything's fine, it can be a little tender and it's an anti-inflammatory patch to try and reduce the inflammation."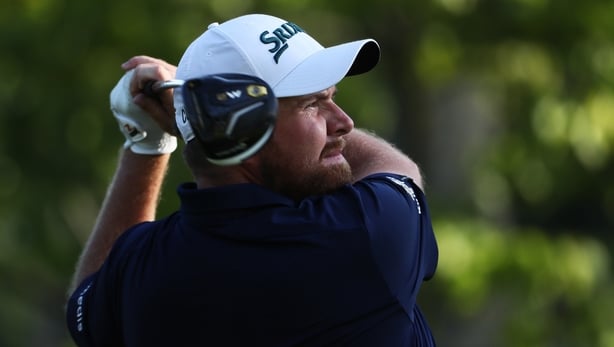 Speaking to RTÉ Sport about his round, he said: "I don't think it was as easy as people expected it would be. The wind picked up, the greens are okay, but they're soft. They're chewed up and there's a lot of spike marks.
"I felt I could have gotten more out of the round, I felt I could have shot two or three. The lead's only five and nobody seems to be getting away from anyone else, so as long as I go out and shoot something in the mid-60s I'll be pretty happy."
Lowry hit three birdies and two bogies over his 18 holes while McIlroy, who started on ten playing in a group with Tiger Woods and defending champion Justin Thomas, picked up two shots and gave them back on the back nine.
Harrington picked up a shot on his second hole, gave that and another away on six and seven, got himself back to level par on 11 before dropping another on 12 and finishing with six pars.
Dunne was going well, but two bogeys on 17 and 18 show him drop back to three over.
America's Rickie Fowler is still looking for his first Major and he put himself in good position with a five under 65 to hold the clubhouse lead.