Stephanie Meadow turned professional in 2014. Her first tournament in the paid ranks was a major - the notoriously difficult US Open. She finished third.
The 22-year-old went out on the Sunday at the renowned Pinehurst course in North Carolina and shot 69 to take solo third place, just one and three shots respectively behind major winners Stacy Lewis and champion Michelle Wie.
Her biggest fan, her dad Robert, memorably evaded security on the 18th green to hug his daughter at the finish.
As debuts go, Meadow's must rank right up there amongst the best, considering it pocketed her $270,000 to begin her life alongside the professionals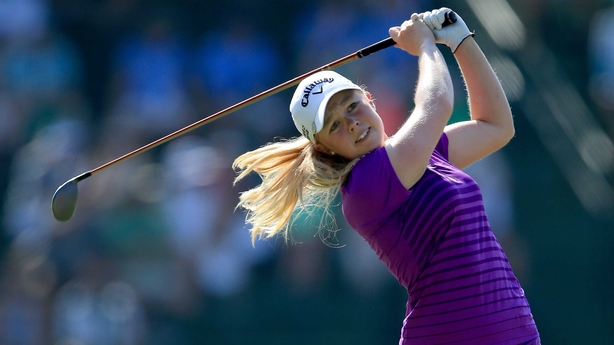 Meadow's story is well known, in golfing circles as least.
A budding star, learning her trade at Royal Portrush and Ballyclare golf clubs, the 14-year-old hatched a plan to test herself at the highest level possible and somehow managed to convince her folks to up sticks and head for a new life in the USA.
The Meadows moved, lock, stock and gap wedge to Florida where Stephanie enrolled at the Hank Haney golf academy.
The next step, a golfing scholarship at the University of Alabama where Meadow's hard work, dedication and natural talent shone through, leading to a record-breaking few years, where the Jordanstown native became the first four-time first-team 'All American' – a hypothetical team composed of outstanding amateur players.
The accolades kept coming as Meadow went on to win the prestigious Ladies British Open Amateur Championship at Carnoustie in the summer of 2012.
Still at college, Meadow got invited to play at one of the top LPGA events, the Kraft Nabisco Championship in 2013, where she made the cut by four shots.
By 2014, and two Curtis Cups later (2012 & 2014), it was time to turn professional, and as luck would have it the now 22-year-old would make her debut at the US Open.
"I was just so thrilled to finally be professional. We work our whole lives just to reach that milestone and to have my debut in a major was just unbelievable," said Meadow, speaking to RTÉ Sport.
"In saying that, it brought about some challenges that, back then, I didn't know how to deal with and I guess a lot of pressure, not outside pressure but inside pressure. You think you have to be in contention every week."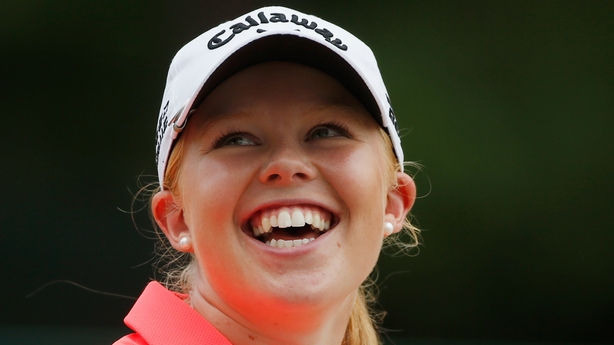 Just weeks later, Meadow teed it up a bit closer to home and enjoyed another third place finish, this time at the European Masters in England.
The future looked very bright indeed. The northern star had the golfing world at her feet.
But behind that infectious smile, her heart was breaking, as her world was soon turned upside down.
Less than a year into her pro career, Stephanie's father was diagnosed with pancreatic cancer.
Golf took a back seat as the 2015 season got underway and Meadow only played one event, the ANA Inspiration, as a tribute to her terminally ill father, and finished in a tie for 20th place.
"It's been very tough. For a while I didn't know when the light was going to come at the end of the tunnel.
"Life hits you in the face and sometimes you are not prepared for it, and it just takes time to get through it.
"But I can look back, as I have been through a lot, and I know that I am a stronger person now.
"I can always use my dad for motivation and support, and I always think about what he would say to me in certain situations."
The light at the end of the tunnel slowly but surely started to shine brighter for Stephanie as she came to terms with the loss of her father.
"When stuff happens in your life, no matter how great a golfer you are, it is hard for it not to affect you and the way you look at things
"It happened for a reason and I just have to believe that in the end, it will all make it better."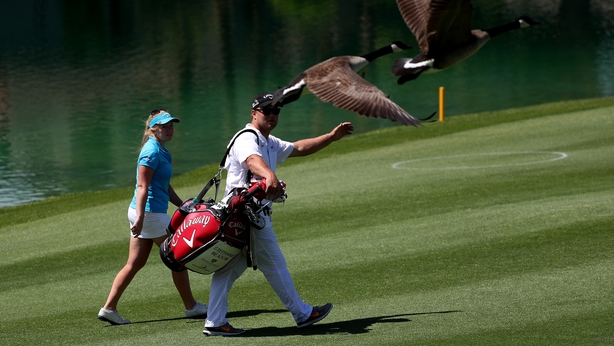 Stephanie's 'rock' through it all was her mother, who continues to live in America and will soon move closer to her daughter who has relocated to Phoenix in Arizona - mother and daughter helping each other through the tough times.
"My mam is still over here. I moved to Phoenix Arizona and she will be there soon. I still see her quite a bit. She has been my rock for the last four years.
"I'm sure she would probably say that [I've been her rock too].
"It's been unbelievably hard for her. It's such a crappy thing to go through. But she has always been there for me and she is a big part of my life. She's the best.
"I have a lot of people around me, close friends who have helped me and they have made a huge difference."
Meadow would embrace a welcome change of scenery in 2016 as she represented Ireland at the Olympic Games in Rio, but that high was soon followed by another low, which presented itself in the shape of a back injury, hampering her entire 2017 campaign.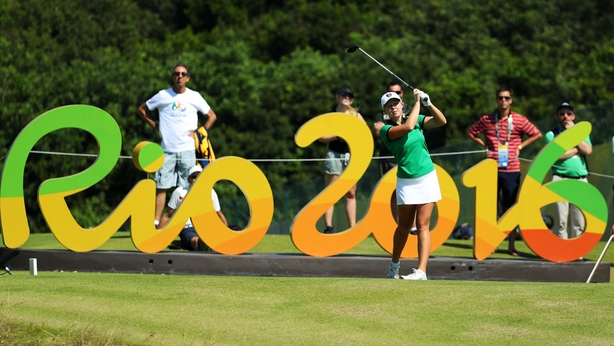 A series of swing changes and off-season strength and conditioning work saw a renaissance of sorts in Meadow's game as she joined the Symetra Tour, with the sole purpose of securing a place in the top ten to graduate to the LPGA Tour for 2019.
"It's been a long road following my injury last year and all the rehab that I did.
"Making decisions, swing coach changing, and what direction I wanted to go in. And so far, I think I have made the right decisions in those areas, so it feels really good to be pain free, swinging well, and hitting the ball well again.
"It is a grind; professional golf is not a walk in the park but it is so great to see those results paying off, that's the best part about it."
So far so good for Meadow in the 'Volvik Race for the Card' as the 26-year-old secured victory at the second event of the season, the IOA Championship, beating Carleigh Silvers in a play-off, and recorded a further four top tens from her opening 11 events.
At last month's Danielle Downey Credit Union Classic in Rochester, Meadow again finished atop the leaderboard and faced Eun Jeong Seong in a shoot-out for the title.
This time, however, Meadow fell at the final hurdle, losing the play-off, yet still finds herself in second place on the money list, just a few thousand dollars shy of leader Dottie Ardina.
"It was tough losing in the play-off but the overall goal is to secure my card, so I'll just take the positives from it and keep going.
"It's a big learning curve any time you put yourself in contention to win, so hopefully I can use that going forward, and next time, not be in a play-off."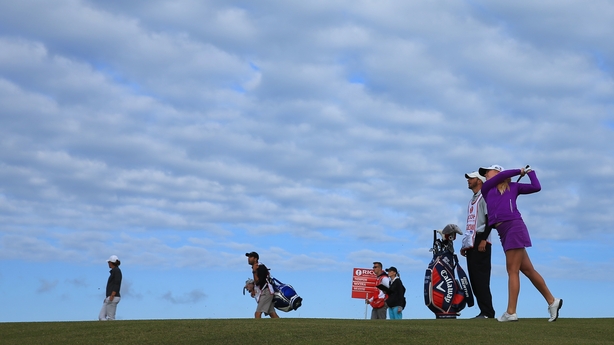 All roads now lead to the season-ending Tour Championship where the top ten will qualify for the LPGA Tour, and while Meadow is planning to secure the card as soon as possible, she is ready to scrap all the way to the end line to reach her season goal.
Meadow has close to $20,000US to play around with between herself and 11th place and with only eight events remaining, she is already in prime position to achieve that goal.
"We only have eight events left, so it's kind of crunch time.
"I'm hoping to keep the confidence going and get another few good tournaments under my belt and not have to stress too much at the end of the year.
"I would love to secure it before [the Tour Championship], and I definitely can, but as of right now, I'll try to play everything. There is a six-week stretch at the end, so if I do happen to have the card locked off, then I will probably take one of those weeks off."
Meadow has come a long way in the past 12 months from a time when she was not sure whether or not her game had improved or deteriorated from those early professional days when she was making her name at the US Open.
But now, midway through this perhaps, career-defining season, Meadow is convinced that her game is in a very good place and she sees her main strength as her ability to create chances thanks to consistent and accurate iron play.
"I probably have gained some yardage from [my amateur days] – I do hit it a little bit further. But my iron play is really solid and I hit a lot of greens now and give myself a lot of chances and birdie opportunities. It's the biggest thing in professional golf, you have to give yourself chances.
"As a player, it's been up and down. If you asked me last year, I would have said I was better in 2012, while now I feel like I'm better now.
"It's been a rollercoaster first four years of my professional career but now I definitely think I am on the other side of the downward turn."
"As a person and a golfer, you learn so much when golf switches from being your, kind of, hobby to your job. So I think I have learned how to deal with that too, and I'm really enjoying it."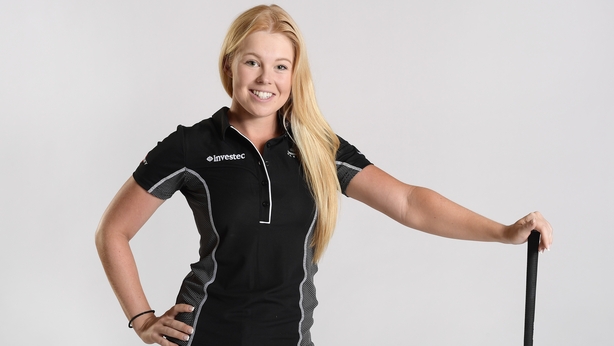 That third place finish at the US Open certainly gained Meadow the attention of world golf, and while she knows that it no longer opens doors in her career, it remains something that she can look back fondly on and draw inspiration when needed.
"It was an amazing experience, and I think it shaped who I am today and I can use all those experiences when I do, hopefully, get back on the big tour.
"I always have it and it's there, I did it, and I can say I finished third at the US Open.
"I know that I can contend in majors and that's not a thing that a lot of people currently in my position can say. That secretly gives me a lot of confidence that in the future I will be back there."
After all that Meadow has experienced from both a personal and professional perspective, the 26-year-old can now really start planning for the future in relation to her golf career.
And while the LPGA Tour is now within Meadow's reach, she also has one eye on the future and securing a place on Team Europe for a Solheim Cup appearance at some stage, which would involve playing some part of her calendar on the European Tour.
"I will definitely be looking into it at some point for Solheim Cup reasons, as you need to have your European Tour card.
"But the main goal has always been LPGA for me as that is where the best players are, and the most money and the most tournaments."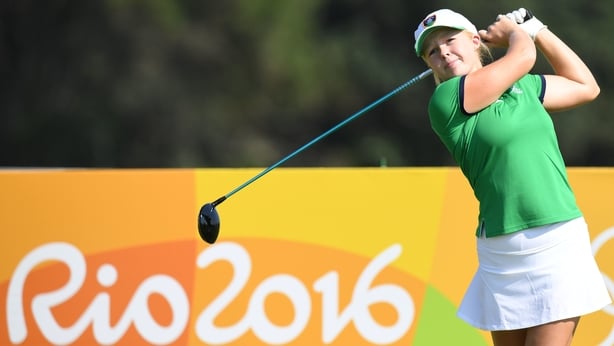 One event that is conspicuous by its absence on the Ladies European Tour is the Irish Open, considering the men's equivalent has gone from strength to strength in recent years since Rory McIlroy played an active role in the event.
The Ladies Irish Open has not been played since 2012, when Catriona Matthew secured the title at Killeen Castle, and while not giving much away, Meadow hinted that she is playing a role in bringing back the tournament.
"I know that people are definitely pushing for it, and I've been involved in a few of those things as well. It's in the works, is all I can say
"We are trying our best, which doesn't mean it is going to happen, but it would be great as Irish people love golf and there deserves to be an event on the European Tour as there are so many great golf courses.
"So hopefully we can get something rolling, who knows when, but it would be great to have and I would love to play in it."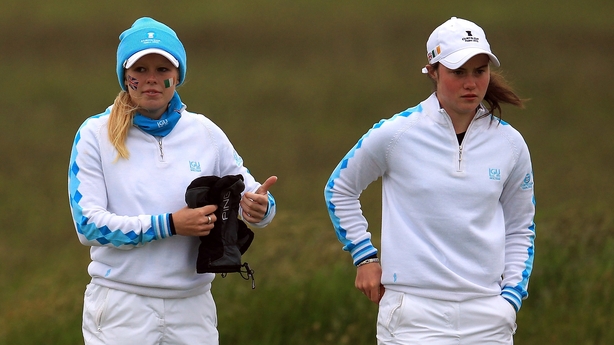 Keeping with the Irish theme, Meadow has recently been joined by Leona and Lisa Maguire on the Symetra Tour as the Cavan twins turned pro following their graduation from Duke University.
Leona has already made her mark on the second-tier tour by grabbing a third-placed finish in her opening event, and Meadow believes that both of her former team-mates will immediately assimilate into the professional circuit.
"I have known them for a very long time. I saw them a couple of weeks ago, they were both at the Symetra Tour events.
"It is a tough transition but they are both great players and it takes a little time to settle in and get your feet in the water. I'm sure they will be up there in no time."
The Irish Open may remain on the far-off horizon, however, one event that will certainly bring Meadow home in 2019 will be the staging of The Open at her old stomping ground, Royal Portrush.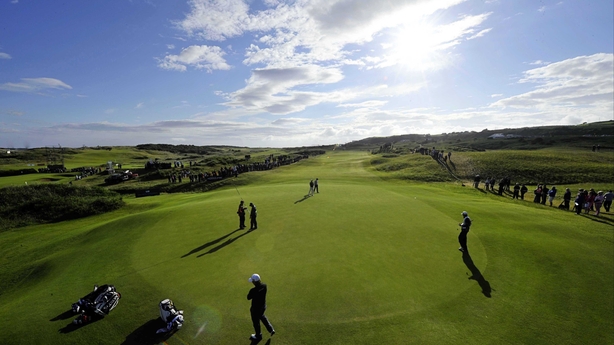 Meadow admits that the north-coast course remains part of her golfing DNA and she sees it as the perfect opportunity to make it home next summer.
"I would love to be a part of that. It is such a special place for me because that is where I learned golf and I wouldn't be the same person without Portrush.
"I definitely want to be a part of it, and I think it will be a great golf course for an Open. It's really exciting for the whole area."
Thirteen years will have passed from the time that Meadow left these shores in pursuit of the ultimate golfing dream, and now it looks like her luck is certainly turning.
And she is set to make it a really special homecoming next summer, complete with LPGA Tour card firmly planted in that back pocket.