New Open champion Francesco Molinari hopes becoming the first Italian major winner will inspire a new generation of players just as Costantino Rocca did for him in 1995.
Rocca was the country's most successful player but the closest he came to the Claret Jug was losing a play-off to John Daly at St Andrews having famously holed a 60-foot birdie putt on the 18th.
It was a memorable moment for Molinari, whose two-shot victory at Carnoustie was all-the-more impressive as he partnered a resurgent Tiger Woods on the final day and had to watch the 14-time major winner take the lead himself at one point.
Asked how significant this was for the sport back home, he said: "It would be massive news. The last (third) round already was big news in Italy.
"Obviously, to achieve something like this is on another level.
"Hopefully, there were a lot of young kids watching on TV today, like I was watching Constantino in '95 coming so close.
"Hopefully, they will get as inspired as I was at the time, watching him vie for the Claret Jug."
Molinari, who had won twice and finished second two times in the last couple of months, began the day at six under and did not make his move until holing a birdie after 13 successive pars.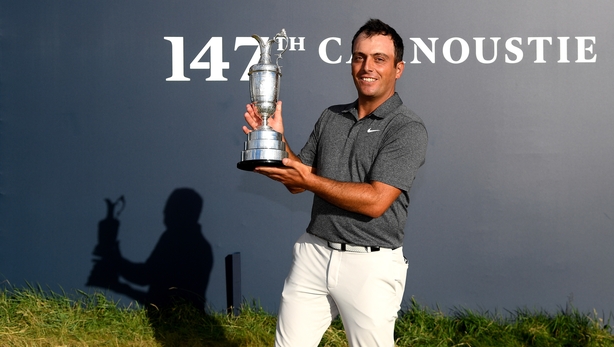 Up to that point he had been overshadowed by his playing partner, who made the turn in the outright lead only to lose momentum dropping three shots in two holes.
Nevertheless, the 42-year-old American admits contending at the Open felt just like the old days - and he was delighted his two children finally got to see what all the fuss was about.
Daughter Sam, aged 11, and son Charlie, nine, were too young to see their dad in his pomp but they greeted him with a hug behind the 18th green after he finished three shots behind Molinari, who finished his round in style with a close-range birdie.
"I told them I tried, and I said 'Hopefully you're proud of your pops for trying as hard as I did'," he said.
"It's pretty emotional because they gave me some pretty significant hugs and squeezes there.
"I know that they know how much this championship means to me and how much it feels good to be back playing again.
"To me, it's just so special to have them aware because I've won a lot of golf tournaments in my career, but they don't remember any of them.
"The only thing they've seen is my struggles and the pain I was going through. Now they just want to go play soccer with me so that's just such a great feeling."