Rory McIlroy is ready to add to his major collection – and he believes the course set-up at Shinnecock Hill's for this week's US Open is ideal for him.
The County Down golfer has four majors to his name, including the 2011 US Open, but he hasn't won one of the game's four big titles since 2014.
The former world number one believes that his game is back in great shape and he has plans to move back to the top of golf's rankings as well as win more majors.
"I think the three months I took off at the end of last year really helped just to get myself healthy and in a right frame of mind to come out this year and embrace everything and try to add to my major tally and try to become the best golfer in the world again," he said, speaking exclusively to RTÉ Sport's Greg Allen in New York.
"I feel like I'm trending in the right direction. I've had five chances to win this year and only taken one of them so I feel like there's been a couple that have gotten away. It's a long season, there's a lot of golf left to play, there are three majors left to play and I feel I'm right where I want to be."
The 29-year-old has taken more world ranking points than any other player this year, with a win, two seconds, a third and a fifth at the US Masters, the first of this year's majors.
McIlroy is familiar with New York state's Shinnecock Hills, revealing that it includes his favourite hole in the world, the eleventh, and the Holywood native admits that he feels comfortable there.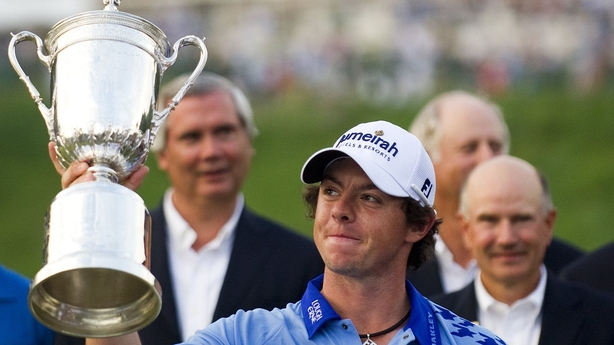 "I think it's a great design. It rewards very good golf and you get punished if you don't play well," explained McIlroy.
"It probably has the best golf hole in the world, not just the best par three in the world, in the eleventh – it's 160 yards, but you can very easily make a two and very easily make a five as well. It's a great golf hole.
"There's a lot of subtlety to the place and the more you play it the more you see it. I feel like I know this course as well as I know any US Open set-up and hopefully I can use that to my advantage.
"I have been coming up here for a few years, I love the place, I love the area, out here on Long Island has some of the best golf in the world, it's a great place to spend a few weeks in the summer," he said.
"I came here knowing the weather wasn't going to be great in Florida last week to prepare and play some of the other courses and get a few looks here at Shinnecock. I wanted to make sure that I'm in the right frame of mind and that I've done everything I need to do to play well here this week.
"There has been three US Opens hosted here in the last 30 years-or-so, they've all been great championships and great winners and I hope to join that illustrious group this year."
McIroy is one of the early starters on Thursday, teeing off from the tenth at 8.02am local time, just after 1.00pm in Ireland. His playing partners are Jordan Spieth and Phil Mickelson.
"It's not about driving the ball as far as you can here, it's about putting the ball in play, putting it in the right positions on the greens and not short-siding yourself, being very disciplined," he said.
"It's like Augusta – it gives you a lot of room off the tee, but then it's a real second-shot golf course to put yourself on the right spots on the greens, there's the run-offs so you have to approach it a little bit like you would Augusta."
Follow all of the action from the US Open at Shinnecock Hills with our live blog on RTÉ.ie/sport and on the News Now app