The question came late in the press conference after Patrick Reed's third round at the Masters, but it was a telling one.
After the usual topics of putts, pressure and the Ryder Cup were dealt with, Reed's popularity - or lack of it - was next on the agenda.
"Patrick, it doesn't take much to do a quick Twitter search to find a lot of people rooting against you. Why do you think that is? Why are there fans that don't embrace you?"
Reed seemed somewhat annoyed with the question given that he had just become the first player to shoot in the 60s in the first three rounds at Augusta, but replied: "I don't know. Why don't you ask them?
"I mean, I have no idea and honestly I don't really care what people say on Twitter or what they say if they are cheering for me or not cheering for me. I'm out here to do my job, and that's to play golf."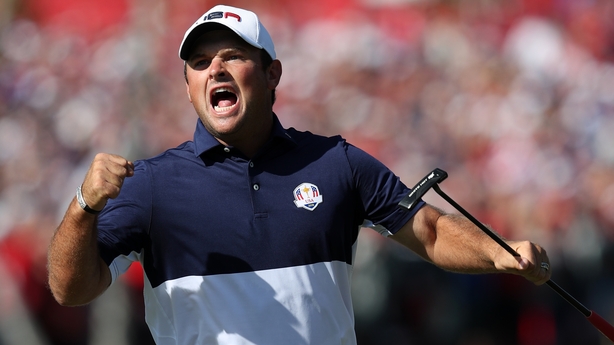 The response was similar in his post-victory press conference when asked if his win was bittersweet because he would not be sharing it with his parents and sister. "I'm just out here to play golf and try to win golf tournaments," Reed said.
The 27-year-old from Texas helped Augusta State win two NCAA titles and his parents still live in the area, but he has been estranged from them for several years and was described by his sister Hannah as a "selfish, horrible stranger" in a Facebook post in 2016.
And that is not the only intriguing aspect of Reed's chequered past, which saw him leave the University of Georgia after one year amid accusations - which Reed strongly denies - of cheating and even theft from his team-mates.
"None of it's true, and we have coaches that even back it up," Reed said in a Golf Channel interview in 2015.
"And if any of it was true, then the coaches would know about it.
"Everyone knows why I got kicked out of UGA. Because of two drinking incidents."
Whatever the truth of the matter, there can be no denying Reed is a polarising figure - either the fearless, swashbuckling 'Captain America' of the Ryder Cup, or a brash, cocky upstart.
The clinching putt.

Congratulations to @PReedGolf, 2018 #themasters Champion. pic.twitter.com/zEkWleSeRK

— Masters Tournament (@TheMasters) April 8, 2018
His comments that he believed he was a "top five player in the world" after winning his third PGA Tour title did not go down well, while he was fined by the PGA Tour after being caught on camera swearing at himself and using language which could be interpreted as being homophobic.
"Nice f****** three-putt you f****** f*****," Reed said after a dropped shot during the WGC-HSBC Champions event in 2014.
The following year Reed came second to Bubba Watson in an ESPN players' poll ahead of the Masters which asked 103 tour professionals which player they would not help in a fight in the car park.
For Reed's part, he seems content with his close inner circle of wife Justine and her brother Kessler Karain, who is also his caddie.
And as his Ryder Cup partner Jordan Spieth said after the final round, he also has a green jacket and his name "etched in history".
Popular or not, nothing can change that now.