Weekend hacker Eric Haughan aims to transform his golf game in 2018. In his third dispatch, the 12.4 handicapper reveals that his game is on the up.
***
I read that oft-repeated Arnold Palmer quote in recent weeks as I sat cocooned in my humble abode watching Rory McIlroy blitz the field at Bayhill and with the Beast From the East doing his damndest outside.
Mr Palmer opined that the game of golf is "deceptively simple and endlessly complicated" – and after the month we have had, the same could be said for our Irish weather.
Our weather is simple in so far as, it is going to rain, we know this… and complicated in the manner that it is anybody's guess what else we're going to get lumbered with.
I have also heard it said of our colourful climate that, in Ireland, we are subjected to "nine months of bad weather – then winter!"
However, in a month where headlines were dominated by both Storm Emma and Stormy Daniels, we actually managed to sneak the clubs out of the house on a couple of occasions and, unusually, there was even some decent stuff in there to write home about.
Although I probably swung a snow shovel more than a golf club this past month, and saw booked rounds at Kilkea Castle (twice), Beech Park and Naas Golf Club all fall foul of the Beast from the East, there was much cause for celebration at Black Bush in Dunshaughlin in mid-March.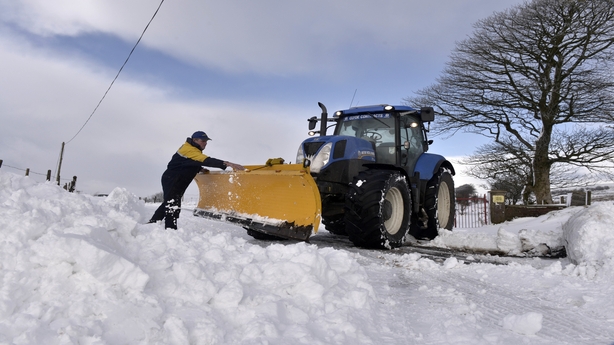 At the Meath layout, I managed to finagle my lowest ever round to par of +7 on my way to an early win in our Dublin Journalist' Golf Society 2018 circuit.
Were the 'Society' tees generously pushed forward? Yes. Were we 'placing' everywhere on the sodden turf? Certainly. Was I still the happiest I've been on a golf course in a long while? Abso-feckin-lutely!
Now, this should be the part where I tell you how it happened. Where I regale readers with a blow-by-blow account of the greatest round of my golfing life (there hasn't been a whole lot of competition for that mantle, to be fair).
But the truth is, I don't really know how it happened. Somewhere 'Doctor' Bob Rotella might be smiling at that line – assuming he reads rte.ie, of course…
It seems I finally managed, for one day at least, to achieve every golfer's private ambition of just staying out of my own damn way long enough to not completely sabotage my round.
The day started so nicely, a routine par on the first after a birdie putt lipped out. That was of course followed by now obligatory treble-bogey-out-of-nowhere on the second as I limped through the first half dozen holes in eight-over par with two trademark three-putts thrown in for good measure.
Yet, even the most ordinary days can be transformed by one great shot – or in my case, one pretty generous stroke of luck.
Neil Manchip is clearly a genius as @RTEsport blogger @Honcho68 hits 46 points in @DublinJournosGS outing @BlackBushGC today - his next blog should be something special @JohnFogartyIrl pic.twitter.com/dIAq17hXJn

— Cathal Dervan (@irlsport) March 12, 2018
A weakly-struck five-iron to the par-three seventh somehow managed to gallop its way – on Cheltenham Monday – up the green to about 10 feet, leaving me a putt for birdie which, once it dropped, changed my fortunes altogether.
I would inexplicably play the final 12 holes in one-under par and also somehow manage to fiddle no less than three deuces in there as well. Usually, three twos represents a pretty solid season of golf for me. To nab three in one round felt akin to an out-of-body experience.
After a par, birdie, double-bogey, birdie start to my back nine, I would close out the round with five straight pars, taking advantage of some tidy chipping and another large slice of luck on 16.
Here my lengthy, racing birdie putt managed to catch enough of the hole to stay within 'gimme' range. I truly did not fancy what would have surely been every bit of six feet for par on the other side.
That final stretch of pars was the most pleasing part of the whole ordeal, for me.
Particularly owing to the fact that, somewhere around the 16th tee, while staring blankly at the 'marker' section of my playing partner's card, it dawned on me… "jaysis… I'm level on the back!"
It was nice – and admittedly out of character - to keep it together on those inward holes.
The round did not entirely come out of nowhere it must be said. The Sunday before Storm Emma darkened our doors and sent the price of a sliced pan skyrocketing, I had clipped around Millicent Golf Club in Clane at a tidy +11.
That round included five pars in the final six holes and a +3 back nine. Anyone who has had the pleasure of teeing it up at the testing Kildare trek might agree that that was no mean feat.
A quick trip down the road to Lilywhite country and the hidden gem that is @craddockstown for our latest @DublinJournosGS outing and, as always, it did not disappoint pic.twitter.com/jBGPs5Ynt3

— Eric Haughan (@Honcho68) March 26, 2018
After another snow-inspired hiatus, I was in the prizes again this past week at Craddockstown Golf Club in Naas.
Having been erratic off the tee since the first day I picked up a club, it has been a huge sign of progress to get through three consecutive rounds of golf – Millicent, Black Bush and Craddockstown – and manage to hole-out on the 18th green with the same ball I teed up on the first hole. No big deal for a lot of golfers – but as somebody who single-handedly keeps Titleist Ireland in business, it was a big deal for me.
So there we have it, signs of life – and proof, perhaps, that even a hopeless hacker like my good self might not be beyond help altogether.
My second lesson of the season with Neil Manchip (who is clearly some kind of sorcerer) takes place next week – weather permitting!
Follow Eric's quest for a single-figure handicap on RTÉ Sport Online in the coming months. You can read the first instalment here.