Young local Cameron Davis upstaged Jordan Spieth and Jason Day by shooting an eight-under-par 63 in benign morning conditions for a two-shot lead after the first round of the Australian Open on Thursday.
Day, playing his home Open for the first time since 2013, also had an early start and carded a five-under 66 for a share of third, but defending champion Spieth struggled to a one-under 70 in the afternoon wind.
Davis, 22, could hardly have made a better start to the day under bright blue skies at The Australian Golf Course with six birdies in his first seven holes, including a chip-in at the seventh.
Former world number one Day appeared likely to follow suit when he hammered his tee shot to two feet at his second hole and sank a six-foot putt to pick up a second birdie at his third.
Two more birdies and a bogey had him at the top of the leaderboard at the turn and he picked up three more shots before, with the wind starting to pick up, finding the trees off the tee and double-bogeying his penultimate hole.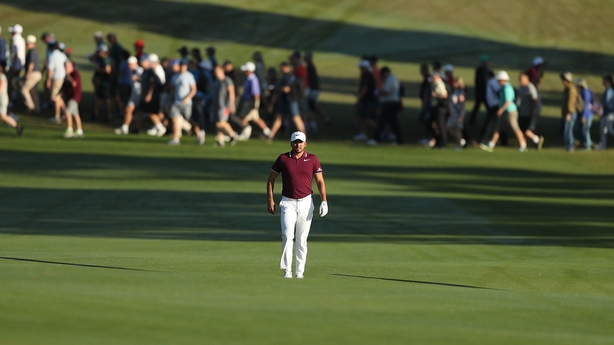 The 30-year-old, ranked 12th in the world and still seeking his first win of the year, rebounded by steering home a six-foot putt at the last before heading off to rest up for his second round on Friday afternoon.
Spieth, coming off a seven week lay-off since the President's Cup, discovered exactly what Day was talking about as he wrestled with the wind throughout his round, every birdie step forward countered by a bogey step back.
The world number two, who also won the Stonehaven Cup in 2014, gave a reminder of his class at the last by curling a putt 20 feet across the 18th green for his sixth birdie and walked off reasonably happy with his round.
"I made five bogeys so to come off under par that's really good. There was quite a bit of good after a rough start," he told reporters.
"There were tremendous scoring conditions this morning which we're hoping to see tomorrow, so I've got to go out and take advantage. So, being seven back isn't really seven back, given the difference in waves."
Australian Taylor MacDonald also made hay in the morning sunshine with a seven-birdie 65 for second place, while Nick Cullen and Alex Edge shared third with Day on 66.
Late starter Brad Shilton hit a hole in one at the par-three 11th but the New Zealander gave the shots back with a double-bogey two holes later and finished with a 78.