Jason Day is desperate to add the Australian Open title to his career honour roll and would love nothing better than to do it after going swing-for-swing with Jordan Spieth in the final round this week.
The 30-year-old former world number one has endured a poor season by his own lofty standards and is hoping that the Australian Golf Club, where he last played as a teenager, might offer up his first title of 2017.
World number two Spieth has finished first, second and first at the tournament in the three years since Day last played for the Stonehaven Cup though, and the Australian knows he will need to be on top of his game to better the American.
"I would love to play with Spieth on Sunday, last group, that would be the greatest thing," the Australian told reporters on Wednesday.
"The Australian Golf Club is kind of suited to his eye, he hits it very straight, which is what you need around here. This course does suit up well for him and I think it does for me as well, as long as long as I'm driving it straight.
"Fingers crossed, I can keep driving the ball better this week and just try and get myself in contention."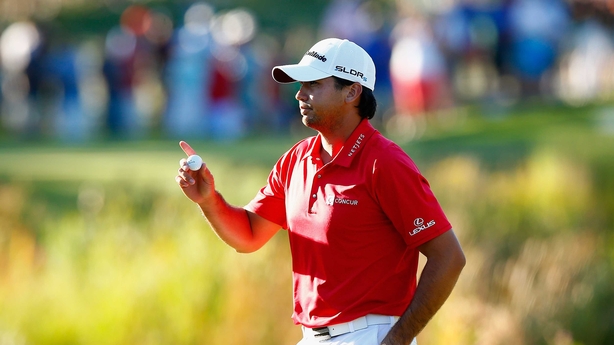 Day famously outplayed Spieth in the final round of the US PGA Championship in 2015 to win his maiden major and clearly has huge respect for the 24-year-old Texan.
"The biggest thing with Jordan is that he's a competitor," Day said.
"He doesn't have the natural ability such as (Dustin Johnson)'s length, but he has the mental toughness, probably the best mental toughness out of everyone on the tour, and thats what gets him going. He's such a grinder."
The respect is mutual. Spieth remembers fondly the battles they had at the majors in 2015, when the American snared the Masters and British Open and won the Tour Championship to edge Day to the PGA Player of the Year award.
"I'm like, 'man, I don't think I could have played any better for a year and still needed the last tournament to win that?'," Spieth recalled.
"Honestly, it's fun then because you can kind of talk about it with each other, how you were feeling, the respect you have for each other's games and seasons."
Geoff Ogilvy, the 2010 Australian Open and 2006 US Open champion, is also in the field, as is Canada's Mike Weir, who won the US Masters in 2003.
Both Day and Spieth will have new relatively faces on their bags this week with the former having recently dropped his mentor Col Swatton for Luke Reardon.
Mike Greller has stayed in the United States to be with his newborn son so Spieth will have his Australian coach Cameron McCormick as caddie. The Texan concedes they will probably not indulge in the lengthy pre-shot chats he and Greller are known for.
"Cam's more of just shut up and hit it, quit taking so long," he said.