Shane Lowry has hit out at the US PGA's decision to put the group he was playing in 'on the clock' during their PGA Championship first round.
When a group is put on the clock, the on-course referees have ruled that they are playing too slowly and must speed up their play.
Once they do they are taken off the clock and risk a penalty if they don't, though in reality such sanctions are extremely rare in big tournaments.
Lowry and his playing partners Stuart Deane and Pablo Larrazabal were warned on the second hole - their eleventh having teed off for their opening drive on the tenth hole - and the Offaly man admits that it affected the remainder of his round.
"The disappointing thing was we got put on the clock when we were a hole ahead of the group behind us and that's when my round started to go…" he rued, speaking to RTÉ Sport shortly after signing his card.
"That was on the second hole, just before my second shot on the second and that really annoyed me. When you put us out there on those greens and you're a few minutes behind, you can't expect us to… There are guys in the group making bogeys, doubles. Give us a break.
"We were on the middle of the second fairway and the guys weren't even down to their balls on the first fairway because we could see across to them.
"That was the most disappointing thing, that I let that get to me. I hit my second shot too quick on the second, missed the green, did well to make bogie, hit a bad iron shot on the next and made par."
Lowry finished on three over, seven behind clubhouse leader Thorbjorn Olesen, who hit a four under par round at Quail Hollow, North Carolina.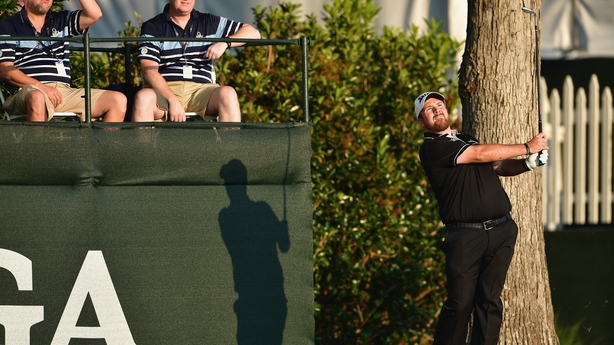 "I feel like I played nicely," he said. "The course is so difficult, the greens are so firm and if you get yourself out of position it's so difficult to make pars.
"I did a great job and holed some great putts for pars. I was very disappointed to bogie the last, but three over is three over. I don't know what the scoring is going to be like, there might be a few guys a couple under, but it's very difficult out there.
"I'll give you an example I had 72 yards from my second shot on the eighth hole, I walked up to it and I had nowhere really to land my second shot - maybe two or three yards to land it with a pitch shot. That's how difficult it is out there.
"I don't know how many three-putts there are going to be on the last green because that pin is just unbelievable. I had probably 16 or 18 feet from pin-high to the left of it and only put it four feet past. It's a tough stretch of holes."