Golf's greatest names hailed Jordan Spieth's dramatic triumph at the British Open at Royal Birkdale on Sunday as the new champion savoured his victory by swigging from the Claret Jug trophy.

Tiger Woods, Jack Nicklaus and Gary Player, the three surviving members of the 'grand slam club' who have won all four majors, saluted the 23-year-old American who will join them if he comes out on top at next month's US PGA Championship.

"Jordan, we are all so happy watching you win the greatest trophy in golf," nine-times major winner Player said in a social media address to the new champion.

"The example you showed to the young pros who will follow in your footsteps is one they will never forget. The courage, the patience, the fortitude. You are a family man, a gentleman and we love you," the South African said.

Nicklaus, the record 18-times major winner, paid tribute to Spieth's "guts and determination" while Woods, who's won 14 major titles, posted on Twitter: "What an incredible way to come back and win."
What an incredible way to comeback and win. Many congrats @JordanSpieth

— Tiger Woods (@TigerWoods) July 23, 2017

Few would argue with that after Spieth played the final five holes in five under par to see off the challenge of runner-up Matt Kuchar and secure his third major to set alongside his 2015 Masters and US Open triumphs.
Spieth remains wary about comparisons with Nicklaus and Woods, despite his remarkable achievements continuing to make them inevitable.
Spieth's dramatic victory at Royal Birkdale saw him join Nicklaus in becoming the only players to win three different majors before the age of 24.
And the world number two can surpass Tiger Woods as the youngest winner of a career grand slam by claiming next month's US PGA at Quail Hollow.
Woods was 24 years, seven months and 25 days old when he won the 2000 Open at St Andrews by eight shots, part of the 'Tiger Slam' of the US Open, Open and US PGA that year and the 2001 Masters.
Spieth celebrates his 24th birthday on Thursday, exactly a fortnight before the US PGA gets under way in Charlotte, North Carolina.
Asked about being in such exalted company following this three-shot victory over Kuchar on Sunday, Spieth said: "I've answered this question a few times a couple years ago, so I'll be careful with my answer.
"It's amazing. I feel blessed to be able to play the game I love, but I don't compare myself. And I don't think that they're appropriate or necessary.
"So to be in that company, no doubt is absolutely incredible. And I certainly appreciate it. And we work really hard to have that, with that being the goal. Therefore, I enjoy moments like you saying that.
"But I'm very careful as to what that means going forward because what those guys have done has transcended the sport. And in no way, shape or form do I think I'm anywhere near that, whatsoever. So it's a good start, but there is a long way to go."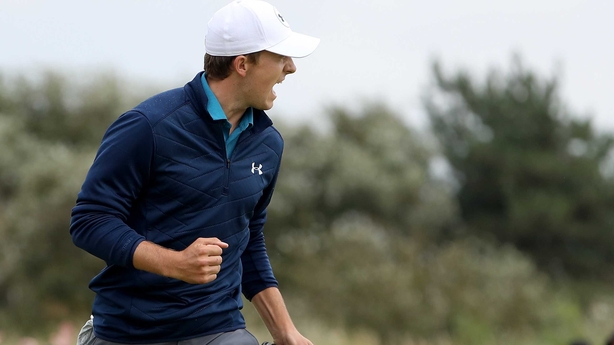 Three shots ahead of Kuchar starting the final round, Spieth found himself a shot behind after his fifth bogey of the day on the 13th, which involved a 20-minute ruling and playing his third shot from Royal Birkdale's practice ground.
That evoked memories of Seve Ballesteros playing from a temporary car park on the right of the 16th hole at Royal Lytham on the way to his first Open title in 1979.
And although Spieth could only make bogey from his unorthodox occasion, it proved to be a turning point on his path to fittingly becoming the youngest Open winner since the 22-year-old Ballesteros.
Spieth played the next four holes in five under par with a barely believable run of birdie, eagle, birdie, birdie and will be the first of three players to have a chance to complete the career grand slam in the next three majors.
Rory McIlroy needs to win the Masters to join Gene Sarazen, Ben Hogan, Gary Player, Nicklaus and Woods in having won all four major titles, while Phil Mickelson's trophy collection is missing only the US Open.
"It's a life goal of mine. It's a career goal," Spieth added. "Growing up playing golf I just wanted to be able to play in major championships and compete with the best in the world and things have happened very quickly.
"And it's good and bad, because a lot comes with it. A lot more attention versus just being able to kind of go about your own thing. And I never realised how underrated that was.
"I wanted to be in this position but then it becomes harder when it doesn't go your way. And you're harder on yourself because you expect so much.
"I thought before the (final) round I have a reputation as being able to close, but I was hesitant in saying 'majors' to myself because I put a lot of pressure on myself unfortunately, and not on purpose, just thinking this is the best opportunity that I've had since the 2016 Masters.
"And if it weren't to go my way, then all I'm going to be questioned about and thought about and murmured about is in comparison to that, and that adds a lot of pressure to me. But closing today (Sunday) was extremely important for the way I look at myself."
July 23, 2017

Spieth's friends Rickie Fowler and Justin Thomas posted pictures on Snapchat of him drinking from his new trophy.

Two years ago, he had also swigged from the Jug in celebration of Zach Johnson's triumph at St Andrews -- but this time Spieth was toasting himself.

Asked by Thomas how drinking from the trophy tasted, Spieth turned to the camera, lowered the Jug and said "fantastic".

Spieth's celebrations will probably continue until at least Thursday, when he celebrates his 24th birthday.

There was more good news for him on Tuesday when the new world rankings saw him rise a place to number two behind Dustin Johnson on the back of his latest triumph. Rory McIlroy remains in fourth place after his joint-fourth place at Royal Birkdale.
The next few weeks will be dominated by talk of whether golf's brightest young star can emulate his 2015 feat of triumphing at successive majors by winning next month's USPGA at Quail Hollow.

If he does, Spieth will join golf's Famous Five -- Gene Sarazen and Ben Hogan are the other winners of each major -- at a younger age than the rest, having already become the youngest American to win the British Open.

Yet brilliant as that triumph was, Spieth knows that luck was on his side during his erratic final round that came so close to disaster on the 13th where he escaped with a bogey after almost losing his ball.

His usual driving accuracy was missing, with statistics released on Monday showing he was only the 24th most accurate player in hitting fairways, behind even the leading amateur, Britain's Alfie Plant, with an average of just 42.9 percent.

Spieth's driving average of 316 yards at the par-five 15th and 17th holes was 13 yards shorter than McIlroy and 18 behind Dustin Johnson, while the new champion proved only third best at hitting greens in regulation with an average of 69.4 percent.

None of these statistics, though, measured the size of his heart. As Zach Johnson tweeted: "(Kuchar) didn't lose it, (Spieth) bowed up & won it."