Masters champion Sergio Garcia is looking to complete an unprecedented Spanish golfing hat-trick at The Open and extend his country's successful summer of sport.
Compatriots Jon Rahm and Rafael Cabrera Bello were victorious at the Irish and Scottish Opens respectively in the last two weeks.
Garcia, whose two runners-up finishes in pursuit of the Claret Jug include the last time the event was in the north west at Royal Liverpool in 2014, wants to complete the treble.
With Spain's Garbine Muguruza winning the Wimbledon women's title at the weekend and Rafael Nadal picking up a 10th French Open title last month the country is currently riding the crest of a sporting wave.
"Yeah, it would be amazing," said Garcia, who finally broke his major drought at Augusta in April, when asked about continuing the run of Spanish success.
"It's so great to have not only that (Rahm and Cabrera Bello winning) but Muguruza winning at Wimbledon, too.
"So Spanish sports it's at a good stage. It's been up there for a while, obviously with Rafa winning Roland Garros.
"It's been a fun year for Spanish sports but for Spanish golf it's been great.
"It's very exciting to see that, to see guys that you're friendly with winning and fellow countrymen doing great things, so we're going to try to keep it as much as possible."
Garcia gets married next week to fiancee Angela Akins but he insists even his impending nuptials will not affect his focus at Royal Birkdale.
And arriving as the current Masters champion, with the confidence a major victory gives him, means the 37-year-old is happy in his surroundings.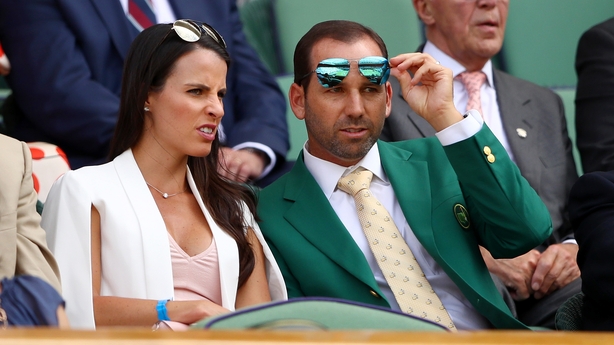 "It's The Open so don't worry. It's going to be where it has to be this week," he added.
"Angela has been doing a great job of getting everything ready for the wedding and obviously we're really excited for next week.
"But we have something that we're also extremely excited about this week, and we want to be here giving everything we have and hopefully with a chance on Sunday, it would be great.
"I said right after winning the Masters (that) I don't think that things have changed.
"I'm still the same person. Obviously winning the Masters was amazing and it does give you a little bit of extra confidence and I've been having a very solid year.
"But every week is different and you don't know how you're going to feel when you go out there on the course.
"I am confident about my possibilities but you also have to realise that after winning Augusta you still want to push hard and get more majors."