Ricky Elliott might not have been actually swinging the clubs himself but Brooks Koepka's Irish caddie certainly played his part in helping the American to win the US Open.
The Portrush man has been on Koepka's bag ever since a chance encounter in the run-up to the 2013 PGA Championship and the pair finally tasted major glory when the 27-year-old pulled away from the field on the back nine at Erin Hills on Sunday.
"I tried every aspect of golf, but I really loved the competitive side of the sport," Elliott, who won the Irish Boys' Championship in 1994, told RTÉ Sport.
"The gamble of going out there and playing, missing a cut and going home.
"I love the competition of the golf and if you can't do it yourself, the next best thing is caddying. I'm in the fortunate position of being able to caddie for someone so good and I've enjoyed every minute of it.
"Oak Hill at the PGA was my first week (with Koepka). He'd just come off the Challenge Tour.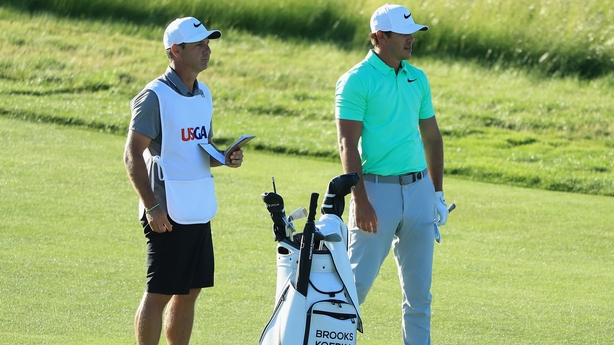 "The lad that was caddying for him couldn't come to America and his manager, Claude Harmon, said to me: "Do you want to come work for this young guy on the PGA?"
"It was the first time I had ever worked for somebody at a major. I said absolutely. The first practice round we played, I just thought that this guy was the real deal. He was hitting the ball unbelievable."
"The first practice round we played, I just thought that this guy was the real deal. He was hitting the ball unbelievable."
Elliott had already tasted victory with Koepka at the 2014 Turkish Airlines Open and the Waste Management Open the following year, but the 27-year-old had long been tipped to make the step up to the winner's circle on a more regular basis.
"He probably hasn't won as much on paper as he should have. He's always had the talent to pull off something like this," said Elliott, who became a US citizen in 2015.
"He's seen his peers like Dustin (Johnson) do it last year, and we play a lot of practice rounds with Dustin, and he's helped him out amazingly."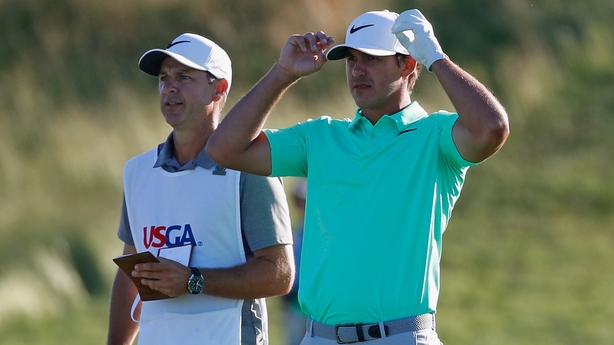 You'd expect that a caddie might have his work cut out keeping the emotions of his charge under control as they deal with the pressure of leading on the back nine of a major Sunday, but Elliott insists he had an armchair ride as Koepka held his nerve to claim the tournament with three birdies in a row on the 14th, 15th and 16th.
"I was a bit nervous when I was winning the Irish Boys," Elliott said. "I was probably more nervous then than I was today because I hadn't really much to do with it apart from watching him put on a great golfing display.
"He was really cool. Whenever a player's on a roll and cool like that, there's no need for me to get excited.
"He was in full control of his game all week. There was no point where we were worried about... obviously he needed to make a few things happen coming in to win the event, but he stayed patient and holed a couple of putts and that was it. He never changed from the first tee to the 18th green."
Caddie Ricky Elliott, asked what he'll do with his $200K earnings: I'm going to buy a 12-pack of Heineken. It won't even touch the sides.

— Jeff Babineau (@GolfweekBabz) June 19, 2017
With Koepka joining the ranks of major winners, the American took home a prize of almost €2million, of which Elliott's share will likely amount to, or even exceed, €200,000.
"It still really hasn't sunk in," Elliott added. "I never really thought about that, but it's quite nice.
"Golf's been my life since I grew up in Portrush and I never thought that when I quit golf that I could get the feeling again of actually winning something and doing something great in golf."