Without a ball being struck, this has been an utterly bizarre week as we get ready for the 81st US Masters at Augusta.
Doubts remain over the participation of world number one and favourite Dustin Johnson after he suffered a back injury in a fall in his rental home yesterday.
And this comes at the end of three heavily weather-affected days practice here at Augusta and also the cancellation of the famous par three competition in Augusta on Wednesday.
Yesterday's fall, quite literally, of the 32-year-old world number one now means we don't know if Dustin Johnson is going to tee it up this evening in the first round.
He was told last night to remain immobile and also to ice the injured area in the lower left side of his back and he was also advised to take anti-inflammatory medicine.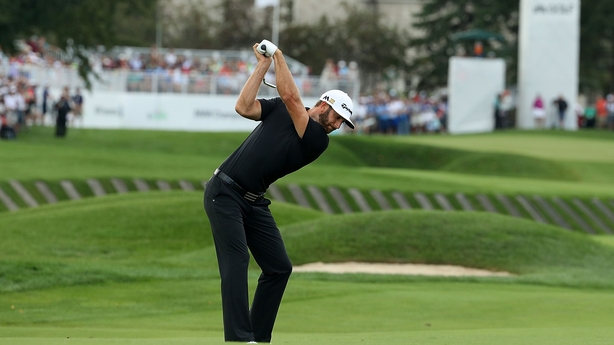 The injury will be assessed this morning, his agent said, in the hope that Johnson is fit enough to play in the first round. He does have a late enough tee time to allow him to have extensive treatment.
The accident happened innocuously enough; he was walking around his Augusta rental home in his socks on a hardwood floor and he slipped and fell on just three steps. He injured, we're told, his QL muscle near the back of his ribcage.
Rory McIlroy, it might be remembered, received treatment for a stress fracture in his ribcage at the South African Open in January and he only lost out on that tournament in a play-off, so it's not inconceivable that we could see Johnston patched up and making it to the first tee at 7.03pm Irish time.
McIlroy has been enjoying good form since his return from that rib injury and with Johnson hogging the headlines with his brilliant form in the last few weeks, McIlroy has been enjoying the relative lack of media as he concentrates on his own preparations here.
"It has been relatively quite, which is nice. I don't think I can fly under the radar any more, but it has sort of felt that way and it has been nice to be able to prepare and go about my business," he told RTÉ Sport
McIlroy starts his round at 6.40pm. Ireland's other competitor here, Shane Lowry, who was tied for eighth place after two rounds at lsat year's Masters is out just before 6.20pm and he would love to be in that kind of position again at the halfway point of this, the 81st Masters,
"If you were to give me lying eighth this weekend again I'd be fairly happy. I just need to be quite calm and cool," said the Offaly man.
It all gets under way with official starters Gary Player and Jack Nicklaus striking their ceremonial tee-shots just before 1pm. Follow our live blog on RTÉ.ie and updates on Game On and Saturday Sport and Sunday Sport this weekend.