Padraig Harrington gives his take on the big contenders at this week's Masters and why it "kills him" to miss out on the tournament this week. 
Speaking with RTÉ's Greg Allen, before news of Dustin Johnson's back injury which threatens his involvement at Augusta, he addressed the major talking points in the run-up to Augusta. 
Harrington on Rory McIlroy: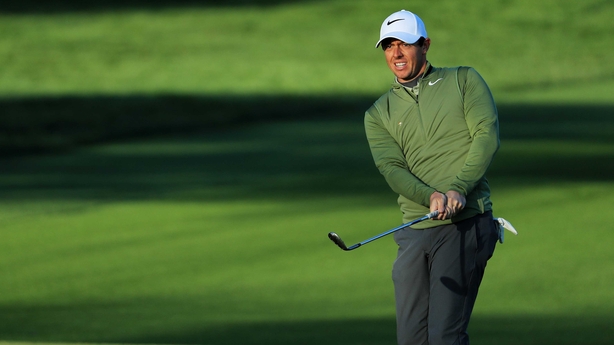 Rory's won four Major titles and he's won so many events in great style, winning the Irish Open the way he won it last year, that just brings great confidence.
I don't think 2011 is scarring him at all. There might be a pressure on Rory in that it is the Grand Slam if he wins The Masters and he's waiting 12 months for it. Most of us are waiting seven months for the next major, but he's waiting 12 months because it will give him the Grand Slam.
I don't think 2011 is the scar tissue, I think just the extra pressure of trying to win the Grand Slam and how much it would mean to win it at Augusta is putting pressure on him.
Dustin is taking a huge amount of that pressure off because he's favourite and Jordan Spieth is taking a huge amount of the pressure because of what happened to him last year so Rory maybe a little bit under the radar but there's a lot of internal pressure because he wants to win the Masters.
Hopefully it doesn't cap off his career and that would be the worst thing about it. If winning the Grand Slam and winning Augusta was such a goal in someone's life, you could win it and stall up everything. Lots of players have stalled in their careers when they've achieved everything they've wanted.
I don't see that with Rory and I do believe he's probably thinking in and around eight or nine majors, trying to be the best European ever. So I do see him kicking on from this but there is a lot of pressure on him to win that Grand Slam and be the first ever European to have done it, so it's a big deal.
Harrington on Dustin Johnson: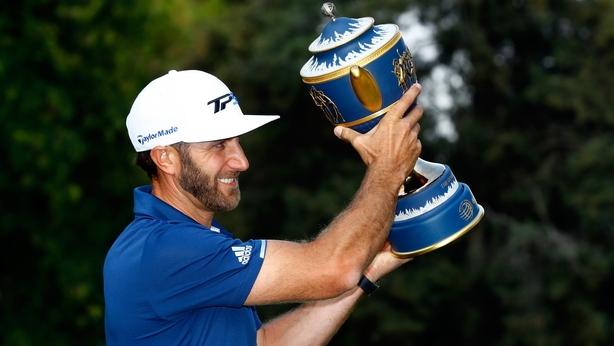 Dustin doesn't think too much, he doesn't look over his shoulder and worry about other people.
When you're playing the best golf, that's a great way to have it. It's not like he's searching to improve his game to get to world number one, he just needs to stay where he is.
When Dustin walks off the golf course, he doesn't give a second thought to his golf. He just goes fishing and whatever. That's a super thing to be able to do if you've already got to world number one.
He has put the work in, he's focused on the weakest part of his game which is his wedge play and he's turned that into a strength.
Strangely he hasn't focused on his putting but that's what has really turned around in his game. He's always been a phenomenal driver, obviously when you're as powerful as his is with his irons, the iron play is a lot easier.
He's worked on his wedge play and when you're as powerful as DJ is you get a lot of wedge shots so that's playing dividends.
What I see the difference is because his long game and short game has come together, he's actually relaxing on the greens and is holing a lot of putts. He's not missing the short putts and that's making a huge difference.
That's not because of work, he'll still doing the same putting routines he's always done. If he spent ten minutes a day on average putting that would be him, but it's amazing his overall attitude and the way he's playing golf.
Maybe that's because he's in his comfort zone so he can miss a putt every now and again and it doesn't define whether he wins or loses, so because he can, he probably misses less of them.
Harrington on Jordan Spieth: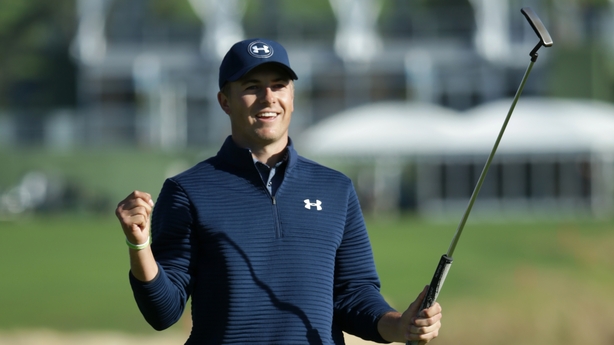 Jordan clearly has the X-factor.  He plays golf pretty much like everybody else but he has that something special and he brings it to Augusta.
What I see with Jordan which is very strange, statistically he is far better this year in terms of fairways hit and greens hit. He is number one in most of the stats on the PGA Tour.
He's dropped down in his putting but it's not like he's dropped down much, he's 35th or something like that.
He's lost a little-bit of length off tee. Jordan has definitely dropped off 4mph ball speed since 2015 which is 10 yards, which is an extra hole into every club at Augusta and Augusta is a long course. It's due to rain next week so it will be very long.
So he's a better player if you want to go through all his game. He's a better player than he was in 2015 but there's something not quite right with his performance as of yet. Maybe it's the other players, there's a lot good players around him and maybe he's under a little bit more pressure and it's not coming as easy to him.
Harrington on Jason Day: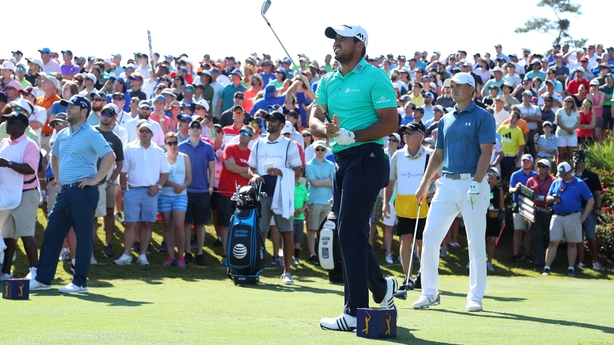 Clearly with the way Jason's mother is, that's going to bring a lot of stress and tension into his world going into the Masters.
Obviously he can't do anything to help his mothers the week of the Masters. She's had her operation, it's been a success and if she's like every other mother in the world she wants he son out there so she can watch it on TV.
He should have a free mind when he goes out there but with all the stress coming into the event.....
Again not to harp on about ball speed but it is important when it comes Augusta and he's lost 8mph ball speed, it's incredible. He's 175mph on the PGA Tour this year when he was 182, 183mph when he was playing well two years ago.
That's 20 yards and 20 yards will feel more than that. I've just had neck surgery for 5mph ball speed and he's out by 8mph.
I could see it in the stats and I didn't know what was going on in his world but it just shows that when you have a stress like that how it comes into the golf game.
This is a guy who could boom it out there, hit drives like Rory, hit drives like Dustin, but not at the moment.
Harrington on Shane Lowry: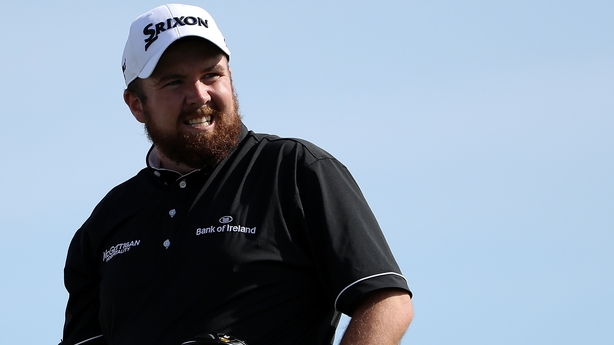 You have to look at Shane at the US Open. It was a great learning experience and I've talked to him about it.
He has discussed in the sense that he knows it was a chance, he knows he could have won, he knows he made mistakes but he's ultimately walked away from it and seen it as 'I am able to win a major'.
Yes he messed up but it's given the confidence to say 'look, if I'm in the same place again and I can do that again, I know what to do this time and I can win a major'. That brings a lot of confidence.
If he plays well and gets himself there he definitely has the ability to be leading going into the back nine and hold onto the lead.
It wouldn't be a fluke for Shane to win at Augusta and he has the game. He's got a long hitter, he's got a good short game.
I think in his own mind he's not happy with his putting. He's holing enough and he's an aggressive 25ft mid-range putter and he does hole his mid-range putts, but at Augusta you get an awful lot of short putts.
He hasn't been as comfortable over his putting but I suppose over a given week that can all chance. In one week you can get in a nice place but he does need, with his short putting, to get on top of that because you'll have a lot of the Augusta.
Even if you do hole them you have to hole them comfortably because if you're grinding over every three-footer it becomes a burden.
Harrington on the outsiders:
I think if you could get value on Adam Scott, I think he is my man. I know he's not going to be an outsider or anything like that, but Adam Scott is putting well. [Scott is around 28/1]
It's something he doesn't always do, he's putting really well and he's working with AimPoint – he's figured out that his putting problems actually come from his reading of the greens in the first place – he's doing a good job on that and he's holing putts.
With Adam, you can always take that his long game is going to be good, so for me, and I don't know what the betting is, but if there's value in the price of Adam Scott, that's who I'd go with.
If I'm going outside outside, I'm struggling. People are saying Jon Rahm, I just don't think the value will be there. I think too many people will be already in there. [Rahm is around 25/1]
Shane, unfortunately if you're backing an Irish person in Ireland, you're never getting value, so unless you're in Vegas... back Shane in Vegas, you'll get longer odds.
On other players: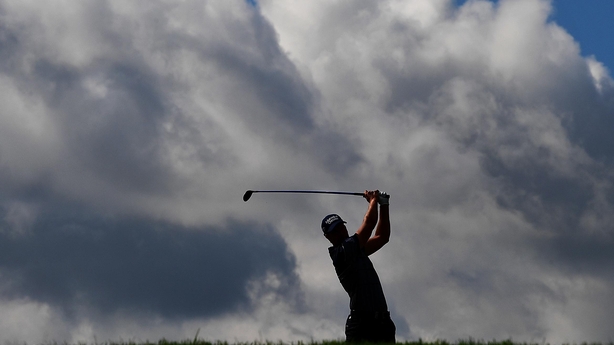 I don't think Henrik Stenson plays aggressively enough for Augusta. He loves to be in control, Henrik, everything about his game is about being in position, being in control, and I think sometimes Augusta requires a little bit of the Phil Mickelson, a little bit of swashbuckling and taking a chance.
I don't think Henrik has had too many good Augustas and that's probably some of the reason. It's hard to stay in control all of the time there.
On Marc Leishman and others:
Marc hits a big cut, and gone are the days when you have to draw the ball at Augusta. Yes, it's nice to draw the ball on some holes, but I don't think that it's necessarily a big issue, as long as you hit it straight. 
DJ hits a fade, but it's like it's on a rope, so he doesn't need to draw the ball, but Marc hits a big cut, so for him to get around holes like 13 and 14, big doglegs, will be tougher.
Yes, he's on a streak, but he wouldn't be my choice down to the fade. He is big and strong, which is a help, but even coming off the win, and I think he's in a happy place, no I'd definitely be sticking with Adam Scott.
Phil Mickelson has obviously been playing very well, but I think his odds would be shorter because he is a favourite with the fans and that will shorten his odds. [Phil is around 25/1]
Bubba Watson is a Masters specialist and you can't look past that, even though his form has been horrible so far this year.
It will be interesting to see him playing with that pink and green golf ball. When you make a statement like that with equipment, when you step away from what the rest or doing, it can go two ways.
It could be the best thing in the world but the player has to believe it. If I'm playing against you and I'm better than you and we are both using the same equipment, then it only comes down to skill.
If we are using different equipment, and my ball does something different, or I do something different, all of a sudden you're questioning.
It's a big change, changing to the ball he has now, and by using a pink and yellow version of it, it's like throwing it out there. It's like one of those things, you are telling the world, "have a look at me, I'm doing something different", and you have to live up to that.
Clearly at the start of this year he hasn't and there will be questions asked as to what that's all about.
On Justin Rose:
Yeah, Justin Rose, always leads at Augusta. Justin struggles on the greens and that's not a great thing when you come to Augusta, but he clearly loves the golf course.
He's a great ball striker, so if there's value, yes. It would all depend on what the odds are with Justin. He would definitely give you a run for your money, which is what's great about Justin, so you certainly wouldn't rule him out. He's probably a good each-way bet because of the way he leads after the first day pretty much every year! [Rose is 25/1]
On neck rehabilitation and comeback:
It's gone very well. I had a replacement disc C6-C7. I feel good.
The problem for me now is that I feel good and I have to try and not do stuff. I'm meant to stay within the bounds of things. I could swing a golf club but not hit a ball with any force at the moment.
This (working for Sky at the Masters) was a good plan for me to get away. If I was here for another couple of weeks I'd be really anxious to get at it.
At least if I go to Augusta I'm doing something I'm interested in and having a bit of fun with. It keeps me away from the wanting to and practice.
I'm actually taking another bit of a holiday with it so by the time I'm back ready to play it will be six weeks, which is just what they recommend. I'll be definitely well able to play in six weeks, and I'll do a few weeks practice and I'm intending to come back in the 10th week, which will be Wentworth.
On history of injury:
I've often struggled with my neck and it's C5 on the left hand side which has had a bulge but that has actually regressed and gone away with treatment over the years. I do struggle with my upper back and neck, but I actually pinched a nerve in the Olympics, in the village.
The pillow in the room was basically an inch high and I slept on my clothes. I bundled up loads of clothes under my head, but the problem was I squeezed them up there with my arm, so I normally sleep with two pillows under my head and one under my body so I don't fall forward, but I was sleeping on my clothes and holding them up and I pinched the nerve in my neck.
I struggled all that week and I ended up with it throbbing in my mid-rhomboid and I basically lost 5-8 mph on my ball speed.
I was screaming at everybody about this and basically everybody was looking  at me like I'm a nutter – how do I know these things? – but I could tell and eventually the throbbing got worse and I ended up with a numb right hand, right finger, and pins and needles.
Then everything started breaking down because it's all compensating. I actually had atrophy in my right triceps, I lost grip strength, everything went. So I had to have it done.
On his game: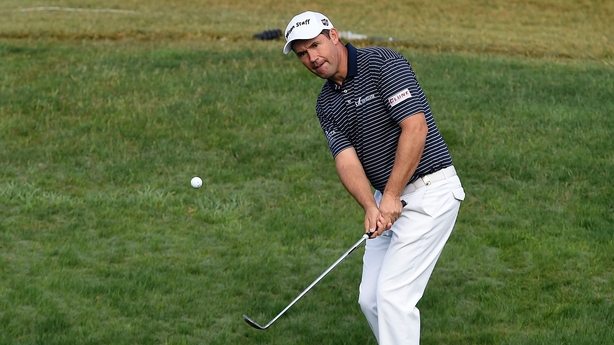 I'm so excited about my game, I did some great work with Bob Rotella at my last tournament on my routine, which meant I hit the ball much better.
I'd gone back to the waggle which I would have had in 2007 in Carnoustie. I took that waggle out for 2008 in Birkdale, but the waggle seems to be really good.
I've sorted some stuff out mentally with  my short game. I'm number one on tour around the greens, so the short game is obviously as good as it's ever been.
So I'm very excited, but I do need to have this 5-8 mph back, and I'm praying that this operation does the job.
On getting back to form:
I didn't do the right preparation for the season because of the injury. I got out and tour and I thought "yeah, I'll pick it up after a week", and I struggled. I really struggled for all five weeks to be honest.
You can't get the proper practice in when you're on tour. It's just impossible. The golf course is busy and you can't go out there and do the stuff you need to do on a Monday or Tuesday. You certainly can't do it on the driving range.
Because I did nothing, and felt so bad about it and couldn't pick it up when I was out there, I kind of now realise that my practice habits need to be much better.
So, when I come back, I'll be going back to the drills I used to do with Dave Alred in 2012. That year I played my best tee-to-green golf ever. I shot a number of course records, I just struggled with the yips that year.
I had the chance to win at Augusta, I had the chance to win at the US Open, so I was in real form that year. In hindsight, I'm just not doing the right sort of preparation so this trapped nerve could be a blessing.
So if I was a punter out there and you're looking to have bet, find some obscure bet on me, put a quid on me to win two majors, or to win the Masters in the next five years, something like that, because there is good golf ahead.
Getting back to Augusta:
It kills me to miss out on any major, and Augusta is very special. Going back every year, they really do have a great form while you're there, the traditions and there's a certain atmosphere...
For us golfers, and we do have other great majors, great tournaments, but there's nothing as special as going to the Masters. If anyone does have the chance to go it really is one of the sporting occasions not to be missed in this life.
Padraig Harrington was in conversation with Greg Allen on RTÉ Radio1's Saturday Sport