World No.1 Dustin Johnson overcame spirited resistance from Spain's Jon Rahm to make history by winning the WGC-Dell Technologies Match Play, his third tournament victory in succession.
Johnson became the first player to have won all four World Golf Championship events by beating Rahm by one hole in a dramatic final at Austin Country Club.
The 32-year-old never trailed at any point in his seven matches and was only taken beyond the 16th hole for the first time in a hard-fought semi-final victory over Japan's Hideto Tanihara.
But he was also made to work hard to secure the first prize of #1.3million in the final as Rahm, who was trying to become the youngest winner of a WGC event, fought back from five down after eight holes to take the contest to the 18th.
Rahm missed good birdie chances on the first two holes and fell behind with a bogey on the third after finding thick rough off the tee, before compounding that mistake by three-putting the next.
It looked as though the 22-year-old would escape with a half on the short fifth after his chip from the side of the green hit the pin, but he missed from four feet after conceding Johnson's birdie putt.
Another birdie on the sixth extended Johnson's lead and it would have been even bigger but for Rahm holing from 25 feet for par on the seventh after hitting his long birdie putt off the green.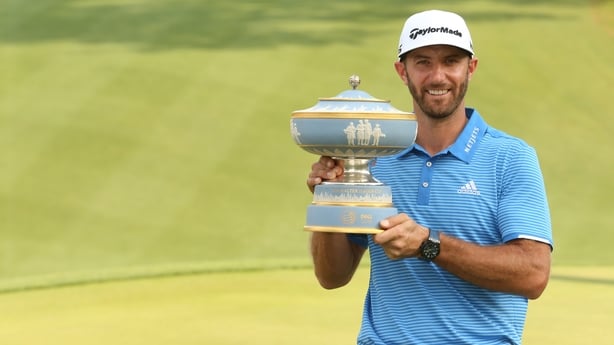 However, Rahm's frustration was mounting rapidly and he kicked his driver along the ground in frustration after a wayward drive on the next led to another loss and a five-hole deficit.
Rahm, who beat American Bill Haas 3&2 in their semi-final, was handed a lifeline when Johnson bogeyed the ninth and 10th, and although the US Open champion bounced back to birdie the par-five 12th, Rahm drove the green on the short 13th and two-putted for his first birdie of the day.
A birdie on the 15th was followed by a remarkable one on the 16th, Rahm hitting his second shot seemingly straight through a tree before holing from 30 feet to get back to just one down.
Extra holes looked on the cards when Rahm drove to the back edge of the 18th green, but a terrible chip took the pressure off Johnson and he safely made par from the fringe to secure the title.
Johnson and Tiger Woods are the only players with five or more WGC titles and although Woods won an incredible 18, the former world number one failed to collect the HSBC Champions trophy in his only two appearances.
Haas beat Tanihara 2&1 in the play-off for third place, although Tanihara had the thrill of making a hole-in-one on the seventh.
Rahm appeared to have been distracted by a noise from the crowd as he hit his second shot on 18, telling Sky Sports: "It's not an easy chip but I could have had a 12-footer for birdie and maybe win the hole.
"For something like that to happen is really unfortunate. I understand if I miss the shot, but if something in a moment that's so quiet happens it makes it feel a little worse because it's something that I can't control.
"It feels so bad because of all the work I did on the back nine to come from five down to almost have a chance.
"It's a lot of positives to take out of this week so I'll be sad for a couple of minutes but then I'll be fine. I'm really proud of what I did, it was a great week.
"I'm thrilled I'm going to have a chance to maybe play in the Ryder Cup. It's just the beginning of the season so it's all good to come."
Johnson, who is favourite to win a second major title in the upcoming Masters, added: "This was a tough one, a tough match against Jon.
"I gave him 10 when I three-putted but that was about the only hole I gave him, he played tough. He's a great player, he's going to be a great player out here for a long time.
"I've got a lot of confidence in the game right now, feel like I am driving the ball great, I'm wedging it well. I can work on the mid-irons a bit but we can work on those next week after I take a couple of days off."