Rory McIlroy believes pride, selfishness and a ruthless streak are the key ingredients to match play success as he gears up for his Masters mission with a battle in Austin.
McIlroy returned to second in the world rankings by finishing tied for fourth in the Arnold Palmer Invitational on Sunday, his third top-seven finish from three events in an injury-affected season.
And the four-time major winner would like nothing more than to regain the WGC-Dell Technologies Match Play title he won in 2015 in his final competitive outing before next month's Masters, where he will attempt to join Gene Sarazen, Ben Hogan, Gary Player, Jack Nicklaus and Tiger Woods in completing the career grand slam.
Asked what makes him a good match play competitor, McIlroy told a pre-tournament press conference: "I think a ruthless streak... selfishness, in a way.
"I feel I can wear my opponents down just by hitting quality golf shots."
"And pride. I'm too proud to be beaten. I won't let anyone get up on me. I sort of think too much of myself to let anyone do that to me.
"So that's why I've always enjoyed match play because if you do get yourself into a bit of a dogfight out there, it's something I've always quite enjoyed.
"Some guys think that you can wear your opponent down by putting them under pressure on every hole. Hitting every fairway, hitting every green and being really consistent. I think that's one way to play match play.
"But then the other way is you can be a bit erratic, but if your short game is saving you, and you're holing putts and you're getting it up and down from bad positions, that can frustrate your opponent as well.
"I would probably be in the former of those two categories. I feel I can wear my opponents down just by hitting quality golf shots and sort of mentally beating them by them saying to themselves, this guy isn't going to miss a shot today, so I better be on my game. So I think that makes a good match player."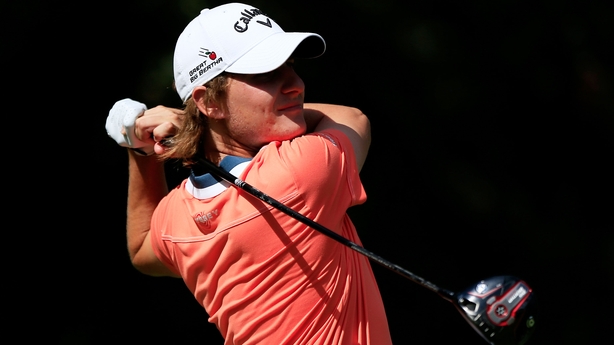 McIlroy has been drawn to face the man he beat in the 2015 final, American Gary Woodland, as well as Emiliano Grillo (above) and Soren Kjeldsen in the group stages at Austin Country Club.
The 27-year-old reached the semi-finals 12 months ago before losing by one hole to eventual champion Jason Day and is in favour of the round-robin format which sees group matches played on Wednesday, Thursday and Friday.
The winner of each group advances to the last 16 on Saturday morning, with the quarter-finals on Saturday afternoon and the semi-finals and final held on Sunday.
"I've been a big fan of going to this format," added McIlroy, who will take on Kjeldsen on Wednesday.
"In 18 holes of match play really anything can happen and you've seen that in the years gone by. Tiger being beaten by Nick O'Hern or whoever it may be in Arizona.
"Not that Nick O'Hern is a bad player, but if it had been the way the format is now, and Tiger could go out and win his next two matches and give himself a chance to get to the weekend, then it's a little bit different."
Count 'em down.

The top 10 shots from the @DellMatchPlay. pic.twitter.com/VgExzIjj0n

— PGA TOUR (@PGATOUR) March 21, 2017
McIlroy would however, like to see the final revert to 36 holes, and also has an opponent picked out in Ryder Cup foe Patrick Reed.
"It would be nice to play Patrick again," added McIlroy, who lost a thrilling contest to the American at Hazeltine. "There is some unfinished business there that I would like to clear up.
"I feel like we both play well in this format of the game so if it came to that and we were to face each other that would be awesome; something I'd really look forward to, to try to beat him and beat him by more than one hole, just so I have a little bit of an edge.
"Getting beaten on a Sunday of a Ryder Cup stings. But it was a pleasure to be a part of that match because the people remember that for a long time."
The top 64 in the world rankings qualify for the £7.8m event, but Henrik Stenson, Adam Scott, Rickie Fowler and Justin Rose have all opted not to compete, while in-form Canadian Adam Hadwin is getting married.