Ten years of Major success has left Irish golf fans a little bit spoiled.
That's the opinion of three-time Tour winner Shane Lowry as the golfing season cranks into gear in the coming weeks.
Major title wins from Pádraig Harrington (three), Darren Clarke, Graeme McDowell and, of course, four from Rory McIlroy have catapulted players from this island to the very top of the game's global consciousness in recent years.
But Lowry, a World Golf Championship winner at the 2015 Bridgestone Invitational, insists there is a lot more to golfing life than just the 'big four'.
Speaking exclusively to RTÉ Sport at the Irish Golf Expo in Citywest Hotel, Dublin, the Offalyman said: "Everyone just talks about Majors, people are obsessed with them.
"Now, obviously you want to win Majors – but, I think people in Ireland have just been spoiled with Majors over the last 10 years and that's why Irish people are obsessed with them.
"I've tried to take my focus a little bit off the Majors this year. Taking each day and each week as it comes and trying to just focus on what's ahead of me.
"Everyone focuses on the Majors a lot. The Majors are massive – but they're only four weeks of the year. I play between 25 and 30 events a year so you still want to play well the other 20-odd weeks.
"When the Masters comes around (6-9 April), I'll obviously be trying to play as well as I can – but that's the way I am every week.
"I don't go into any tournament trying to hit a certain shot just because it's a Major. I just go in, see how I'm playing, practise as hard as I can coming up to it and see what that brings…"
Lowry had touched on the subject earlier during an informal Q&A session when he shared a chance conversation he had recently had with a golf fan regarding a fellow Irish pro.
He explained: "Someone had mentioned Paul Dunne, and a lady asked me if I thought Paul Dunne would ever 'make it'. I wasn't sure what to say to that, he's playing professional golf on Tour for a living – that is making it!
"Take any PGA Tour event, there's only 125 guys in that event on Day 1 - 125 guys out of everybody in the world! And we have five [Irish] guys with PGA Tour cards."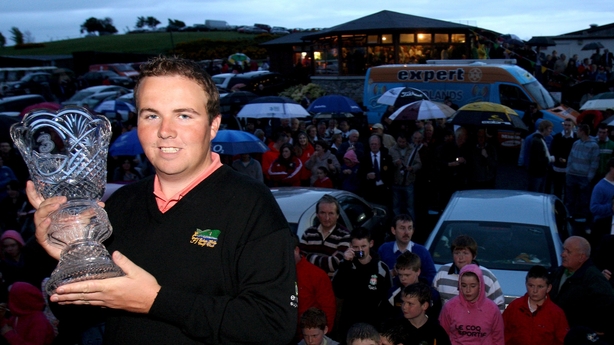 Anyone assuming the 2009 Irish Open champion's words betray a certain apathy towards the big prizes would be making a massive mistake, however.
While impending fatherhood – wife Wendy is due the couple's first child next week – will undoubtedly see a slight shift in domestic priorities, Lowry's grá for Augusta National, the storied venue of the Masters, is unmistakable.
For the Clara native, the Georgia layout is effectively 'the happiest place on earth'. "When the Masters comes around it's very exciting," he beamed.
"Augusta is the best place in the world to play golf, it's amazing.
"For anyone that has never been there, I can only describe it as being Disneyland for golfers, that's all I can say really."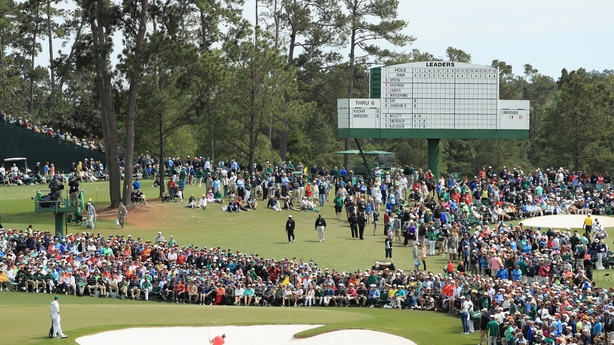 "Indeed, in his fans' Q&A session, Lowry admitted his 'Perfect Fourball' group would consist of himself, Arnold Palmer, Jack Nicklaus and Tiger Woods with the venue, naturally, Augusta.
Speaking of Woods, the former undisputed heavyweight champion of golf's most recent comeback has been shelved thanks to ongoing back trouble.
And while Lowry admits "it isn't nice to see anyone going through a bad phase", the 29-year-old has been around long enough to know that Woods neither wants, nor needs, his sympathy.
"I'm a professional golfer, I'm in the same industry as him, if you like, and I'm sure he's not sitting at home on his couch feeling sorry for me if I'm not playing well," Lowry reckoned.
"I'm not going to sit there and feel sorry for him. Obviously it's not great to see [Woods struggles] but it'd be nice to see him back playing well for a while."
"Lowry has enjoyed a long and fruitful relationship with his coach Neil Manchip, who has been in the position since the golfer was 17. Woods, on the other hand, has famously mixed it up over the years with regard to his 'technical staff'.
"When the American took the sporting world by storm in the 1990s, he did so with the cool guidance of Butch Harmon who helped him collect eight Major titles.
After moving to Hank Haney's stable in 2004, Tiger took six more 'big ones'. He has since had a stint under the tutelage of Sean Foley (2010-2014) while Chris Como was then brought in as a 'swing advisor' after a parting of ways with Foley.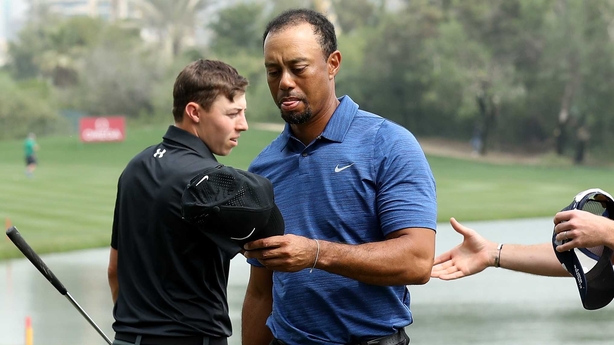 However, any fallow periods in Woods' career had nothing to do with his fondness for change, according to Lowry.
He said: "Each time he made those changes he still came back and won again so there's no reason to think that was a mistake.
"I think [making changes] is something he loved doing, I think he's obsessive about the game and that's what he loved doing."
PGA Tour journeyman Pat Perez made waves this week by declaring that 14-time Major champ Woods "can't beat anybody right now" and is struggling to remain "relevant".
Lowry, understandably, was making no such outlandish predictions: "I'm not going to say his number's up, I wouldn't say anything like that. I'd love to see Tiger back playing well.
"[Perez] during the week came out and said some stuff and he got a bit of stick for it so I'm not going to say anything like. Like I said, I don't think [Woods] is feeling sorry for me when he's at home on a Sunday evening and I'm not playing well.
"I'm not going to feel sorry for him but it's not nice to see anyone going through a bad phase because I know what it's like to go through a spell of playing bad golf."
Another golfer who came in for "a bit of stick" this week is Lowry's countryman McIlroy.
An innocuous round of golf with a certain Donald Trump saw the Holywood golfer receive some unfavourable remarks on social media and beyond.
Lowry had sympathy for the predicament the world number three found himself in but, on a Six Nations weekend, he was eager to kick to touch on the subject of the polarising president.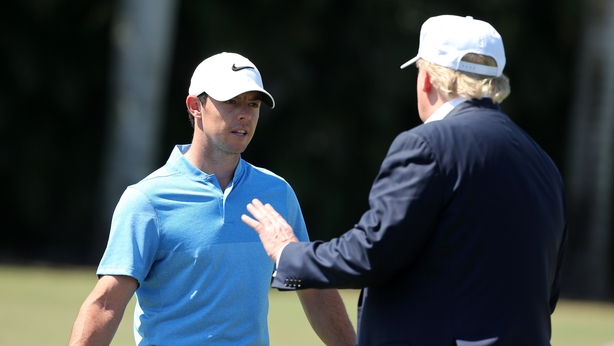 "I don't know what I can say about that because no matter what I say on this subject it's going to be the wrong thing," he said.
"If I was asked to play golf with Trump I don't know what I'd do. I'm not going to say 'no', I'm not going to say 'yeah'.
"At the end of the day, he's still the President of America and I'm sure that's what Rory thought to himself – 'the President of America is after asking me to play golf, I'm going to go play golf'.
"It's just a game of golf. It's not like he was up in the White House having meetings with him for a few days. That's all it is – a game of golf.
"We travel around the world, we meet different types of people. When we're playing in places like Dubai or Abu Dhabi, you meet people and are introduced to people that have different beliefs than you do. That's just the way it is. We're a global sport."
A global sport that has brought Lowry all around the world since his phenomenal breakthrough eight years ago when the Esker Hills representative took his National Open while still an amateur on a famous Sunday at Baltray.
But does any small part of him miss the days when golf was merely a hobby rather than his day-job? "I don't really miss that, no" he claimed. "But a few weeks ago, I went down and played a round with my friends from home, we'd a bit of craic around Esker Hills. I like doing that as well at times.
"I still enjoy playing. But I think I can only play well when I'm playing 'for something' now. I struggle when I'm playing at home in just a random round. I think the competitive side is in me now. I can't just play as a hobby anymore.
"It's my job now but I still love doing it.
"There's not many better jobs in the world if you ask me."