Chris Wood has no regrets over dropping Lee Westwood as his partner for next week's World Cup of Golf in Australia, with the Englishman banking on his team spirit with Andy Sullivan to carry the duo to glory.
Westwood and Danny Willett, second in the European Tour money-list, were lined up to represent England at the team event in Melbourne until the latter pulled out with a back complaint, meaning Wood stepped in as the next highest-ranked Englishman.
Under tournament rules, Wood could then select his own playing partner and, instead of maintaining Westwood's place chose Sullivan - a move which, according to British media reports, left the former world number one fuming.
"I obviously made the decision last week and if Lee wins the tournament, I'm going to look even more of a tit
"I completely understand his frustration, but Dan's the one who decided to pull out when Lee's plans were all done. The rules are the rules and I had the choice," Wood said at the DP World Tour Championship in Dubai.
"Obviously, it's hard on Lee but I'd like to think that me and Sully can go there and be good enough to compete and try and win it."
Wood noted that himself and Sullivan represented Europe at the Ryder Cup this year and were at the top end of the European Tour's Order of Merit going into the final round in Dubai this weekend in ninth and 13th respectively.
Sullivan has been in good recent form, coming second in the Portugal Masters at the end of October and tied-third at the Nedbank Golf Challenge in South Africa last weekend.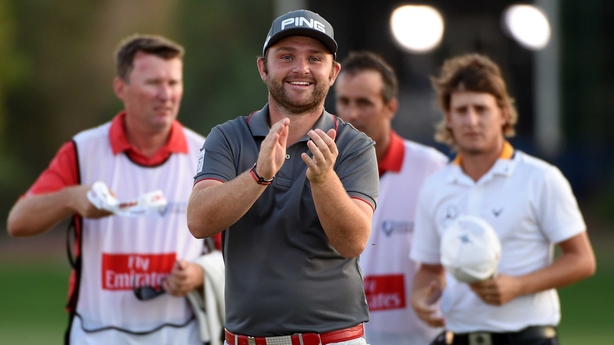 However, Westwood's blistering performance so far in Dubai, leading the field after day one and standing one shot behind at halfway, has placed increased scrutiny on Wood's decision.
"It's typical really that it comes out and Westy leads the first day. Good on him - I hope he wins it," Wood said.
"I obviously made the decision last week and if Lee wins the tournament, I'm going to look even more of a tit. The decision's been made and I will have to live with it."
Westwood's performance in the desert emirate contrasts sharply with Wood's own struggles here. He was speaking after carding a one-under par third round score which moved him to two-over for the tournament.
"I could stand on the putting green for two hours this afternoon and feel like I'm not going to make a difference," Wood said. "Sometimes you get weeks like that, and once it's in your mind - where you can't see the lines - it's a nightmare."
He hoped to solve some of his issues with rest and "one or two beers" on Sunday with the friends and family who have accompanied him to Dubai, but his camaraderie with Sullivan will also give him a boost going into Melbourne.
"I've got Sully as a team mate, so the team spirit we'll have will be awesome. If you're not quite on it, the two of you together will gel and carry each other forward," said Wood.
"I think we're right up there," he added, noting there were three or four other teams he expected to challenge at the event.