Lee Westwood feels he let down European captain Darren Clarke after failing to win a point in the Ryder Cup.
Westwood and fellow former world number one Martin Kaymer were given wild cards by Clarke as the Northern Irishman looked for experience to balance the six rookies in his team at Hazeltine.
However, while Clarke's final choice, Thomas Pieters, justified his selection by winning four points from five matches, Westwood lost all three of his matches and Kaymer's only victory from four games came in
Sunday's singles after the result had been decided. Asked if he felt he had let down his good friend Clarke, Westwood said: "Yeah, a little bit. I was a captain's pick and I would have liked to have performed well for him, but we sat down [afterwards] and chatted about it.
"He said 'What could I have done differently?' and I said I thought you did all you could. The American team did to us what we have been doing to them the last 20 years.
"A lot of people said to me it's a good result for the Ryder Cup and it keeps the interest in it. We had won it three times in a row. Sooner or later they are going to win one and it just happened to be under Darren's watch.
The American team did to us what we have been doing to them the last 20 years.
"It's unfortunate and there's not a lot you can do about it, really. They had a strong team and I thought they got the set-up spot on for their team, when you look at it."
Westwood took responsibility for his foursomes loss with Pieters on Friday morning and told Clarke he should be left out of the afternoon session, preferring to work on his game with coach Pete Cowen.
And although he feels that work paid off with better play in Saturday's fourballs, he and Masters champion Danny Willett still lost to Ryan Holmes and JB Moore on the 18th.
Both European players contrived to bogey the par-three 17th to trail for the first time in the match, before Westwood missed from two feet for a birdie on the 18th to salvage half a point.
The 43-year-old insists he has not lost sleep over that moment, adding: "I rarely lose sleep and people are always going to miss putts. It was a lot of pressure on that situation and just one of those things. I didn't put a good stroke on it and shoved it a bit and didn't go in.
"I think sometimes I get judged unfairly on my putting because the rest of my game is so strong."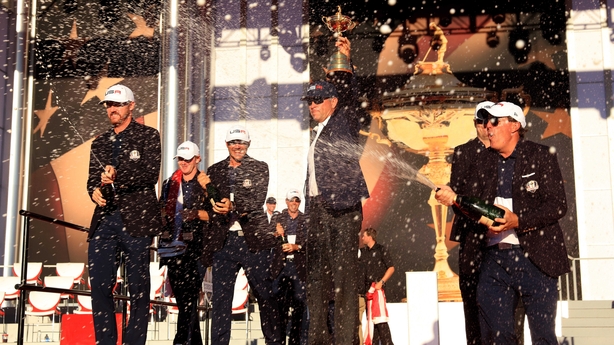 Westwood looked set to claim at least one point from the week - he needs two and a half to overtake Nick Faldo as Europe's all-time record points scorer - when he moved two up with three to play against Moore in the singles.
But Moore then eagled the 16th and birdied the 17th before Westwood bogeyed the last.
"It's just symptomatic of the way the week went really," Westwood added. "Everybody goes there wanting to play well and I did show spells of good golf.
"But when you break it all down, if I had won the two games that I was involved in that came up the last, we'd have lost by a point."
I certainly wouldn't want to be the captain next time around. That's too soon for me.
Despite Europe's 17-11 defeat being their heaviest loss in 35 years, there has been precious little criticism of Clarke's captaincy from inside the camp, possibly welcome news to Westwood as he targets being captain himself in 2020.
"Sometimes it's sport and you don't get what you want, no matter how good of preparation you put in. But the preparation was all right and that's all you can do," he added.
"I certainly wouldn't want to be the captain next time around. That's too soon for me, but I think 2020 is definitely on my radar. There are a lot of candidates for it but I'll be putting my name in the ring for sure.
"I've played on 10 and witnessed 10 different forms of captaincy, so I'm pretty well qualified to be a captain I would have thought.
"I'd like to maybe play again, but if I can't play again I'd like to do the assistant captain's role, [see] what goes on behind the scenes, although I paid a lot of attention to what Darren and the assistant captains were doing this year.
"I don't think necessarily you have to be an assistant captain (before being captain), but it probably helps. Another angle to see it from, more experience."