Dustin Johnson says he does not want to partner United States team mate Phil Mickelson at next week's Ryder Cup in Minnesota.
Throwing diplomacy out of the window, the long-hitting Johnson on Wednesday made clear his thoughts regarding Mickelson, who is a five-times major champion.
"I think I can partner pretty well with pretty much anyone, except for Phil," world number two Johnson told reporters on the eve of the Tour Championship at East Lake Golf Club in Atlanta.
"Me and Phil don't partner well together," added Johnson, in what amounted to a public plea to US Ryder Cup captain Davis Love III.
US Open champion Johnson made it clear he has no personal issue with Mickelson, with whom he regularly plays practice rounds before tournaments, usually with a wager on the line.
"We play well against each other," said Johnson. "I love Phil and we're great friends but we have a lot more fun when we're playing against each other than when we're partners."
Johnson's antipathy to partnering Mickelson stretches back to the 2010 Ryder Cup at Celtic Manor in Wales, when the two were paired for the opening day foursomes and fourballs.
They lost both matches 3&2.
Left-hander Mickelson famously also had a nightmare partnership with Tiger Woods at the 2004 Ryder Cup.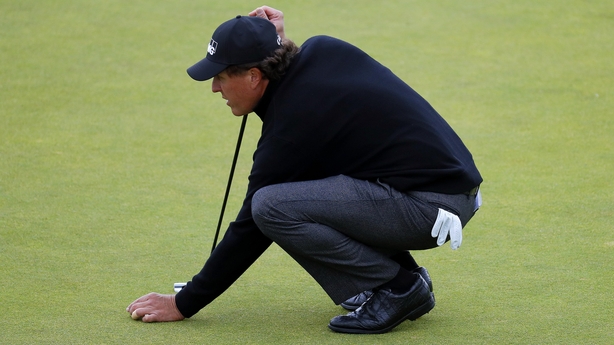 They were arguably the best two players in the world at the time, and U.S. captain Hal Sutton thought they would be invincible together.
But that proved to be a terrible decision, as Woods and Mickelson lost both of their first-day matches. They have not been paired since.
Mickelson has a 16-19-6 (win-loss-halve) record from 10 Ryder Cups, while Johnson is 4-3-0 after two appearances.
When the American and European players gather at Hazeltine National in Chaska, Minnesota next week for the biennial showdown, one man missing will be world number one Jason Day.
The Australian is such a big Ryder Cup fan he is tempted to attend the event just to experience the atmosphere and feel the tension.
Instead, he will probably just make do with curling up in the comfort of his home in Ohio and watch the drama unfold via television.
"I get to sit on my couch and watch the other players sweat, which is fantastic," Day said, before bringing up the issue of the American "task force" that was formed to come up with ideas on how to improve the U.S. team after they were crushed by Europe two years ago.
"If America doesn't win, I wonder what'll happen to that task force?" Day pondered, perhaps a little mischievously.