Jimmy Walker enjoyed the "surreal" feeling of claiming his first major title after surviving a marathon final day and a stunning late thrust from defending champion Jason Day to win the weather-affected US PGA Championship.
Walker carded a closing 67 at Baltusrol to finish 14 under par, one shot ahead of Day after the world No.1 eagled the final hole to pile on the pressure.
A par was still good enough for Walker to become the eighth wire-to-wire winner of the US PGA - and the first since Phil Mickelson at the same venue in 2005 - and the 37-year-old held his nerve after pitching to 30 feet from right of the green.
Walker admitted afterwards: "It's amazing, surreal."
"I said when I birdied 17 that'd probably end it. But sometimes things just don't come easy.
"Jason is a true champion...eagle on 18, that's unreal. That really put it on me to make a par and pars are hard sometimes. But we got it."
Walker briefly contemplated laying up on the par-five 18th before opting to try to reach the green, adding: "I figured 19 times out of 20 you're going to make a five going for the green from right there.
"I literally hit it in the worst place you could hit it and ended up having to make a little tester coming in and just buried it. It was awesome."
Walker took a one-shot lead into the final round and opened with nine straight pars before holing out from a bunker on the 10th and adding another birdie on the next from 30 feet.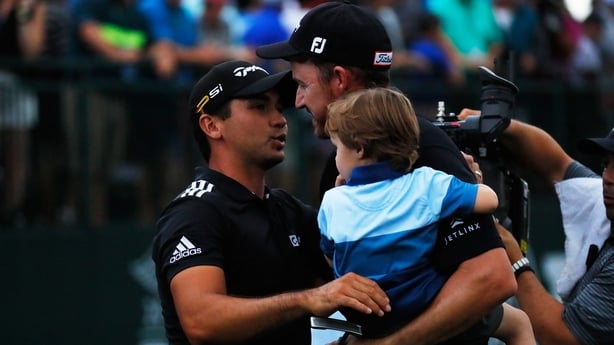 "I had a nice lie in the bunker," the new world No.15 said. "It was uphill and it looked good.
"You're thinking about getting it close, because you want a tap-in, and it went in. That's just the way it goes.
"The putt on 11 was big. I didn't hit a very good iron shot after a good tee shot. I seemed to make a big key putt, long putt, every day this week."
"I seemed to make a big key putt, long putt, every day this week."
Day only managed one practice round at Baltusrol after feeling under the weather and then spending Tuesday night in hospital after his wife suffered an allergic reaction.
The 28-year-old admitted he was "running on empty" after defending his Canadian Open title immediately after finishing 22nd in the Open at Troon, but was proud to put up such a staunch defence of his title.
"The eagle was really nice," Day said. "They're the things you have to do when you're under pressure. I had to give Jimmy something to think about, I had to step up and do something at the last.
"The two iron into the green was probably one of the best two irons I've ever hit into a par five, especially under the circumstances. As soon as I hit it, it felt perfect. Emiliano (Grillo, his playing partner) came up to me and said the ball was scared of me when I hit it!
"It was nice to get the eagle, just to try and make Jimmy think about it, but obviously Jimmy just played too good all day. The birdie on 17 was key for him.
"I'm a little disappointed, but at the end of the day I came in here with not the greatest preparation. I'm very, very happy with how I played all week.
"I know exactly how Jimmy feels, because I did exactly that last year. So it was actually quite nice to be able to see him celebrate with his family and friends there.
"I tried to give it a good run. I felt like I played pretty decent the whole week and unfortunately it just was not good enough. But I can't be disappointed. Jimmy played great all week and is a deserving winner."