Four-time major winner Rory McIlroy and Masters champion Danny Willett and face a battle to get back into US Open contention as the tournament itself fights to get back on schedule.
Thunderstorms wreaked havoc at Oakmont on Thursday, with half of the 156-man field unable to even start their rounds and only nine players finishing.
Willett and McIlroy were four over par after 12 and 13 holes respectively when play was abandoned for the day, with a restart scheduled for 11.45am Irish time - weather permitting.
Unheralded American Andrew Landry faces a birdie putt on the ninth, his final hole, when play resumed to card a possible four under par 66 which would be the lowest first-round score shot in nine US Opens at Oakmont.
But the other major talking point on day one was why players were not allowed a customary warm-up period after the first 79-minute weather delay.
"That was a bad one," said Willett, who is seeking to emulate Jordan Spieth's achievement last year by winning the first two majors of the season.
"We sat in a cabin for an hour and ten minutes behind the seventh tee without being given a chance to hit any balls or do anything.
"It's not like you are playing a Sunday medal, you're in a US Open, (but) they don't give you a chance to even hit a few balls.
"Even the second time out, at 1.47 we were told to go back out again at 2.10. By the time you get your stuff ready and get out to the range you never hit any balls.
"You can appreciate they're trying to get as many holes in as possible, but sometimes you just have to call it a day and come back."
Ireland's Shane Lowry found himself in a similar position to Willett but adopted a more conciliatory tone after ending the day on level par following 11 holes, making him best of the Irish at tied eighth.
"We were standing there for well over an hour and it wasn't ideal, but I went back out there and I felt okay," Lowry said.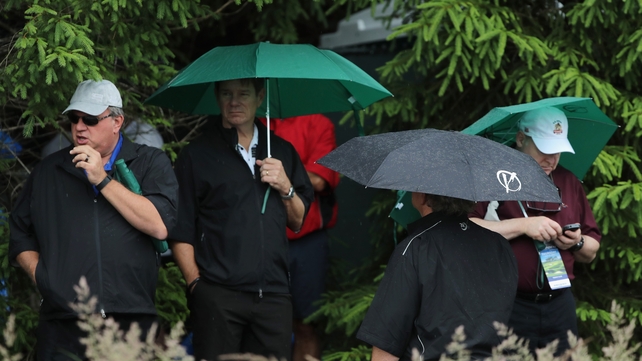 "I normally don't need to warm up that much, which is good for me, but I imagine some of the older guys might have been feeling it.
"That was fine. That's what the USGA had to do to get as much golf as they could in."
Spectators were forced to run for cover (above) amid the heavy rain which forced the golf to be cancelled.