Rickie Fowler will this weekend attempt to achieve something which proved beyond the likes of Tiger Woods, Phil Mickelson, Greg Norman and Jack Nicklaus.
Since the inception of Players Championship, which gets underway on Thursday, in 1974 no player has successfully defended the title.
In fact, only six players have managed to win the so-called fifth major on more than one occasion.
And Fowler will have to quickly erase the memories of last week's final round of the Wells Fargo Championship if he is to create history at Sawgrass.
The world number five leading after 54 holes at Quail Hollow before struggling to a closing 74.
"It's one of the toughest courses we play all year, probably the toughest field that we play all year," said Fowler, speaking at a pre-tournament media conference.
"Whoever is winning is taking care of business, beating the best players at the time and conquering one of the toughest courses that we play.
"You have to be pretty spot on. It's a very fine line at this golf course. The targets and the driving areas are very small and you don't have much room around the greens."
It did not look like Fowler would win last year when he stood one over par for the final round after a bogey on the tenth, only to play the last six holes in six under par, taking a tournament-record 11 shots to finish birdie-eagle-birdie-birdie.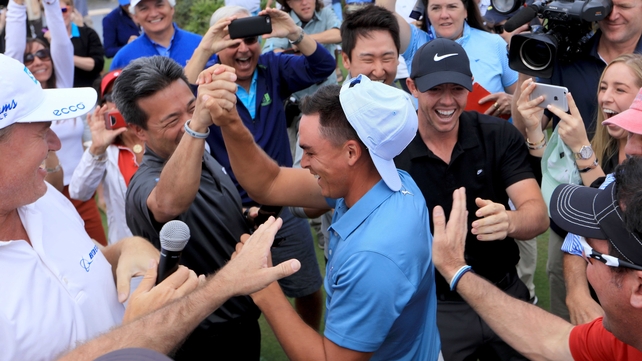 And after Kevin Kisner and Sergio Garcia had matched his total of 12 under par, Fowler prevailed in the first three-hole aggregate play-off in tournament history.
Garcia could only play the 16th, 17th and 18th in level par and was eliminated as Fowler and Kisner played them in one under thanks to birdies on the 17th.
Fowler then birdied the 17th for the third time in the day to win on the first hole of sudden death and claim his second PGA Tour title.
"It's always an emotional roller coaster. If it was an easy game, there would be a lot more people competing at a high level." - Rickie Fowler
The 27-year-old went on to claim the Scottish Open and Deutsche Bank Championship in 2015 and won in Abu Dhabi in January and is keeping a healthy sense of perspective on his disappointing finish in Charlotte.
"One day you hit it perfect and the next day you can't hit it on the map," he said.
"Maybe the day before you didn't make any putts and you hit it perfect, yet that next day you make everything but you're playing out of the trees all day.
"It's always an emotional roller coaster. If it was an easy game, there would be a lot more people competing at a high level.
"But I think it's just like any other professional sport in a way; at the highest level it's such a fine line between playing great golf and being just off."