Graeme McDowell will look to claim back-to-back titles for the second time in his career this week, an achievement which will be almost as memorable as his first winning double.
McDowell followed his win in the Wales Open in 2010 with victory in the US Open at Pebble Beach, also returning to Celtic Manor later that year to secure the winning point in the Ryder Cup.
And although the OHL Classic and RSM Classic are not quite on the same level as a major championship, they could prove equally significant at this stage of McDowell's career.
The 36-year-old started last week ranked 85th in the world, a drop of 70 places from the start of the year, and was only playing in Mexico after failing to qualify for the final three events of the European Tour season.
However, his play-off victory over Scotland's Russell Knox not only lifted McDowell to 62nd in the rankings, but secured his place in the Masters and US PGA Championship next year and extended his PGA Tour membership through to the end of 2018.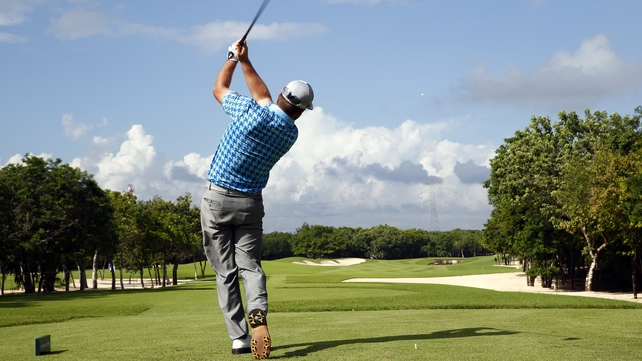 "I had to re-prioritise, I had to focus myself on making sure that I got off to a faster start on the PGA Tour money list than I have in years gone past," McDowell said. "I normally don't tee it up until the Honda (Classic in February). That's too long to wait against these guys, they're too good.
"It takes over a million dollars these days to keep your card. Being at Mayakoba was a part of re-prioritising and a refocus. It (success) happened a little faster than I thought it was going to happen, but that's a great problem.
"Sometimes when I get my focus right, I'm a very good player. When I don't have my focus right, I struggle. So this was definitely a result of having my mind in the right place."
McDowell has been paired with Bill Haas and Smylie Kaufman for the first two rounds at Sea Island, with tournament host Davis Love playing alongside his son Dru and Justin Thomas.
"It's a great way to do it," said Ryder Cup captain Love, who will travel to Florida during the tournament to visit his mother in hospital after she suffered a stroke. "He'll be uncomfortable maybe on the first tee, but I think once we get him off the first tee, get his dad off the first tee, we'll settle down and have fun."
Dru will make his PGA Tour debut after earning his invitation by beating three other players in a pre-tournament qualifier. The Plantation Course and Seaside Course will be used for the first two rounds, with the last 36 holes staged on the Seaside Course.