Gavin Moynihan is looking forward to his Challenge Tour debut at week's Volopa Irish Challenge, where he will be reunited with some of his victorious Britain and Ireland Walker Cup team-mates.
Five Irish players were part of the team that regained the Walker Cup in record-breaking fashion at Royal Lytham, winning 16.5 to 9.5 against the USA. And Moynihan, Paul Dunne and Hurley turned professional the following day.
The Dubliner made his pro debut at the Italian Open and now joins fellow Irishmen Hume, Hurley and Cormac Sharvin, as well as England's Jimmy Mullen, in the field this weekend at Mount Wolseley Hotel Spa and Golf Resort in Carlow.
"This year Paul [Dunne] has played well in two big tournaments. But apart from that, I've nearly played better than him in the amateur events we've both been playing"
The 21-year-old said: "It's great, the fact that there are a few of us here as well. I know most of the boys that are playing, so it's good.
"I played the course about two months ago with the pro here, and I played again this week so I feel as though I know the course reasonably well.
"I'm looking forward to Thursday. There are a few people coming down from my home club, I only live an hour away, so I'm looking forward to it."
He continued: ""It's only been three or four weeks since the Walker Cup and there are five of us here."
"It's great. Like two years ago was great as well but the win [Walker Cup] four weeks ago was unbelievable, especially given that we gave them a good beating.
"It's great to see us all back here. We're all looking forward to it, and we're playing well too so I expect most of us to do well."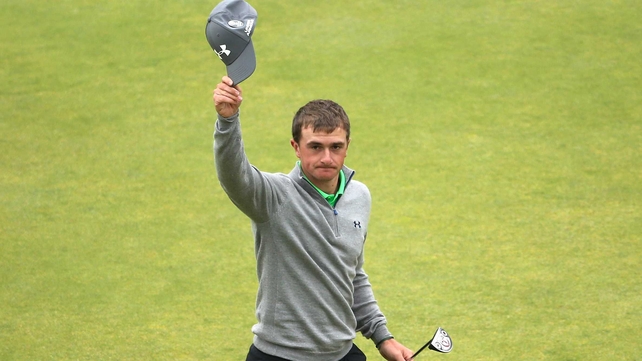 Moynihan went on explain how Dunne, who led the British Open after three rounds before finishing joint 30th and finished in a share of 19th at the recent Alfred Dunhill Links championship, is an inspiration, saying: "It's amazing to see Paul doing so well.
"This year Paul has played well in two big tournaments. But apart from that, I've nearly played better than him in the amateur events we've both been playing.
"It's amazing, so if you play well you can be well up there. It's just getting your head right and going out and playing."
He added: "There are obviously bigger things at stake in professional tournaments and not just the money, but I'm just trying to keep that out of my mind and treat it like an amateur tournament, just go out and enjoy it and play golf."
And ahead of his debut on the Challenge Tour, Moynihan said: "I can't wait because the standard is no different to the European Tour. People think it is a step below, but it isn't really because the scoring is very impressive and the courses they play aren't easy either. If you play well on here you're well capable of playing on main Tour. So I can't wait to get going."
Also in action this weekend is Ruaidhri McGee, a promising local man who at 21st is the highest-ranked Irishman in the Challenge Tour's Road to Oman Rankings, with the top 15 of those graduating to The European Tour at the end of the season.