If yesterday was a huge day in the career of Shane Lowry as he moved to within two strokes of the lead on the back nine of the third round, well today is likely to be completely uncharted territory for the 28-year-old Offaly man.
What he's done here so far is to shoot three rounds of par or better in a US Open on a golf course that has been roundly criticised as being set up in too severe a manner for a major championship.
Lowry's round yesterday of 70 to follow on from a 69 on day one and a 70 in round two was a resilient, very patient effort that kept him under par figures here.
On one under after three rounds and entering the final round today he has a real chance of winning because he is tied for fifth place, just three strokes behind the four-way tie for the lead, held by the Masters champion Jordan Spieth along with Dustin Johnson, Australia's Jason Day and South Africa's Branden Grace.
The foundation for Lowry's round was pure ball striking of a very high quality and also some solid putting on these far from ideal surfaces. A ten-footer went in on the 7th, a 12-foot putt on the 9th and a three-footer on the 10th.
Those three birdies in four holes around the turn lifted him to within two of the lead, but while bogeys followed on the 14th and the 16th, the ten-footer he holed on the 17th was crucial to his challenge and that saved par there. So when he tapped in for his 70th stroke of the day on the 18th he was well content with his day's work.
Lowry said: "I felt like the golf I played out there was high quality. I felt like my iron play was quite good. I drove the ball well but for one hole. I'm really looking forward to tomorrow. I'm looking forward to getting back to the house this evening, having a nice dinner and chilling out with the people I have here. I'm excited for tomorrow.
"I holed a great putt for par on 17, which was really massive in the whole course of the week and if I'm standing here with some good news tomorrow afternoon that will be one of the putts I look back on and think that it was one that played a really big part."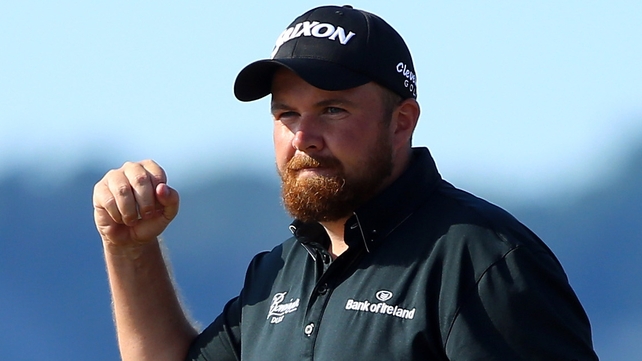 Lowry will partner another man on one-under par, JB Holmes, in the final round today at 10.24pm Irish time in the fourth last match out.
Incidentally, Shane will again be wearing all black as he has for the first three rounds as a personal tribute to the six young people who lost their lives in the Berkeley balcony collapse tragedy earlier this week.
If Lowry is in position to possibly mount a challenge today, Rory McIlory may be just that bit too far back. He is eight shots off the lead on four over par after shooting a round of 70. Such was the quality of his ball-striking and the amount of putts that he missed from inside ten feet, McIlroy really felt like he squandered a great chance to move into contention.
He said: "I felt like it could have been a 64 or a 65 out there today and to end up shooting 70 is disappointing, but I'm just in a bad habit of turning good scores into average ones at the minute. It's been frustrating.
"When you start to miss a few and there's some where you don't quite know if you've made a bad stroke or if it's bobbled off line or whatever, you start to doubt yourself a little bit and you doubt the greens and you just start thinking about it too much. That's what's happened to me this week. I haven't been able to get out of my own way to let it go. The result is I haven't held much.
"If I can go out there and try to get to even par as quickly as possible, you never know what can happen, but I'll need something spectacular. If I can hit the ball like I did today and have one of my best ever putting rounds I still have a chance. I'll give it a good go. I'm glad my name is on the trophy at least once and I'm trying to make it twice at some point."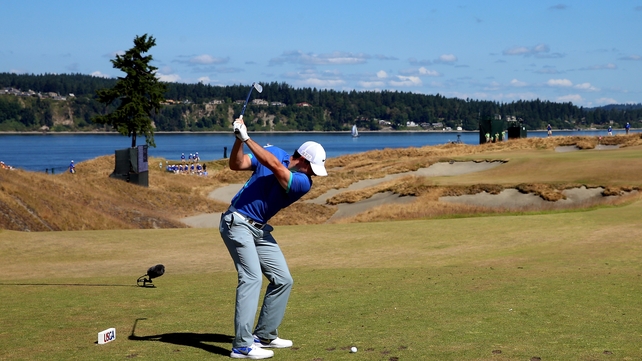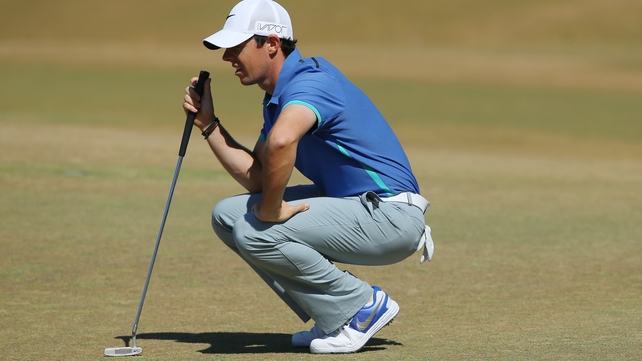 The last time there was a four-way tie for the lead at a US Open was back in 1973, but none of the four leaders went on to win 42 years ago, as Johnny Miller came through the field with a final round 63 on that occasion. So McIlory and especially Lowry are not out of this by any means at all.
The four-way tie involves Australia's Jason Day, who birdied three of the last four holes on the back nine on which he said he thought about quitting four times such was the effect of his vertigo. He left the course in an exhausted state shortly after getting a birdie on the 18th for a third round 68.
Another of those tied for the lead is the Master champion Jordan Spieth after an erratic round of 71, which included four three-putts, but he feels that his win in Augusta last April will stand to him here.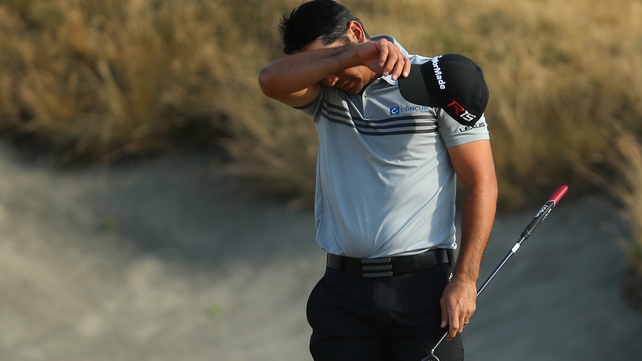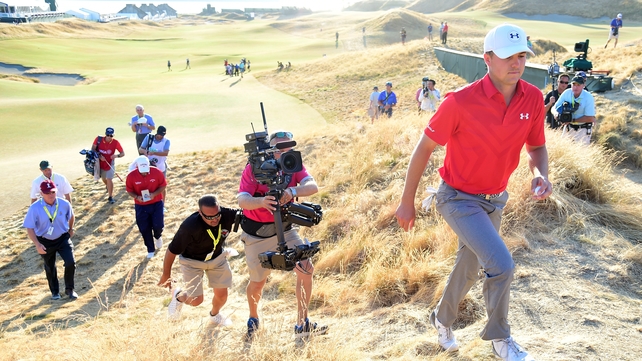 Spieth said: "I've closed one of these out. I need to convince myself by the time I tee off that it's mine and I can go ahead and take some chances because you are going to have to play aggressive in order to win a major championship. It's that simple.
"It's just going to be who can shoot that two under round and close it out. It may not even take that much but if I can get off to a good start, I think I'll do a better job of controlling my emotions and really seeing the finish line through."
Dustin Johnson is another tied for the lead. He's never won a major but has come close three times and notably held the outright lead after three rounds of the US Open at Pebble Beach five years ago.
Johnson said: "I'm right where I want to be. I'm in position. If I play well tomorrow we'll see what happens. I've been in this situation a few times, so I know how to handle myself, I know what it takes to get it done and I just need to go out there and focus on one shot at a time."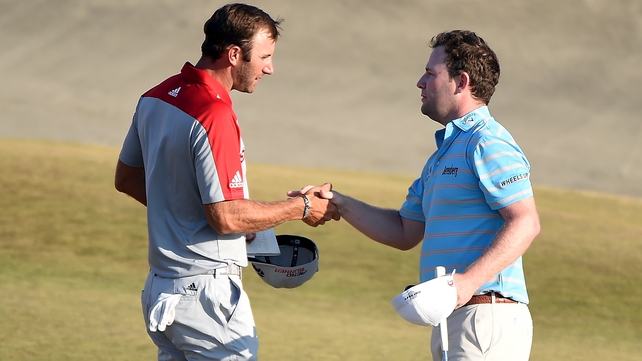 But for Branden Grace, the fourth player tied for the lead, this is the first time he has ever been in contention at this point in a major. He's aiming to become the fourth South African in history to win the US Open, following on from Gary Player, Ernie Els and Retief Goosen.
Grace said: "It's been a great season. I've had a great start to my career so far, the last couple of years. I'm really thrilled to be in this position. This is what we dream of. This is what we dream to do and try to win a major. Hopefully, I can stay patient, make the right decisions and take the opportunities when they come my way."
Grace and Spieth will be in the second last match (10.48pm Irish time), while the final grouping in this 115th US Open will be Johnson and Day (11pm).