There is a sense that this US Masters may be among the most open in many years, free from an overwhelming favourite, mainly due to the fact that world number one Rory McIlroy has not yet looked himself on the PGA Tour this year.
And four-time champion Tiger Woods is, as we know, no longer, well, the Tiger Woods of old to say the least.
However, many of McIlroy's pursuers in the world rankings are riding a really hot run of form.
World number two Henrik Stenson has been in the top four of his last three events. Number three in the world Bubba Watson is twice a Masters champion in the last three years.
While last year's runner-up, world number four Jordan Spieth, has been a contention-machine over his last three events – one of which he has won and the other two runner-up.
And you can go on and on down through the rankings, like to world number seven Dustin Johnson, back since February from a mysterious six-month sabbatical and apparently now in the form of his life.
Then there's the quiet unruffled world number ten Jimmy Walker, twice a winner this year and a steady eighth-place finisher on his Masters debut last season.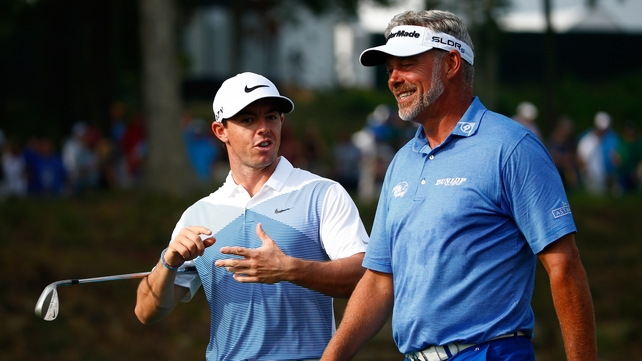 So where does McIlroy, with his ambitions to complete the career Grand Slam and get measured up for his first green jacket, stack up to those opponents?
On recent results, apart from good early-season form in the Middle East in February, the most dramatic thing he has done in America this season is fling a club into a lake in Florida, for which he gracefully apologised.
He knows his game has been a little off and he took time away for the last fortnight or so to prepare especially for this attempt to win a third consecutive Major championship – and with that, the potential of becoming only the sixth player in golf history to have won all four Majors – the so-called career Grand Slam.
McIlroy said: "I mean results-wise, the last three tournaments haven't been what I've wanted but the last two weeks went great. I've just practised at home in Florida and made another trip up here a couple of Fridays ago, so all the work that I've done gearing up for this week has been good,. As I said at the start , I'm just ready for the gun to go off on Thursday morning."
The McIlroy story, with that career Grand Slam-potential is compelling, but what of the other running story here this week? Another Tiger Woods career-comeback from either injury or personal trauma.
He knows that the 18 years which have passed since his 12-shot victory here in 1997 have inspired a generation of imitators. But while his body is sometimes frail, his competitive instinct is still intact.
Woods said: "Competing is still the same. I'm trying to beat everybody out there. I prepare to win and expect to go out and do that."
Woods is in the second last match out tonight at 6.48pm Irish time, McIlroy out in mid-afternoon at 3.40pm.
Irish Tee Times
1.29pm: Darren Clarke, Vijay Singh, Russell Henley (R2 4.36pm)
3.41pm: Rory McIlroy, Phil Mickelson, Ryan Moore (6.48pm)
5.31pm: Shane Lowry, Mark O'Meara, Chris Kirk (2.02pm)
5.42pm: Padraig Harrington, Thomas Bjorn, Ryan Palmer (2.13pm)
6.04pm: Graeme McDowell, Matt Kuchar, Brooks Koepka (2.35pm)
Follow our live blog on RTÉ News Now and RTÉ.ie from lunchtime.