American Dustin Johnson fired a three-under par 69 to win the WGC-Cadillac Championship by one stroke on Sunday.
              
Overnight leader J.B. Holmes, who started the round with a five-shot lead, finished second after shooting a three-over 75 that included four bogeys and one birdie.
              
Johnson, in only his fifth start since returning to the PGA Tour last month after taking a leave of absence in July to deal with personal issues, mixed four birdies with one bogey.
              
Masters champion Bubba Watson, who lead by two strokes after nine holes, finished alone in third place after a solid start to his round was undone by three bogeys over a four-hole stretch on the back nine.   
Rory McIlroy shot an even-par 72, leaving him one-under for the week. Shane Lowry was tied for 17th at one over after a final-round 74, while Graeme McDowell finished on plus 10. 
"I'm so excited right now I can hardly talk. It feels great"
It means everything," Johnson said in an interview broadcast on Sky Sports 4. "It's been a tough road but a really good one. A lot of really great things came out of it, my son, me and Paulina (his wife) are doing great....it just feels awesome to get that 'W'. I played great today.
"I knew I was really good. I just knew there was something that I was missing that could make myself great. I have really been working hard on that and I think it's working right now.
"I'm so excited right now I can hardly talk. It feels great and it's definitely by far the best one (victory)."
The 30-year-old ruled himself out of the Ryder Cup last year by taking a lengthy break from the game, prompting allegations in the United States of a positive test for cocaine - claims which have dogged him for several years but which he has always strenuously denied.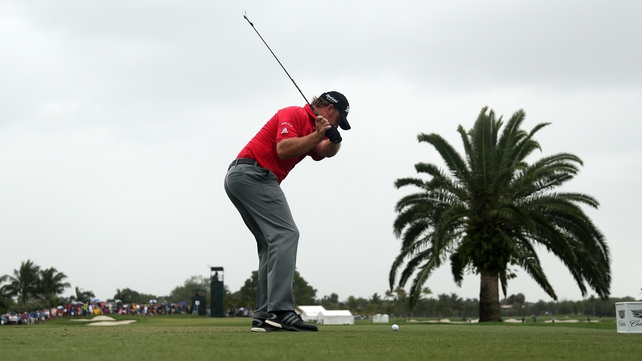 Johnson again dismissed the drug claims in his first interviews since the announcement earlier this year, revealing his battle has been with alcohol.
"I did not have a problem," he told ESPN and SI.com, talking specifically about cocaine. "It's just something I'm not going to get into. I have issues but that's not the issue.
"I would drink and drink to excess. The change I made is I just don't do that any more. I definitely have given up hard liquor 'cause that was the thing that I went to....it's been a big change."