Pádraig Harrington should "play like a child" if he is to rediscover the form that helped him win three Majors, according to former All-Ireland-winning Armagh footballer and leading sports psychologist, Enda McNulty.
Earlier this week three-time Major winner Harrington said that he was trying too hard in his play.
"I'd love to tell you that it's easy not to try too hard, but I am just a little bit too intense," Harrington said.
"It's very hard to be relaxed when things aren't going for you, but I am too defensive, just not letting it go."
Harrington has struggled to maintain consistent form in recent years, and has not won a top-level international tournament since the 13-month period in 2007-08 when he won back-to-back Opens and the USPGA Championship.
Speaking to RTÉ Sport, McNulty gave insights into how over-preparation and a failure to relax can affect elite athletes.
"People with a certain personality type, and who are driven in a certain way; because they're always striving to improve, and always striving to tinker, they can actually get in the way of performing in that unique flow state," McNulty said.
"We know that athletes and performers in general, in all performance domains, will excel when they're relaxed, when they're at ease, when they're almost flexible and malleable.
"It's almost the opposite of what we think about mental toughness: when we think about mental toughness, we think about being rigid, being hard, being really, really teak tough.
"It's very hard to be relaxed when things aren't going for you, but I am too defensive, just not letting it go" - Padraig Harrington
"But sometimes we need to think about somebody like Tiger Woods, when he was playing his best ever golf: he was relaxed.
"When Pádraig [Harrington] played his best ever golf, he had a smile on his face. He had a spring in his step. He was almost having fun."
McNulty said he ought to go back to playing golf "like a child", and that this involved, "being at ease, not attaching too much importance of the next putt, not attaching too much importance of hitting the next fairway.
"He almost wants to win, and wants to get back where he was too much, and therefore, it's almost a paradox: he's almost chasing himself further away from it."
He said it was "absolutely possible" for Harrington to rediscover his form, but stressed the difficulty of implementing the idea of relaxing and 'soft' concentration consistently.
"He now has created awareness for himself that he knows he needs to change," McNulty said.
"The next thing, of course, will be identifying what is the pathway to take him towards a more relaxed, calm mental and emotional state. He has got the technical game; he's proved that on regular occasions.
"But now what he needs to do is almost to remove that critical, left-brain thinking from the process, and completely trust his technique and be at one with the movement."
"About 50% of my potential in my Gaelic football career was destroyed by trying too hard" - Enda McNulty
McNulty spoke about athletes getting into "the zone", and said that getting into that zone was incredibly difficult.
Achieving this was a question of achieving a balance between adequate and excessive preparation.
He said even elite athletes fail to get into this zone, citing Lionel Messi as someone who had "failed miserably to get into the zone on the biggest day. So it's a very fine line between trying too hard, not trying hard enough, or just being in the right mental and emotional state."
The importance of players being mentally calm and psychologically prepared was evident again in the recent World Cup, where winning coach, Joachim Loew of Germany said the pressure of being hosts, and having the weight of a nation on their shoulders had "crippled" the Brazilian team.
"We know all about that from our own experience in 2006," Loew said, referring to Germany's heart-breaking semi-final 2-0 loss at home to Italy.
Germany have had a sport psychologist with the team since 2004, and went to great lengths to shield their players from the pressures at the World Cup, setting up their base at a fortress-like purpose-built compound on a remote beach in rural north-eastern Brazil.
McNulty, an All-Ireland winner with Armagh in 2002, said that he himself had struggled to relax and pull back from preparations during his playing career.
"About 50% of my potential in my Gaelic football career was destroyed by trying too hard. And that's not exaggerating. Because I was too focused, I was too diligent, I was too intense on the day of the game."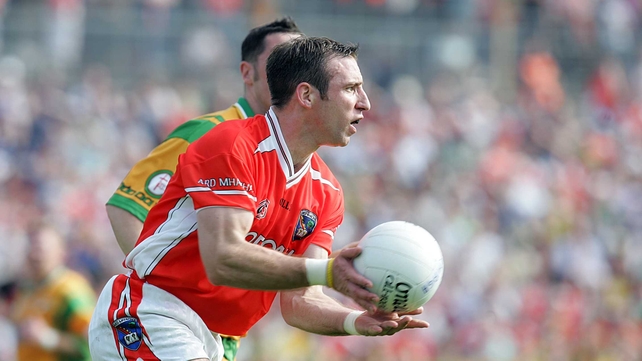 He said that former Derry coach Eamonn Coleman had once told him, "Enda, you need to get better at enjoying it."
McNulty also revealed the cost of his inability to relax before big events, recounting a story about a training session he had done on the Friday before Armagh's All-Ireland final against in 2003.
He had trained on Julianstown beach ahead of the game, to try to prepare for dealing with Tyrone's Peter Canavan.
"We jogged to the end of the beach; it took us about 25 minutes," he said. "We did an hour of coaching work for Peter Canavan, an hour of what his tendencies were, how he soloed, what his solo dummy was; we did that for an hour. And then we jogged back. I then decided it would be a good idea to get into the sea to cool down. And when I woke up on the Saturday morning I had the flu.
"That was the biggest game of my life, and [the way] I was trying too hard completely sabotaged my chance of performing well."
McNulty said that a physiotherapist he knew, Alan Kelly, once said to him; "Enda, you need to go and have more ice-creams."