Spain's Pablo Larrazabal won the Abu Dhabi HSBC Championship on Sunday as a rules blunder by Rory McIlroy arguably cost him the title for the second time in three years.
Larrazabal carded a final round of 67 to finish 14 under par, one stroke ahead of major winners McIlroy and and Phil Mickelson, who were both left to rue vital mistakes.
For McIlroy it was taking an incorrect drop on the second hole of his third round, an error which cost him a two-shot penalty and left him fuming about golf's "stupid rules".
Two years ago, the former world number one was penalised two shots in his second round here for brushing away some sand that was not on the green, but which lay between his ball and the flag. He went on to finish one behind surprise winner Robert Rock.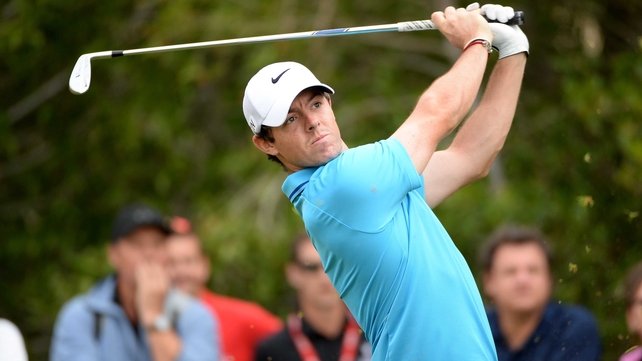 Mickelson's wound was also self-inflicted, the Open champion leading by one when he ran up a triple-bogey seven on the 13th after attempting to hit a right-handed escape shot from under a bush, only to suffer a 'double-hit' when his ball struck the bush and bounced back on to his club.
The 43-year-old bounced back in typical fashion with birdies on the 14th and 16th, but was unable to find the eagle he needed on the 18th to force a play-off with Larrazabal.
McIlroy had played alongside Larrazabal and the pair were both three under for the day after 1o holes, but while McIlroy did birdie the last his challenge stalled with a run of seven straight pars. 
Larrazabal birdied the 13th and hit two superb shots to the heart of the 18th green to set up the decisive birdie. 
Michael Hoey was next best of the Irish on seven under after a final round 73. Paul McGinley was a shot further back after carding a 70, while Darren Clarke finished his week on level par after posting a 73. 
After his round Rory McIlroy said: ""I can't describe how frustrating it is" 
"I feel like I'm standing here and I should be 15-under par for the tournament and win by one, but that's the way it goes. I played the least shots of anyone this week. I can count it as a moral victory more than anything else.
"It's a very positive start to the season so I'm not going to let one little negative ruin that. I'm driving the ball well, hitting the ball solid and giving myself plenty of chances for birdies. And if I can keep doing that, the wins will come.
"But Pablo played very well. I can't take anything away from him. When he needed to he hit the shots and the two shots he hit into 18 were straight out of the top drawer, so fair play to him. He's a good guy, one of my closer friends out here and good to see him get the win."
Mickelson had gone from two shots behind overnight leader Craig Lee - who slumped to a closing 77 - to one ahead with three birdies in 10 holes before the 13th certainly proved unlucky for him.
"It never crossed my mind it might double-hit," the left-hander said.
"I was just trying to dribble it out of the bush, to move it about 10ft and I felt it was worth the risk. I wanted to use a lob wedge but had to turn around a four iron as I was having trouble seeing the club at address.
"My two option, to take the ball and go back as far as I want in line with the pin, didn't give me a shot. It was just bushes extending all the way back and I wouldn't have had a shot except to go back to the tee box.
"It p***** me off and I played more aggressive. I got refocused and made some birdies and gave myself a chance. If Pablo had not birdied the last hole to win, I would have gotten into a play-off, so I give him a lot of credit for finishing the tournament off the right way."
Mickelson said he could not remember the last time he suffered a double-hit, but added: "I have done it. I have done a lot of crazy s*** over the years."
Larrazabal was barely able to believe he had beaten McIlroy and Mickelson to claim his third European Tour title, his previous wins coming in 2008 and 2011.
"I beat two of the three most talented guys in my era," said Larrazabal, who likened his birdie putt on the 18th to the par putt holed by Martin Kaymer to retain the Ryder Cup at Medinah in 2012.
"The first win in France my brother says was the win of talent. I had 100 putts in 72 holes, not even the best Tiger Woods could have beaten me that week.
"The second win in Munich (in a play-off with Sergio Garcia) was one of belief. This is the win of hard work and team work. I worked so hard for the last two years and over the winter and I beat two of the three most talented guys in my era."
Larrazabal thanked his coach, caddie, brother and two physical trainers for aiding his success, but mysteriously refused to reveal the name of the man "who takes care of the rest."
"I am not going to tell you his name or what he does," Larrazabal said.
"It is the best thing that could happen to my game to meet this guy, but if you tell your secrets someone else is going to do it."