Rory McIlroy will today set out to make up for his unconvincing start to the Valero Texas Open as he searches high and low for his 'A' game ahead of next week's Masters.
World number two McIlroy, 23, only added the Texas event to his schedule at the 11th hour after struggling to adapt to new equipment.
The form which brought him five wins in 2012, including a second major at the US PGA Championship, has deserted the Northern Irishman.
With caddie JP Fitzgerald advising him that he needed more competitive rounds under his belt, McIlroy travelled to San Antonio and carded an opening level-par 72 to lie five shots behind Matt Bettencourt and Peter Tomasulo, who carded 67s to overtake a group including Padraig Harrington.
Starting from the 10th on the difficult Oaks Course, he went to two under but then bogeyed the 18th, first and second in succession. He atoned with birdies at the fifth and sixth moving him to one under, but a fourth bogey of the day on the ninth left him back where he started the day.
"The way I started the round I would have hoped for a little bit better," McIlroy said. "But I'm relatively pleased with the way I played. It could have been a little better, but it could have been a little worse too."
Looking ahead to today, he said: "I'll just go out and try to shoot a good number and get myself in position for the weekend."
"I'll just go out and try to shoot a good number and get myself in position for the weekend" - Rory McIlroy
McIlroy claimed his difficulties were more than anything tied in with his thinking process.
"More mental than anything else," he said. "I guess I felt like I hit a good shot into the 18th, and it came back into the water. Then I think that sort of got to me and that's why I bogeyed the first and hit a bad shot at the second. But once I started to regroup, I started to play pretty well on the way in.
"It's just about limiting those mistakes and it's definitely a more mental mistakes than it is physical."
Asked how he could tidy up his game, McIlroy added: "I don't know. Just stop doing them. It's hard to explain. I guess it just comes with play, and that's why I'm here this week, just to play and get some more competitive rounds."
Three-time major winner Harrington had also bogeyed his final hole, the 18th; the only blemish on his card caused by three putts from 35ft.
The 41-year-old won the Open Championship in 2007, successfully defended it the following year and then won the US PGA Championship a few weeks later, but has not tasted victory on one of the major tours since - his last win came on the Asian Tour in 2010.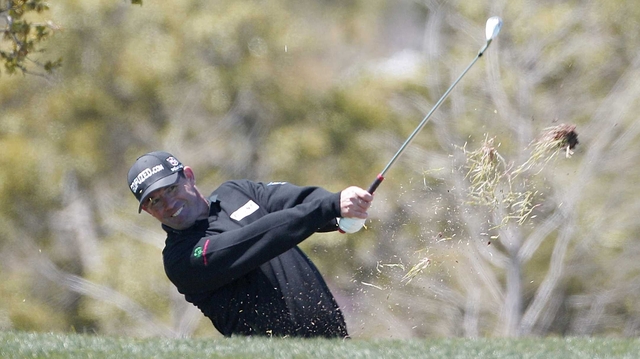 Harrington enjoyed his fair share of good luck in cold and blustery conditions, and pointed to mental fortitude as the source of his good form.
The Dubliner said: "I'm not walking away from this round thinking 'Wow, I hit a number of pure golf shots', or anything like that. It was more mental fortitude than ball striking."
Only two players have won the week prior to the Masters and then gone on to win in Augusta; Sandy Lyle in the Greater Greensboro Open in 1988 and Phil Mickelson in the BellSouth Classic in 2006.