Rory McIlroy is all set to become one of the biggest earners in sporting history after confirmation of a multi-year sponsorship deal with Nike.
Although the exact length of the deal was not revealed, it has been widely reported to be a 10-year contract worth as much as £150million if McIlroy, previously with Titleist, goes on winning majors.
McIlroy will use Nike's full range of clubs, balls, clothing and accessories, with the clubs used competitively for the first time in the Abu Dhabi HSBC Championship later this week against a field including the other leading golf name in Nike colours, 14-major winner and world number two Tiger Woods.
"I chose Nike for a number of reasons," McIlroy said. "It's a company and a brand that really resonates with me. It's young. It's athletic. It's innovative. They are committed to being the best, as am I.
"Signing with Nike is another step towards living out my dream."
Cindy Davis, president of Nike Golf, added: "Rory is an extraordinary athlete who creates enormous excitement with his on-course performance while, at the same time, connecting with fans everywhere.
"He is the epitome of a Nike athlete and he is joining our team during the most exciting time in Nike Golf's history. We are looking forward to partnering with him to take his remarkable career to the next level."
McIlroy, a boy wonder who was the world u-10 champion in 1998, turned professional in 2007, two months after finishing as the leading amateur in The Open at Carnoustie.
Only 18 at the time, he finished third in the Dunhill Links at St Andrews on only his second start in the paid ranks, but had to wait until the 2009 Dubai Desert Classic for his first victory.
"They are committed to being the best, as am I" - McIlroy on why he chose Nike
Perhaps amazingly, he has still to win on European soil, all his successes since coming in America (five, including two majors), Asia (two) or back in the Middle East - he finished last season with five birdies in a row to lift the DP World Tour title in Dubai.
It was the 2011 US Masters that put him on a new level in terms of fame and popularity.
McIlroy led by four with a round to play and was still out in front at the turn, but in an horrific back-nine meltdown he crashed to an 80 and ended up in only 15th place, 10 shots behind winner Charl Schwartzel.
The sporting world waited to see how long the mental scars would last, and got their answer two months later when he won the US Open by eight shots.
At just 22 he was the youngest winner of the title since Bobby Jones in 1923. A superstar was born.
"If you are going to talk about someone challenging the record of Jack Nicklaus there's your man," said Padraig Harrington, referring to the Golden Bear's 18 majors.
"At his age he's probably got 100 more majors where he could be competitive. It would give him a great chance."
Told of the Dubliner's comment and aware of the expectation it would lead to, McIlroy sighed: "Oh, Paddy, Paddy, Paddy."
But he has a second major already and it was again achieved by a runaway eight-shot margin at the USPGA Championship last August.
It took him back to the world number one spot he had been fighting Luke Donald for most of the year, but with three more tournament victories since then he is now way out at the top of the rankings.
With Danish tennis star Caroline Wozniacki his partner for the past 18 months, McIlroy's celebrity status has grown even more.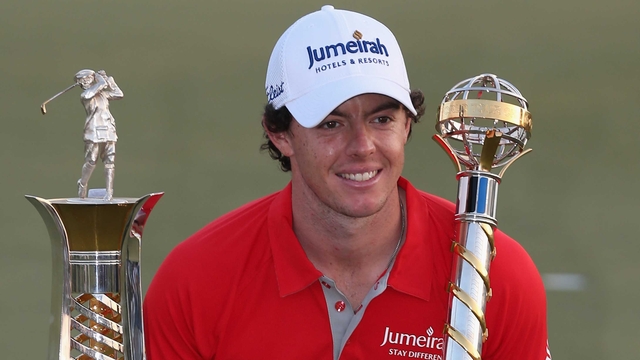 Having changed girlfriends, McIlroy then changed managers 14 months ago, leaving the same stable as Lee Westwood and Darren Clarke to join Dublin-based Horizon Sports.
His close friend Graeme McDowell had been the leading client on their books, but now, of course, McIlroy is in a league of his own.
In demand the world over, he has had to learn the art of saying "No" at times, but was unlikely to do that when Nike made their approach.
Although Nick Faldo has questioned the decision to switch from Titleist, McIlroy said in November: "I think all the manufacturers make great equipment nowadays and it's all very similar.
"A lot of them get their clubs made at the same factories. I don't think it will make any difference.
"I've started the process of trying a few new things. I've tinkered about a little bit with the new ones, enough to feel comfortable going into next season."
That season is now here and for McIlroy it starts in the desert on Thursday.
Meanwhile, McIlroy believes Colin Montgomerie would have nothing to gain from a surprise second stint as Ryder Cup captain at Gleneagles next year.
Tuesday's European Tour tournament committee meeting in Abu Dhabi will discuss who takes over from Jose Maria Olazabal and Paul McGinley, an assistant in the last two matches, is favourite now that Darren Clarke has stated his desire to regain a place in the team.
But the possibility of 2010 winning captain Montgomerie being turned to again on home soil remains after Clarke talked about the need for a big character to oppose American choice Tom Watson.
However, McIlroy has already made clear he wants McGinley to get the job and the world number one reiterated his stance today.
"I feel like everyone deserving should get their chance," McIlroy told a press conference in Abu Dhabi to announce his new sponsorship deal with Nike.
"I played under Paul at the Seve Trophy in 2009 and thought he did an unbelievable job. Of all the captains I've played under he would be the best.
"It's the small details. He does not leave any stone unturned, he gives great confidence in the team room and I think he would make a really good captain. I am really behind Paul and I think he should get the job and I hope that he does.
"I don't think Monty has anything to gain if we go to Gleneagles and lose. He is already a winning Ryder Cup captain."
Former captain Bernard Gallacher agrees with McIlroy and believes Montgomerie should step aside to ensure McGinley is a unanimous choice.
Gallacher captained Europe on three occasions, but told Sky Sports News: "There are many more potential candidates for the job now and I would go along completely with Rory McIlroy. I think it's a one-term appointment now to give other people a chance.
"I can understand Darren stepping down, he is far too good a player to be concentrating on the captaincy.
"In my opinion Colin should step down to allow Paul a clear run at the job because he is the person with all the credentials for the job."