While fully understanding this debate is for the end and not the start of the year, after watching the lads last Sunday have a discussion, I said I would sit down and try map out a calendar year.
Of course, with something like this there is always a for and against. And what I will say, is I am always pro player. What is best for the player, what does the player want, and what are the pros and the cons.
So here goes. My attempt at a balanced split-season.
First week of January
Club training recommences. Under no circumstances can any collective training take place in November or December.
If lads have to be given individual programmes to get them through those months then fine, but it shouldn't be a case odd lads going back on the 'QT' to get ahead of the pack. No fines. No sneakiness, just a golden rule.
They then have eight weeks to get ready: gym, challenges, training etc, which in my opinion is enough time. Because most lads will have done a bit themselves anyway throughout the winter. It's the way things have gone.
This format also goes for all age groups in clubs.
The club v county debate rumbles on. pic.twitter.com/Sz2N4v8ciy

— RTÉ GAA (@RTEgaa) May 22, 2022
First week of March
Round one for all clubs in the first week of March. Round two for all clubs in second week of March. Break week on week three.
Round three for all clubs in fourth week of March. Round four for all clubs in first week of April. After this, you will have relegation battles, quarter-final, semi-finals etc.
Quarter-finals/relegations/play-offs to be held on third week in April. Semi-finals to be held on the fourth week of April.
And the county final to take place on the second week of May.
So what does that do? Allows all our club players to play with their clubs from the outset, give players the opportunity to put there hand up for inter-county managers, and also for the younger generation to travel/go on holidays or do as they wish.
Also, from an expense point of view, clubs often struggle. Some clubs as it stands pay people for 6-8 months of the year, for most clubs on my plan it's five months max, unless you proceed to the provincials.
I know counties, like Tipp etc have divisional and have 32 clubs, but then look at Limerick - we have 12 senior clubs. So all counties should be made to follow the dates, or as close to as possible.
There is also the issue dual players in some counties, but you could look at playing Friday nights and Sunday nights in that instance.
Fourth week of May
Play the club provincial championships quarter-finals in fourth week of May.
Semi-finals in first week of June. (At this point, only now should inter-county teams be allowed to train collectively, which also gives them eight weeks preparation for the first round. Remember, most players will be fairly fit anyway from their club campaign).
Any inter-county players not involved in county finals etc have an opportunity to go away on a holiday before the start. Yes, the players that are successful won't have that luxury.
Provincial finals in third week of June, club semi-finals in first week of July, with All-Ireland finals following in third week of July.
Agus, sin sin. Club championship season over.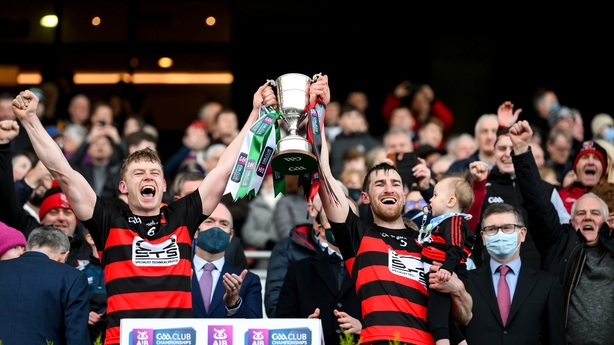 And by the way, I have scrapped all the mickey mouse pre-season competitions, and also the Allianz League. The league is essentially the club championships now - that's the time for players to put their hands up for inter-county managers.
So...
First week of August
First round of inter-county championship, second round in second week.
Break week on week three, with round three on fourth week. Round four follows in first week of September.
Round five (for Leinster and potentially Munster) in the second week of September. This is the only juncture across the whole season where there is three weeks in a row, but remember, at some games you will be able to rest a lot of your players looking at the way things are now.
Provincial finals in fourth week of September, along with provisional quarter-finals.
First week of November
All-Ireland quarter-finals to be played on first week of October. Then semi-finals in third week of October, with the All-Ireland final on first week of November.
And from then on until the turn of the new year, no collective training, time to unwind and relax, and if players want to tip away themselves or get programmes no problem.
Yes, I know people will be saying, "Ah the final in November, sure the weather etc."
Let's be honest, we have as good a chance of a dry day in November as we do in September. I have played many games in August, September (most notably All-Ireland semi-final v Kilkenny in 2014) where you wouldn't put ducks out in it. And you are playing in top quality pitches so that's not a problem.
So what have we? No issue with club players travelling for the summer. Also, they are not training for 6-7 months waiting for a championship. Clubs can have the full access of the players from the very start of the year before the inter-county starts. There is clarity as to when everything is starting.
One thing that I do understand though and I can't get to land is, what if a club is knocked out in a quarter-final in the third week of April, do they not train again until January?
So, maybe a real meaningful league with a big prize for all teams except county final winning teams can be set up for all non-county players in August.
Inter-county managers get a good chance to look at players ahead of the new season. They are getting players back in really good condition before their eight-week training block.
The only people that lose out with this are players who get to national semi-finals and finals, as they don't get much of a break, but that has always been the way, and it won't ever change.
We need your consent to load this rte-player contentWe use rte-player to manage extra content that can set cookies on your device and collect data about your activity. Please review their details and accept them to load the content.Manage PreferencesAnyway, obviously not being long out of the game, and friendly with a lot of players, long drawn out seasons are not wanted, and not liked, and that's the case for both club and county.
I know people are asking for drawn out inter-county campaigns, but why? Previously, when it was straight knock-out teams may only have had one game, or two games when you got a second chance.
Now, each team is getting many chances, and if you are not good enough after three and four goes, then you don't deserve to be in the championship.
I also appreciate that the club campaign runs longer than the inter-county in this format, but it always will anyway.
The viewership and financial side of things runs around the inter-county as well, and maybe taking out the league campaigns isn't a good thing to do but with a format like this I think most parties would be happy. Whether it would be financially viable is the next thing.
A fun debate if nothing else.
Listen to the RTÉ GAA Podcast at Apple Podcasts, Soundcloud, Spotify, or wherever you get your podcasts.