Shane Ronayne is with his third different county side in three different years.
In 2020 he was managing the Tipperary women's team, before a stint with the Waterford men last year. But his current job, with his native Cork, has always been the dream position.
"Obviously I've always had my eye on it, it's something I've wanted to do," Ronayne says at this week's TG4 All-Ireland Championship launch.
"So when the job became available I was encouraged by a lot of players to go for it. It was too good an opportunity to turn down.
"There was a tinge of sadness leaving Waterford as well. My dad is from Waterford and he was delighted when I got that job.
"When I rang him to tell him I was going to get the Cork job he was delighted because he knew that was what I always really wanted to do. I enjoyed the year in Waterford. It was a short time. If the Cork job hadn't come along I'd still be there."
We need your consent to load this rte-player contentWe use rte-player to manage extra content that can set cookies on your device and collect data about your activity. Please review their details and accept them to load the content.Manage Preferences
Cork, for so long, were the team to beat in the women's game.
11 All-Ireland titles in 12 years moved them from first-time winners to joint top of the roll of honour list with Kerry, who they face in the Munster SFC final on Saturday.
But Ronayne comes into a team which has fallen down the pecking order. The 11th title came some six years ago now, and they've been beaten in two finals since.
Last summer they had Meath beaten in the semi final, but the Royals produced an astounding finish to force extra time, and the Rebels couldn't regain the initiative.
But the new man in the dugout in the southern capital is less forgiving of his the players he is now looking after.
"I remember going for drinks with them that night, the Mourneabbey girls, in Dublin," says Ronayne.
"They were devastated by it, the way it happened. We spoke about it a few weeks ago. People had said they were unlucky but we looked at it our way, that they didn't get the job done. They know that themselves.
"Have the parked that fully? We'd hope they have but they know now that their game management has to be way better. Meath have kicked on from that so it proves that there wasn't a lot of luck involved. Meath kept going and they deserved their win on the day.
"We're trying to change the mindset a bit. We're going a little more attacking, trying to go out and win games. You can't be afraid to lose all the time. Too many players go out, not just Cork, and they're afraid to lose; they don't think about winning as much.
"We've been trying to change that. They should have been further ahead in that game and they wouldn't have been in that position. That's the way we're looking at it."
Cork will head for Killarney on Saturday without two of their most important players, but for very different reasons.
Bríd O'Sullivan is not fully fit, and Ronayne isn't expecting her back "until the middle of the [All-Ireland] group stages."
---
AFLW salaries set to almost double when season starts in August
---
The departure of Erika O'Shea is a different story altogether. The 19-year-old is set to sign for North Melbourne in the AFLW in Australia.
She's on a contract worth around €26,000, and the earlier start of the season down under means she won't be available for Cork this summer.
It's clear that Ronayne isn't delighted to be without the services of his half-back for the remainder of 2022.
"I suppose you do feel a small little bit aggrieved," he admits.
"Her club at home, and the fact that if she wasn't involved with us she wouldn't be seen and she wouldn't be high profile. We are very proud but naturally you're disappointed to be losing one of your best players.
"We'd be disappointed because we're trying to progress things with Cork and get back onto the winner's podium again. We would love to have Erika do that.
"When the Dublin girls went over they had their All-Irelands won. That's a bit of a disappointment that we don't have Erika to try and push on for ourselves. We don't begrudge her. We parked the football side of things straight away. We're delighted for her but obviously we're going to miss her."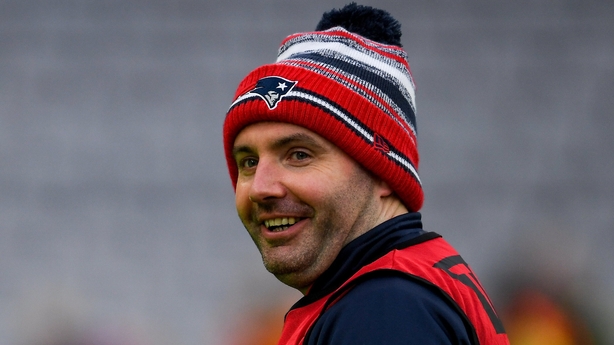 Pushed on whether he fears the loss of more players to the ever more financially rewarding game in Australia, Ronayne adds: "Erika will only be on a Tier 4 contract, which is $40,000 (c.€26,000). It is an expensive place to live in.
"You do have concerns for that. But if you can get up to the higher tiers... some of the girls are on higher ones, the Tier 1 contracts. But there's only a certain amount of Tier 1s you can have at every club.
"It's exciting for them, they get to live a professional life. It's a brilliant opportunity for them, and hopefully things will work out for her because she's a great talent. I've said to her that the door is open for whenever she wants to come home. Hopefully things will go right for her.
"Our only concerns with Erika were her education. She has started her first year of College. The lifestyle... she's very young, she's only 19.
"Everyone else over there has a degree behind them, apart from Orla O'Dwyer. Orla is an Australian citizen so that helped her, she's able to do a course over there.
"We were concerned that way from a lifestyle point of view, from an education point of view. From a football point of view we parked that straight away. We don't own Erika."
Listen to the RTÉ GAA Podcast at Apple Podcasts, Soundcloud, Spotify, or wherever you get your podcasts.