Louth are Lory Meagher champions once again after beating Longford in a one-sided affair at Croke Park, with the Wee County now on top of the roll of honour list after their third title in six seasons.
Paul McCormack's side had to overcome a rocky start and once they did they controlled the game magnificently. Louth used their pace advantage and lovely stick work to outplay Longford for stretches and with Paul Mathews bagging a brace of goals in either half they were worthy winners.
Both sides began with wides from both corner men from either side Darren Geoghegan and John Mulhern. Those misses highlighted the scrappy opening, marred with nervy strikes and excellent blocks from Liam Molloy and Seanie Crosbie, Louth's midfield pairing on the day.
Longford talisman Joe O'Brien, who played in the 2010 and 2014 deciders, rounded his marker in the fifth minute to find the net for the finals opening score. O'Brien won the ball in space and had the nous to drive on and take the golden opportunity for three points.
Louth responded with a strike from Molloy but only after Longford tagged on two more points. Fighting their way back into the game gave the Wee men a purpose and it wasn't long before they found the net themselves.
Molloy again instrumental, his long delivery found Paul Mathews inside and the big full forward had the vision to lay the off ball across to his unmarked St Fechins club mate Seaghan Conneely, for the thundering low drive in front of the 'Hill.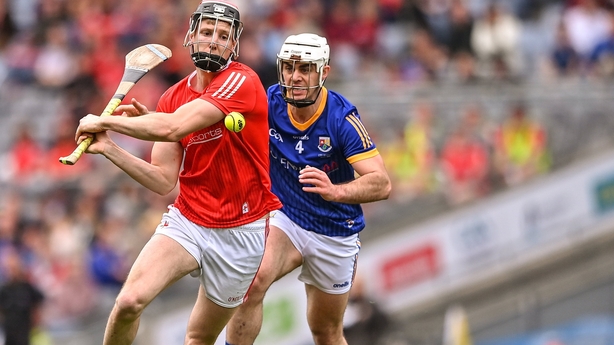 With that, Louth got their bounce and scored four points in a row, top scorer Geoghegan with two of those. Their opponents had no answer to that scoring succession and suffered further, when Mathews himself found the net.
With that mountain to climb, Longford permit player Paddy Lynam jolted into action, with three excellent points. The midfielders first was a '65 and remaining points were huge long range efforts from under the Hogan Stand.
Geoghegan weathered that mini Longford revival with a well taken free, Feidhelm Joyce clipped over his second point and Louth went into the break 2-09 to 1-07 ahead.
Geoghegan and Lynam began to duel from placed balls at the start of the second half but Louth were soon to open up again through Mathews.
The rangey full forward pushed the game beyond Longford with his second goal. Sneaking in between Longford net minder Conor Gallagher and full back Enda Naughton to send Louth on their way.
Feidhelm Joyce and in form midfielder Molloy continued to punish Longford with points each and every time, the pair combining for nine points in the finish.
Murray and O'Brien valiantly replied with placed efforts along with goals from Reuben Murray and full back Enda Naughton but it would be Louth's day. Substitutes Niall Keenan (two), Padraig Fallon and Mark Gahan getting in on the act to find the range on a historic day for Louth hurling.
Louth: Ruairí Morrissey; Matthew Fee, Donal Ryan, Adam Plunkett; Jamie McDonnell, Conor Quigley, Danny Morgan, Seánie Crosbie (0-01), Liam Molloy (0-04); Feidhelm Joyce (0-05), Seaghan Conneely (1-01), Peter Fortune; Darren Geoghegan (0-09, 0-06f), Paul Matthews (2-01), Seán Kerrisk (0-01).Subs: Niall Keenan(0-02) for Fortune (40), Mark Gahan (0-01) for Kerrisk (58), Padraig Fallon (0-01) for Crosbie (65), Andrew Smyth for Plunkett (68), Andrew Mackin for Conneely (70).
Longford: Conor Gallagher; Karl Murray, Enda Naughton (1-00), Niall Moran; Adam Quinn, David Buckley, Aidan Sheridan; Emmet Corrigan (0-02), Paddy Lynam (0-06, 0-03f, 0-01 '65); Rueben Murray (1-02), Cian Kavanagh (0-01), Evan Tully; John Mulhern, Cathal Mullane (0-01), Joe O'Brien (1-02, 0-01f).Subs: Michael Mulcahy for Mulhern (27),Pearse McNally for Sheridan (55), Daire Regan for Tully (56), Paul Barden for Kavanagh (73), Ciarán Farrell for R Murray (75).
Referee: Caymon Flynn (Westmeath)