GAA president Larry McCarthy has said that placing the Tailteann Cup decider on the undercard of the All-Ireland final was never a serious option.
The first-ever champions of the new competition will be crowned on 9 July at Croke Park, a match that RTÉ will screen live, with the All-Ireland Hurling final taking place a week later and the football decider on 24 July.
McCarthy, however, said that club commitments and the all-conquering beast of All-Ireland final day would have proven detrimental to the second-tier competition.
"It would have kept a lot of clubs out of action for an extra two weeks. The two teams that get into the final, and arguably the semi-finals as well, because you'd have to bring them forward," McCarthy said.
"So we decided, that no, we would do it…but also, putting something up against the All-Ireland final, it's not going to get the spotlight it deserves perhaps.
"Given that this is the first year, it's a new competition, we wanted it to be a standalone as much as possible. The two All-Ireland finals are like the Super Bowl. They drown everything, don't they?"
Much has been made of the GAA's decision to split the early rounds into northern and southern sections, but McCarthy believes a draw that threw up games like Cavan and Down and Laois and Westmeath were sound justifications of such a move.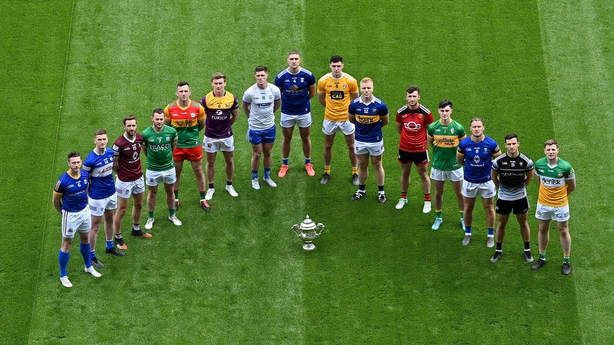 "That's an argument," McCarthy answered when asked would an open draw have been a better option.
"But there's also an argument of reigniting local rivalries. And so as a result of the draw, you now have Down and Cavan. You have Wexford and Offaly coming back to have a second tilt at each other. Repeat pairings, yeah, but there's an excitement in it.
"The alternative might be, for instance, and I'll take Waterford as an example, [they] might have to travel to Sligo. Would that excite anybody?"
McCarthy also confirmed that New York's bye to the quarter-finals was a logistical decision with a two-week gap to the semi-finals - should the American side advance - proving vital.
"That's logistics. They wouldn't have been able to travel, play a match, if they won, come back the following week. They have to be given the two-week break, so that was it. It was purely logistics."
Eleven of the 17 competing counties in the inaugural Tailteann Cup have won All-Ireland honours since the tiered championships were introduced in hurling.
McCarthy has witnessed first-hand how hurling teams have embraced the tiered system, and he is hopeful that football sides will follow their lead.
"There's potential for some team to grab this by the scruff of the neck and march through the summer and have a great summer with it, but if they were still with the qualifying, it could have been for instance Waterford being pulled out against Mayo. And that would have been demoralising for Waterford on one level.
We need your consent to load this YouTube contentWe use YouTube to manage extra content that can set cookies on your device and collect data about your activity. Please review their details and accept them to load the content.Manage Preferences
"So it's the fact that it's become tiered, become like the league, to a certain extent, because everyone says the league is a very good competition. It's our secondary competition. But that gives me a confidence about the whole thing. And I think playing in high summer as well, that's going to excite people."
Elsewhere, McCarthy said that there had been no advancements on negotiations for Croke Park to be a potential venue for a joint Ireland-UK Euro 2028 bid – and denied that the stadium had been blacklisted due to having a terraced end.
He also said that discussions are ongoing on ways to amalgamate the GAA with the LGFA and Camogie Association after support at various congresses, including the passing of a GPA motion at GAA Congress calling for it to be a priority.
A real breakthrough, the GAA president admitted, was unlikely until the end of the intercounty season.
"In terms of real movement on it, there hasn't been [any] given that all three of us are in the middle of our championship seasons."
We need your consent to load this rte-player contentWe use rte-player to manage extra content that can set cookies on your device and collect data about your activity. Please review their details and accept them to load the content.Manage Preferences
Listen to the RTÉ GAA Podcast at Apple Podcasts, Soundcloud, Spotify, or wherever you get your podcasts.