Dessie Farrell said the All-Ireland was not on his mind after watching his Dublin side dismantle Meath in the Leinster SFC semi-final at Croke Park.
The negativity of league relegation - something Farrell described on Sunday as a "humbling experience" - seems a million miles away now for the Blues after back-to-back demolition jobs in the provincial championships.
And while they'll face far tougher games from here on in, the nature of the performances in Leinster so far this year have been in stark contrast to last year's games against both Wexford and Meath.
Dublin raced out of the blocks at Croke Park and were five points clear before the Royals finally registered a score. It was all one-way traffic however as Dean Rock's penalty helped Farrell's side into an almost farcical 15-point lead at half time.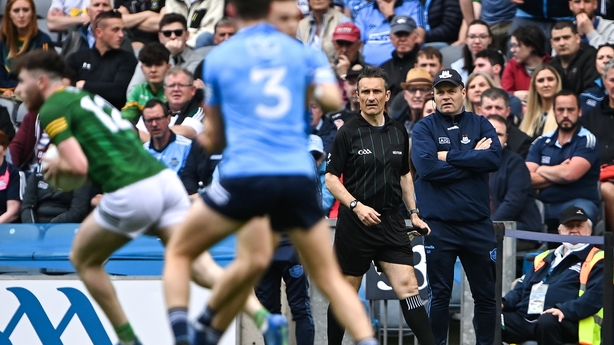 A Jordan Morris penalty in added time at the conclusion of the game meant the gap ended up at 13, and it means a Leinster final date with Kildare for Dublin now.
"We're pleased with the performance," he told RTÉ's Sunday Sport.
"From our point of view, with the National League we had, it's good to put back-to-back performances together. The consistency throughout the 70-odd minutes, on both occasions, was good.
"We stepped off a little bit in the second half today but overall [I'm] happy."
Asked about where he thought Dublin were now in terms of the race for Sam Maguire, the 1995 All-Ireland winner added: "It's not about All-Irelands for us, I can assure you.
"Our performance through the National League was a very humbling experience for everyone involved and at this stage it's about game by game for us.
"Collectively we played more like a team than we had done through the league. That's good to see, but it's still early days and we won't be getting ahead of ourselves.
"It's always fairly difficult to assess when there's a fairly substantial difference on the scoreboard. There's elements of the performance that we'll probably drill into while there's others we can discard.
"It's not [something you want to see]," Farrell said of Mick Fitzsimmons late sending off, which saw Meath awarded a penalty.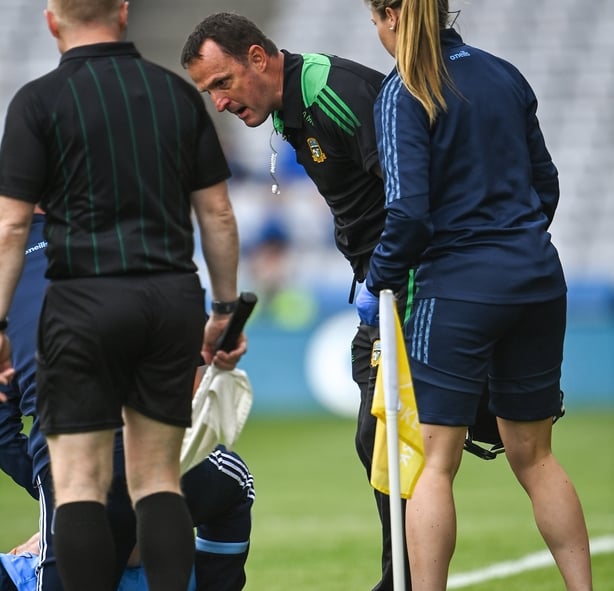 "It's something we'll review in the tape. Overall we're happy. Any day you play a Leinster semi-final against Meath, a very proud county with a great tradition, and you beat them convincingly you need to be happy.
"Job done today, and we'll look forward to a massive step up in the challenge that awaits us in two weeks' time. There's a huge momentum around Kildare football at the minute.
"The management team in place are huge favourites for all Kildare supporters; icons of the game. There's great spirit, energy and passion around the team now.
"They've beaten us in the league in Newbridge. They looked comfortable that day and were deserving winners, so they'll be coming to Croke Park in two weeks with very high expectations and we need to rise to that challenge."
For Meath manager Andy McEntee it was a case of failing to get close to Dublin once more, as he said his team were never in the game.
"It was gone beyond us before we knew it," he said.
"We felt we prepared well. When you've plans and ideas and they don't happen, it's hard to put your finger on it.
"The scoreline is the scoreline so you've got the face facts; that's another big beating. You're hoping fellas have the fight in their stomach, and they showed a certain amount of it in the second half.
"But it's a little easier... you say, 'are Dublin playing at the same pace in the second half when you're 15 points up?' It's hard to know."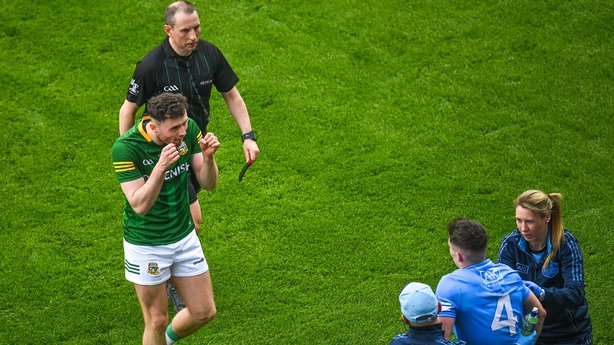 Reflecting on the two red cards for his side, handed out to Jack Flynn and penalty scorer Morris, McEntee added: "The one in front of me [Morris] was a bit laughable, to tell you the truth.
"If a young Dublin player, when they're ten or 12 points up, thinks it's worth taking a dive when he gets a slap on the chest... it's something that is creeping into the game and it's disappointing.
"I didn't get to see it back but it happened right in front of me. I could hear the slap on his chest. Is that sending off? Maybe it is, I don't know."
Meath now head for the qualifiers with the likes of Mayo, Armagh and All-Ireland champions Tyrone all potentially on the horizon as they try to regroup and reach the All-Ireland quarter-finals.
"It's a big challenge for management and big challenge for players, so we'll just have to see," said McEntee.