At the time of his forced early retirement through injury Brian Flanagan told the media that one of his biggest regrets was not winning a Leinster senior title with Kildare.
Nearly eight years later and the wait for the Lilywhites still goes on, but Flanagan, who is currently preparing his Kildare Under-20 footballers for Saturday's All-Ireland final against Kildare, says things are going in the right direction.
"There's been a lot of progress made in the last few years," he points out.
"Leinster, we haven't been as competitive as we would have liked but we're beginning to get there. There's a couple of things that have to take place, a couple of steps you have to take to be ultra competitive with Dublin in Leinster final.
"That meant bringing through successful underage teams and schools teams, as well as getting the senior team competing in Division 1 [of the league], which they did this year.
"A lot of those building blocks have been put in place and I do believe that Kildare will be really competitive in Leinster over the next while."
A victory on Saturday would see the Lilies claim a second title at the grade in five years. Added to that Naas CBS's All-Ireland victory in March, and it would appear that the county could be about to return to the glory days of the turn of the century.
"The development squads have worked really well," he adds.
"Johnny Doyle and Paul Divilly are putting huge work in and we're really beginning to see the fruits of that coming through at minor and Under-20 level.
"We've really got our house in order and we want that to continue, we want it to bring success, but we need to keep our eyes on the prize in terms of this weekend."
The Kildare seniors also have a game this weekend - a Leinster semi-final against Westmeath - although the majority of pundits still have them ranked second of the four remaining teams in the province after Dublin.
Flanagan though says he has an excellent relationship with the senior management team, led by Glenn Ryan.
"The new senior management in Kildare have been extremely clear with myself and the minor management team since they've come in," Flanagan continues.
"[They want to] build a unique identity and a self belief in Kildare. A want and enthusiasm to play for the team and to win things for Kildare football.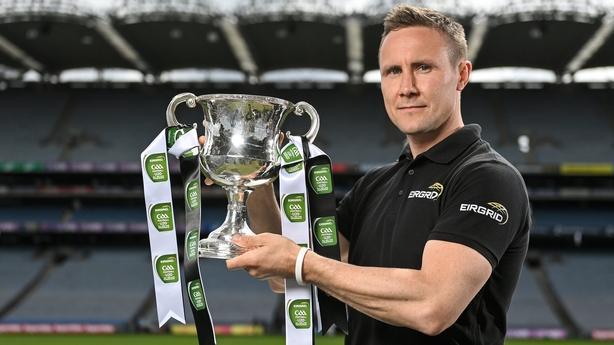 "Glenn has been brilliant and he has given us huge support throughout the year, as have Johnny (Doyle), Dermot (Earley) and Anthony Rainbow.
"They're doing their best to form that identity and feed it down into the underage."
Such is the conversation about the Kildare senior team, Flanagan is asked if development of players for the senior team is the more important part of his job, rather than winning championships at underage.
"It is a developmental grade and we're well aware of our role as managers and coaches at this level," he acknowledges.
"That's to bring players through and educate them around all the aspects that are required to be a senior inter-county footballer.
"While success is brilliant, and this week the focus is solely on winning the match, at a higher level fundamentally we're looking to bring through senior inter-county footballers that can contribute to the Kildare senior team over the next couple of years."
Follow our live blogs of the Kildare v Tyrone All-Ireland U20 final and the Kildare v Westmeath Leinster Football Championship match on RTÉ.ie/Sport and the RTÉ News app with live commentary on RTÉ Radio 1