It has been a busy few months, even for a trailblazer like Maggie Farrelly.
In November, she became the first woman to ref a men's senior club county final when she took charge of the football replay in her native Cavan.
In February, she was the first female referee for an Allianz Football League clash (Leitrim v London) and also took the whistle for the Division 3 encounter between Longford and Wicklow in March.
During the Ulster SFC championship she has been a lineswoman and sideline official.
"Extremely satisfying," she tells RTÉ Sport . "There have been a number of firsts but they are opportunities I have been preparing for and wanting to get, like any other referee at this level.
"Refereeing the county final was a huge honour for me, and then being invited onto the national referees panel was another great milestone in my own refereeing pathway.
"It's been a busy league campaign, whether it was refereeing or out doing the line or being on standby and so on. It's given me a great taste and a great flavour of what's expected of an inter-county referee.
"You're never going to get the All-Stars for being a referee and you're going to have good days and bad days but it's about being able to outweigh the bad days and to learn from those negative experiences."
Farrelly has enjoyed being a sideline official and lineswoman- "You're not giving a running commentary for the referee 'That should have been this or that should have been that'. You're their eyes and ears when needed" - but admits taking charge of a senior championship game is next on her bucket list.

"Yeah. I just have to see out the year and see how I get on. We'll just have to wait and see what happens and see where the next level takes me."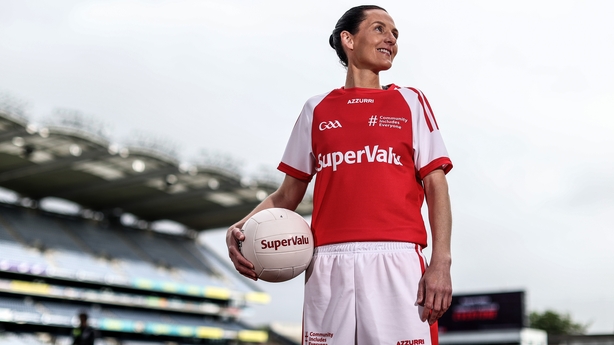 Despite her achievements, Farrelly, who also reffed the 2014 All-Ireland Ladies final Final between Dublin and Cork. doesn't necessarily see herself as a role model – she doesn't know of any other women who have followed her into officiating men's games yet.
"I probably don't see myself as a role model. I see myself as someone who wants to do something that somebody else is doing in terms of refereeing," she says.

"I know there are a lot of girls reffing ladies football in my home county but none are refereeing the men's game.
"But I do understand that a wee bit of responsibility comes with being the first. You're setting the scene for others to follow, and as we can recall, the 20x20 campaign was built on being visual. If my story creates an opportunity for somebody else to follow, sure why not?"
Farrell, who used to play camogie and still plays football, revealed that she had never planned on becoming a referee, until her club Laragh United found themselves in a bind.
"I never put it on my wishlist. Coaching has always been my passion and I was involved in coaching in my club," he said.
"It so happens that the county board had put in a bye-law at the time for each club to put in a ref because there was a recruitment drive on and there wasn't a sufficient number of referees to officiate.
"I was asked by my club chairman and with that then, I said 'I'll help out here, do a few underage games' and I thought that was as far as it would go. I didn't envisage for this journey to go this far but as it transpired, I ended up reffing adult football and was nominated to go onto the provincial referees academy and then onto the Ulster panel and national support panel.
"Starting out, it was just underage games. You have the appointments committee and they appointed me to games. They felt I was good enough to move up and ref adult games and then up to reserve and championship football.
"I don't feel as though I've encountered opposition. I don't feel as though there's been any barriers placed in front of me to participate as a ref. The Cavan county board has been very fair and have included me throughout my career path."
"When you're going to referee a game you shouldn't be subjected to abuse. If that happens, it should be dealt with accordingly"
The culture of respect for referees and their decisions in Gaelic games is often negatively compared to sports such as rugby. Farrelly believes no official should have to put up with abuse - from players, officials or fans - but she thinks it's just as important to be able to handle and report such incidents as they arise.
"It's part and parcel of our game," she says. "That's what accepted, nearly from the bottom up. But it's not just in Gaelic games. It's across the board in a lot of sports, and not just in Ireland and across the world.
"When you're going to referee a game you shouldn't be subjected to abuse. If that happens, it should be dealt with accordingly. We have a rulebook there to guide us and we have a committee in charge to deal with all of those issues. But unless it's reported it can't be dealt with.
"It's nearly the expected norm to be abused in some way but it's being able to deal with that, being resilient and confident and being able to reflect back on things you could have done differently.
"Communication [with players] is important but you're not giving a commentary on every decision you make. There's no harm in a player asking a question but there's rules to be implemented. So if players are challenging your authority, there's a different way of dealing with it then too.
"You learn from the positives and you also learn from the areas of improvement. At the end of the day, you only have a second or two to see something, to decide on what you're going to do and how you're going to do it."