"That's one of the things I'm good at. Stopping a guy from playing and taking him out of the game".
Collins Ugochukwu, originally from Nigeria, on what he brings to Gaelic football. In this year's O'Byrne Cup, Ugochukwu made his debut for Laois. As for now, he has opted off the O'Moore panel but is still very much involved with his club Courtwood.
Still only 25, you sense there is more to come in the Ugochukwu story, a continuation of a sporting life that has already encompassed a professional soccer career in the UK.
Speaking at the launch of SuperValu's #CommunityIncludesEveryone campaign, this adopted Irishman explains how the onset of Covid brought about a greater immersion in Gaelic games for somebody whose first love was soccer.
Ugochukwu arrived in Newbridge, Co Kildare as a three-year-old. His sporting ability was there to see from an early age. Newbridge Town took notice. A spell with Bohemians in the League of Ireland followed, before the move to Hibernian in Scotland. A further move saw him sign for Crawley Town, south of the border.
Reflecting on how he adapted to life as a professional footballer, Ugochukwu said: "It was good. It was tough because I was quite young going over to Scotland playing football and I was living in digs and all that stuff. It was quite a change, obviously, not having your parents around, not having any family members around.
"It was just me trying to achieve my goal, really. It was quite tough at the start but the boys over there were like my second family. They made me feel at home and were great. The staff and everyone was helpful.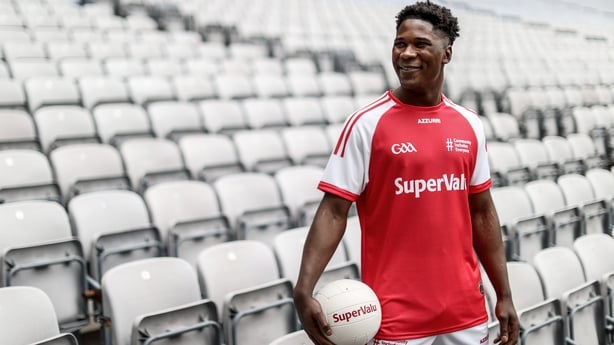 "I got to come back home more often than I was actually allowed to which kind of helped. That was a big thing for me really."
March 2020. While back home in Ireland Ugochukwu was waiting on a new contract with Crawley, hoping to prolong his career in England. The spread of the Coronavirus resulted in a shutdown of the Football League.
"I just thought I'd give it two months and hopefully things would pass and I'd be back over," he recalled.
"But then sure we were in lockdown for two years."
There was to be no return. Ugochukwu, his partner and young family were back in Ireland for good, this time in Co Laois. An opportunity arose to train with the local GAA club. Courtwood would soon have a new asset within their ranks.
By his own admission, Ugochukwu was "very rusty, very, very rusty" when reacquainting himself with the code he first took up as a 13-year-old in Newbridge. He subsequently featured on minor-winning teams for local side Sarsfields.
It wasn't long, however, before he made people sit up and notice with a marking job on Portlaoise's Gareth Dillon.
"I try to get involved in the game as well but I try to make sure the man I'm marking doesn't get anywhere either. And I really do enjoy that"
"I didn't really know much about Gareth," he said. "Now, after being in with the county team with him, he's a lovely lad and a great, great player. I just went in there and said, 'Right, I'm going to stop him from playing and hopefully it goes the way I want it to go because I know how good he is and how threatening he can be when he gets going'.
"When I got to the pitch and I saw, oh, okay, this fella is quite good so I'm just going to have to stick with him as much as possible. It kind of went our way, thank God. Like I said, he's a great player. It wasn't as easy as it might have looked, it was tough."
"That's one of the things I'm good at. Stopping a guy from playing and taking him out of the game. Sometimes that takes me out of the game but I'm happy to do that for the team because if a lad like that gets going, they can be hard to stop. I like doing that because we're all on a team. If we win, I win, so I'm happy. It doesn't matter about individuals. I try to get involved in the game as well but I try to make sure the man I'm marking doesn't get anywhere either. And I really do enjoy that."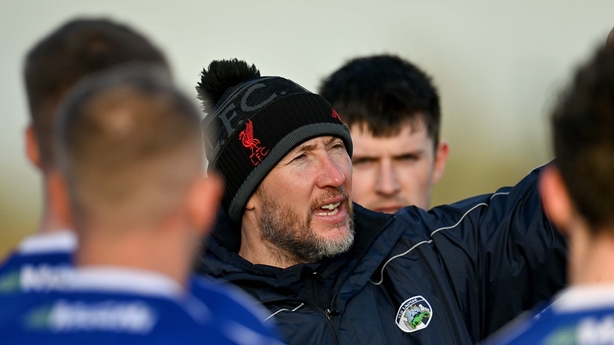 From there new Laois boss Billy Sheehan sought out this 'disruptor'.
"I was shocked. I remember when my Courtwood manager messaged me saying Billy Sheehan was looking for you to be involved this year, I was like 'Billy, are you sure now? You know I only started playing this year' and he was like 'yeah, I've seen you play, you're okay.'
"I was like 'Are you sure you don't want to give me another year and see then?' but Billy believed in me and I was like 'If you believe in me, why not? I'll give it a shot'. And now I'm here talking to you guys.
"Billy started from scratch with me teaching me the basics, and that helped my game a lot. I learned a lot under him. I was quite rusty and it took a while for it to come back and I'm still learning now. It was more the skills part that I found tough, really.
"I'm working on it every day with the boys back in the club so I'm improving. Hopefully I can improve to the standard I want to get to so I can achieve something. I'm getting there so hopefully in one more year I'll be flying it."
Ugochukwu occupied the corner-back berth in his few appearances for Laois. For personal reasons, he doesn't know whether he'll be involved in the Tailteann Cup, but would like return to the county scene in the near future.
"I still keep in contact with Billy and the management. We're still very close. Hopefully when the personal thing has been sorted out I can get back playing with Laois. I don't know if it'll be this year but hopefully next year I'll back with the county team."
The focus, for now, is on the club and learning more.
"I played corner-back for Laois. I played wing-back with the club team and now with the club they've put me into midfield. I enjoy playing different positions, it's good to be diverse and it's nice to get to play in every position because wherever they actually need you then you can play there. I quite enjoy being moved around a lot and not sticking to one position all the time. It's nice to try something different."
"Gaelic has always been great and welcoming for me because I feel a lot of clubs do want lads from other cultures to be involved"
Ugochukwu has praised the GAA for its welcoming attitude and would love to see more people with different backgrounds and different cultures joining the sport.
"Hopefully, with me joining in, other people in all different kinds of races can get involved. I was quite lucky with Sarsfields, they brought me in, they made me feel welcome and happy straight away. So the clubs have an important role, they have to pull lads in and welcome them in.
"I have obviously experienced some racial stuff but I've never been involved with racial stuff in Gaelic, luckily. Gaelic has always been great and welcoming for me because I feel a lot of clubs do want lads from other cultures to be involved. Some lads don't try to reach up to the top level.
"After underage, they stop playing. But no, racism has been no problem for me. Listen, there's racism everywhere. Some people would do it without even knowing it but I haven't seen it in Gaelic, which is great."
We need your consent to load this YouTube contentWe use YouTube to manage extra content that can set cookies on your device and collect data about your activity. Please review their details and accept them to load the content.Manage Preferences
Listen to the RTÉ GAA Podcast at Apple Podcasts, Soundcloud, Spotify, or wherever you get your podcasts.