Rory Gallagher masterminded the biggest shock of the 2022 football championship thus far as Derry beat the All-Ireland champions in Omagh - their first championship win over Tyrone in 16 years.
An animated figure on the Healy Park sideline throughout, the Derry manager was cool and calm after the final whistle as he discussed his side's 1-18 to 0-10 demolition of Tyrone.
The former Donegal and Fermanagh manager took over Derry in 2019 after they had earned promotion out of the bottom tier of the Allianz League and, while they were pipped for one of the two Division 1 spots this year, there has been noticeable improvement for one of the sleeping giants of Ulster football.
"They've had a tough time in Ulster, and it's not that long ago they were in Division 4," Gallagher told RTE Sport.
"We just spent a lot of time together and committed really well together. We beat Tyrone today and were better today but they have been an outstanding team over the last 25-30 years.
"They're something I certainly aspire to and try to learn a lot from ther commitment to each other."
Derry have not won an Ulster title since 1998 and will have to overcome Monaghan in the semi-finals and then either Cavan or his former side Donegal in the final.
While Gallagher was not looking that far ahead, he was also determined that today's victory, convincing as it was, not be a flash in the pan.
"It's only a coming of age if we perform the next day but I have no doubt we'll stay level-headed and get on with it. But we'll enjoy today for what it is.
"Whether Tyrone are All-Ireland champions or not, they've had the Indian sign over these boys and given them a couple of severe hammerings, in 2015 and 2016.
"We'd like to think, even though there are a lot of those players playing, this is a new team, this is a new beginning, and we're enjoying it," he added.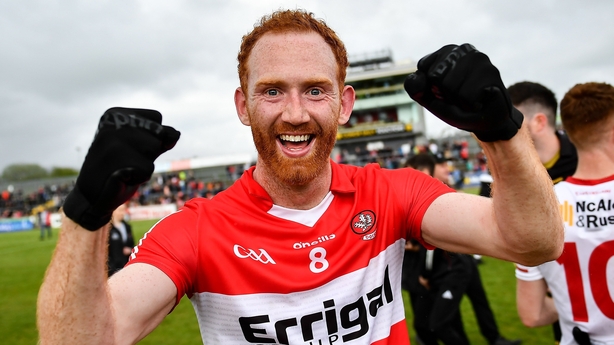 "We're into the hat now. Monaghan had an easy win yesterday and they'll be watching us. So it's just the start."
Derry started well and once Tyrone went down to 14 men, they took complete control and never allowed the All-Ireland champions get close.
Gallagher put this down to teamwork, rather than any massive tactical stroke.
"Just to play as a team, be absolutely united and do everything together," he replied, when asked what was the masterplan.
"Just putting the team first, with or without the ball. I'm very impressed with the way they have committed to each other in the last 18 months.
"Didn't particularly enjoy the first eight or nine months but together with the county board we just kept building on it."
On his own animated behaviour on the sideline, Gallagher said this was only to communicate to his players how committed he was.
"I want to show our players what it means to us. We want to come here and fight and scrap for every ball. that's the bottom line."
Conor Glass treasured the post-match scenes after waiting a long time for good days with supporters in a Derry jersey #rtegaa #sundaygame pic.twitter.com/qd4TYtwM1L

— The Sunday Game (@TheSundayGame) May 1, 2022
Midfielder Conor Glass returned from the AFL dreaming of days like this and, after the restrictions of the past two years, he was revelling in the post-match scenes of jubilation.
"It's extra special with the fans on the pitch. It's been a tough two or three years with Covid but it's great to see the smiles on the faces, not just the older generations, but the younger ones getting photos and things."
Same as his manager, Glass was confident travelling to Omagh that Derry could get a result.
"We knew we had the confidence coming into the game. It's a different crop of players, so we were full of confidence and no better way to show it than against the All-Ireland champions on their home patch so, feeling pretty good."
Birthday boy and man of the match Conor Doherty feels Derry's win over Tyrone was years in the making. #rtegaa #sundaygame pic.twitter.com/5QGoHxbBi7

— The Sunday Game (@TheSundayGame) May 1, 2022
Birthday boy and man of the match Conor Doherty paid tribute to Gallagher and his management team.
"It's three years in the making, when Rory and Enda [Muldoon] and Ciaran [Meenagh] and Pete [Hughes] stepped in. Look it's a really great day for us but it's all about kicking on from here now," he said.
"You treat Tyrone with ultimate respect, they're All-Ireland champions. There's been lots of planning gone into it and today thankfully it came off.
"Hopefully it's the start of something now and we'll go away tonight, come back tomorrow and kick on for Monaghan then."