The prince and the king.
This afternoon, the most successful hurling manager of all time will lead a team coached by his former captain - the most decorated player in history.
Brian Cody won three All-Ireland titles as a defender with Kilkenny but his success on the sideline has made him a legend of the game. This is the former primary school principal's 24th year in the hot seat. The Cats have won 11 All-Irelands, 17 Leinster championships and nine league titles in that time.
Henry Shefflin was the star forward on Cody's greatest team, skippering Kilkenny to the first of their four All-Ireland wins in a row in 2007. The three-time Hurler of the Year won 10 in all and is the only player in either code to have been named an All-Star 11 times.
After leading his home club Ballyhale to two All-Ireland titles, he would be among the frontrunners to succeed Cody. But the great man doesn't look like retiring any time soon and so Shefflin surprisingly took the reins in Galway.
In what is Henry's first season as an inter-county boss, the hurling world has long been looking forward to his team's Leinster SHC meeting with his native county.
None more so than Ballyhale's Joey Holden, who retired from Kilkenny duty last winter. He is one of the select few to have been managed by both Shefflin (with Shamrocks) and Cody. He has no doubt that the younger man's approach has been shaped by his long-time manager.
"They both demand the best out of you," he told RTÉ Sport. "They demand that you give it your all. They have similar attitudes in regards to your work-rate, helping your team-mates and putting the ball in to the best area.
"They'll be using the teams around them on the day but they would be a similar style on the sideline. Though ultimately it's down to the players to take on the message and prove that they're deserving of one of those first 15 places."
Cody is famously unsentimental when it comes to team selection. Shefflin might have been the biggest star in the game but he only made substitute appearances in the 2014 final and replay.
When the then-36-year-old Shefflin retired the following March, Cody paid what for him passes as an effusive tribute: "He got absolutely everything out of himself. It's not everybody can say that."
The presumption would be that Shefflin – 24 years younger – would be more of an arm-around-the-shoulder manager than his former bainisteoir. But Holden insists there's no room to try a little tenderness when Leinster and All-Ireland titles are on the line.
"An inter-county team is different. You have to be a bit ruthless. The sentimental part can be used to encourage players but it goes out the window if that person isn't performing.
"With club, you're limited to a certain amount of numbers. You're in there because you're representing Galway and they need their best 15. If you're not performing then there's another man ready to take your place."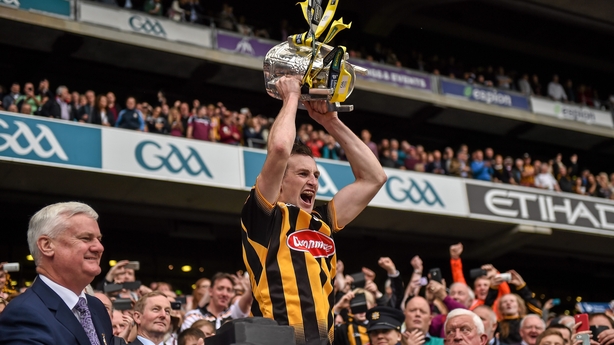 Holden was the last Kilkenny captain to lift Liam – "I'm hoping that title will be taken off me this year" – back in 2015, which feels like a century in Cat years.
Cody's title-winning teams all triumphed with a focus on commitment, persistence and talent. Kilkenny were slower than most of their rivals to embrace the possession-based approach now in vogue but have adapted in recent seasons. Holden thinks Shefflin is trying to blend the best traits of his triumphant Ballyhale teams with a modern approach.
"All teams are doing bits of tactics now. Henry will be using his youth and maybe his connection to Ballyhale and the way we played to his advantage.
"That attitude, that grit. No panic on the ball. Composure mixed with a will to win. Attitude and speed. All of them mixed in is what you need to combine to get the best out of your team.
"We had our buzz words and things we focused on, Galway might have their own things they'll be focusing on.
"But I'm sure the team Brian has around him, they will all have ideas [as well] and be trying to get the best performance from the XV they start with."
Another recent retiree, Tipperary great Padraic Maher, saw clear Kilkenny characteristics in Galway's recent draw with Wexford.
"They were getting bodies back," he said. "Kilkenny used to always do that.
"People used to say Kilkenny weren't tactical, they used to just call it work-rate. They were getting bodies behind the ball, turning over the ball and getting it back up to the forward line, so I suppose that's similar enough to the Kilkenny/Brian Cody style.
"I'd imagine Henry Shefflin will have a lot of the same traits as Brian Cody has. He managed him for so many years and it was so successful. The same demands will be asked of the teams and the players."
In their first season in 14 without Joe Canning, 2018 champions Galway might have been expected to need a couple of years of rebuilding. But, as former Tribesman John McIntyre told RTÉ Sport recently: "Because he [Shefflin] is a winner there is an expectation, realistic or not, that Galway are suddenly contenders for the All-Ireland. It's not as simple as that. Galway are in more transition than people would have thought."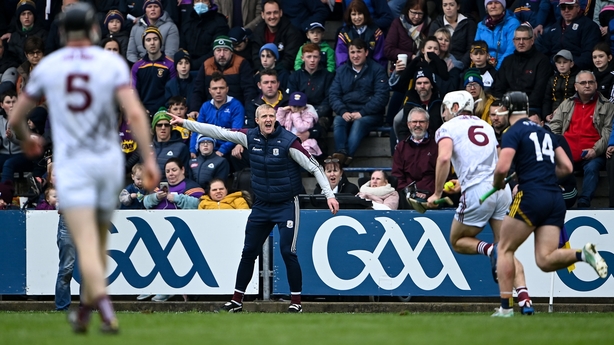 Blowing a six-point lead against a Wexford team that then lost to Dublin could be read as confirmation of that. But Holden believes there is still plenty of potential in Galway for his club-mate to work with.
"There should be plenty of young players there," he said. "They're so competitive underage. It's just getting them in and building confidence.
"I was very impressed with [Jack] Grealish the last day against Wexford. He put in a phenomenal game. They need the likes of [Evan] Niland to bring his club form into the inter-county team.
"You have to get the belief and the trust of the players. They might have one bad game but give them the opportunity to prove that they are willing to step up and learn from their performances. That can all click into place quickly with a couple of wins.
Kilkenny's new-look defence has fresh faces in the likes of David Blanchfield and Mikey Butler but Shefflin's knowledge of their attacking threat is about as inside as you can get
"With Kilkenny, Liam MacCarthy is always the aim. Brian is the man in charge and you can bet your bottom dollar that winning it is all that will satisfy him."
Kilkenny's new-look defence has fresh faces in the likes of David Blanchfield and Mikey Butler but Shefflin's knowledge of their attacking threat is about as inside as you can get. He managed Ballyhale's TJ Reid, Adrian Mullen and (his nephew) Eoin Cody to back-to-back All-Ireland club titles in 2019-20.
Mullen (22) and Cody (21) have hit the ground running in championship, scoring a combined 0-08 and 1-06 respectively in the hefty wins over Westmeath and Laois.
"Sometimes I forget what age they are," said Holden. "They're young lads, they're learning all the time, but they have a great attitude and great ability to back it.
"In these tough games, they're the lads that you want to see stand up. TJ has been standing up a long time and he's going to stay there. It's the other lads that when the pressure comes you hope that they're going to stand up.
"When you get into these difficult games you're not going to dominate for 70 minutes. When you're going through that rough patch, who puts in that hook, gets that goal or puts in a block?
"We've seen Eoin and Adrian doing that for the club and now they have to transfer that into the heat of an inter-county championship battle. Hopefully they can keep performing as well as they have done so far."
We need your consent to load this YouTube contentWe use YouTube to manage extra content that can set cookies on your device and collect data about your activity. Please review their details and accept them to load the content.Manage Preferences
Can Galway win today without the injured Conor Whelan?
"It's hard to call," ex-Waterford boss Derek McGrath told the RTE GAA podcast.
"Galway laid down a marker in the league against Limerick and it has to be a similar approach this Sunday.
"For me, motivationally, Galway have the advantage. But in terms of the quality they have, maybe Kilkenny have.
"The intrigue about the sideline is perfect from a management point of view. All the pressure and focus seems to be on the two boys and you can prepare very diligently behind the scenes. It makes for a great game."
Holden thinks that the teams renewing acquaintances in the Leinster final is far from a foregone conclusion: "As we saw with Dublin and Wexford, it can go anyway. I think there will be some other shocks along the way."
But either way, he is relishing what should be the first serious examination for Cody's rejuvenated outfit.
"Kilkenny's championship really kicks off now. It's going to be a good way of seeing exactly where they're at.
"Going up to Salthill is a massive challenge, against a Galway team who are always strong there. Conor Whelan is a big loss but it'll give Kilkenny a big opportunity to test themselves."
Watch Galway v Kilkenny in the Leinster Hurling Championship on RTÉ2 and RTÉ Player on Sunday from 1.15pm with live blog on all games RTE.ie/Sport and RTÉ News app. Cork v Clare in the Munster Hurling Championship is available to stream worldwide on GAAGO.ie.