Galway versus Kilkenny, and Cork versus Clare - both massive games for all four counties. But the game I am most looking forward to is Galway v Kilkenny. Not so much for the on-field activity, but for how interesting the off-field activity is going to be.
The greatest manager of all time, facing one of the greatest players of all time, if not the greatest, but definitely the most decorated. I would imagine if you asked any one in Kilkenny nine months ago could they envisage Henry and Brian taking each other on on the sidelines, they would have said 'no chance'. But there you go.
I have savage time for Henry. I remember in 2012, my debut year, I got man of the match against Antrim in the qualifiers. The following day, the Irish Daily Star newspaper also awarded me man of the match. That meant, at the end of the year I got my ticket to 'The Star Awards'. They used to take place in the Croke Park Hotel, more casual than the All-Stars, and more importantly, a free bar!
Anyway, I remember waiting around to be called in for my award. We were all lining up outside, and it was my first year so I didn't really know anyone. Next thing, Henry Shefflin came up, stuck out his hand and introduced himself to me and started chatting away.
I couldn't believe it. Why would Henry do that, and not hang around with his own boys? Anyway, he won't remember it, but I will never forget, and what it did do is teach me a lifelong lesson. It taught me that whoever you are, or whatever you have done or haven't done, be humble.
When you are in this game of giving opinions and talking about the game, people come up with their own idea of what people are like, when they don't even know them. They dish out plenty of abuse based on you giving an opinion, but no matter what Henry has ever said or will say, I know what he is really like.
Considering his stature, he didn't need to go into management. By doing that he is leaving himself open to fail, something that he never did. But he doesn't care about his name.
Between doing corporate events, RTÉ which he was doing the last few years, columns that he was doing etc, wouldn't it have been easier to stay doing that rather then putting his neck on the block, on the road four nights a week and deal with everything that goes with it?
So fair play to him. He is a hurling man who loves the game, and enjoys what he is doing and facing new challenges.
Now, I would suspect deep down he would have thought that all may have been with his native Kilkenny, but as there is no sign of Brian going anywhere, why not go somewhere else?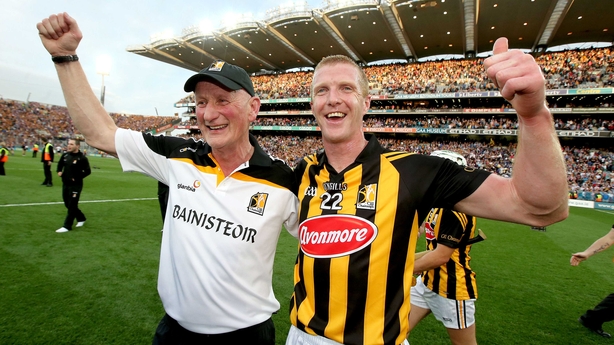 His counterpart will always be the boss. Cody could have left and kept his decorated career. Many people have said he should have gone, should be gone, or should be going. Irrelevant who is right or who is wrong, you can't but admire the man. Rather than go down the road of what he won, let's look at what he could have done.
He had the best generation of hurlers that ever graced the hallowed soil of Croke Park. When that came to an end, he could just have slipped away. Why didn't he? Because he loves it. He loves the challenge, he loves finding new players, and he lives and breathes Kilkenny hurling.
So what have they both got it common? Competitiveness. Challenges. Courage. And cojones. They take the bull by the horns, and go for it. They have both enjoyed some of the best days of their lives together.
They have had more conversations about Kilkenny hurling. Picking each others brains. Helping each other out. When you are manager, and captain, you have to have a different relationship than anyone else.
How friendly they are off the field these days now only they know. But what they will never forget is what they have gone through, together.
Henry, I suspect, wants to ensure they have no choice but to ask him. Brian wants to ensure he keeps it and that it's his decision when to leave
Is Henry Kilkenny's succession plan to Cody? I doubt it, because if he was I'd imagine he would be learning his trade under him. So maybe Henry wants to make the succession plan himself. How can he do that? Well, then go and prove yourself elsewhere.
A name, history, may get you in a position to land a job. It's up to you to prove you can do the job. And if you can't, you will be given the door. No matter who you are or what you have done.
Henry, I suspect, wants to ensure they have no choice but to ask him. Brian wants to ensure he keeps it and that it's his decision when to leave.
No matter which way you look at, Brian is the gaffer. Come Sunday at 2 o'clock, respect will be at the utmost, while both respectively strive to ensure that the other is going home with their tail between their legs.
It will be hard for Henry, very hard. But he knew this was going to happen taking the job, and he has a job to ensure the Galway are ready for Sunday. I have no doubt they will, and no doubt he is using some of the tricks that Cody has taught him.
We need your consent to load this rte-player contentWe use rte-player to manage extra content that can set cookies on your device and collect data about your activity. Please review their details and accept them to load the content.Manage Preferences
Listen to the RTÉ GAA Podcast at Apple Podcasts, Soundcloud, Spotify, or wherever you get your podcasts.