Clare were almost the forgotten team of the Munster quintet before their emphatic dismissal of their old foes in Thurles last Sunday.
The odds-makers had them pegged as the fifth team in Munster, aka last, the least likely to progress to the All-Ireland series.
As in 2021, their league form had served to dampen enthusiasm though it's increasingly clear that the hurling league, in its present guise, is as reliable an indicator as the horoscopes.
The low rating couldn't have been based on their 2021 championship. They beat Waterford in Munster, were done in by a highly contentious decision against Tipperary, knocked out Wexford and were pipped in agonising fashion by Cork, Patrick Collins making a stunning save from Tony Kelly to deny them victory at the death.
As Michael Foley observed on the RTÉ GAA podcast this week, had the ball broken another way last summer, Clare could easily have found themselves in an All-Ireland final. Dublin and Kilkenny, neither especially intimidating in their 2021 guise, would have been the only ones blocking the path to the decider.
Brian Lohan's determinedly low-key, waffle-free approach to managing Clare doesn't serve to generate publicity.
He is not inclined towards displays of giddy triumphalism in victory. He felt no impulse to give the media the boo-yah "ye wrote us off" treatment, acknowledging that it was logical that Clare would come in under the radar given their bye in week one.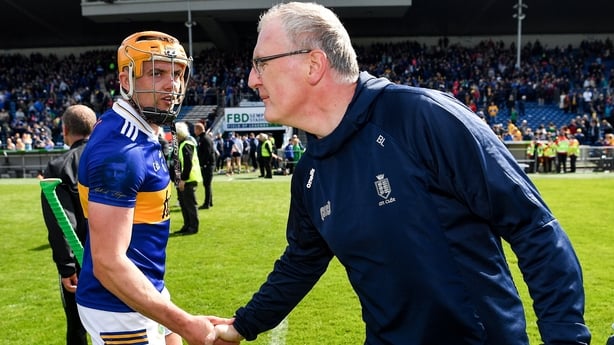 For two years, every attempt at profiling Lohan quickly got side-tracked down a Davy Fitz rabbit-hole. (We're stepping perilously close to that territory again, here...)
From the media's perspective, his first two seasons as Clare manager were dominated by his terrible relationship with his former team-mate, a situation not helped by the fact that they seemed to play Wexford once a fortnight during this spell.
Fitzgerald spoke publicly about the dispute on a few occasions throughout the two years and claimed he was angling for a reconciliation. The Clare boss took a different tack. Throughout 2020 and 2021, Lohan was at great pains not to acknowledge the then Wexford manager's existence.
Either way, in 2020 and 2021, Lohan conclusively got the better of the grudge match. Clare won the two big knockout championship games between the pair, plus the 2020 league meeting. Wexford did manage to snatch a late win in their 2021 league encounter, a match most notable for the 'close contacts' controversy in the aftermath - another episode which kept the Davy-Lohan narrative chugging along.
After the dissension of recent years, there appears to be unity in Clare behind the current regime. Lohan was pencilled in as Clare boss until 2024 on a three-year agreement last autumn.
He has the Ger Loughnane seal of approval, at any rate. In the glory days, Loughnane spoke in terms resembling a proud father of the "hatred" that Lohan used to nurse in his heart for any poor soul who had the misfortune to be donning a No. 14 jersey in his vicinity.
During the unseemly internal wrangles of 2021, the modern Godfather of Clare hurling had no trouble picking a side.
"What Lohan went through to become manager showed the absolute treachery of some," Loughnane told The Times last November, "To treat a man of that integrity like that, and to undermine him, was scandalous."
"Lohan is doing a fantastic job with what he has to work with," Loughnane wrote, when returning to the theme in the Star last month. "There are few more honest and committed than Lohan and it's no surprise that his team reflect his character. Lohan is a man of real steel and he's exactly the man Clare hurling needs now."
The admiration is mutual, it would appear. Lohan suggested Loughnane as the man to head up an independent review of Clare hurling in 2015, an intervention which deepened the rift with Davy, who took it as a slight on his father as much as anything else. As it happens, Lohan's backroom team contains former Galway All-Star full-back Sean Treacy, a selector with Loughnane during the latter's ill-fated spell with the Tribesmen in 2007/08.
Even by the standards of the 90s generation, there is a touch of idolatry in the way Lohan is regarded. His unimpeachable standing as a player reinforces this.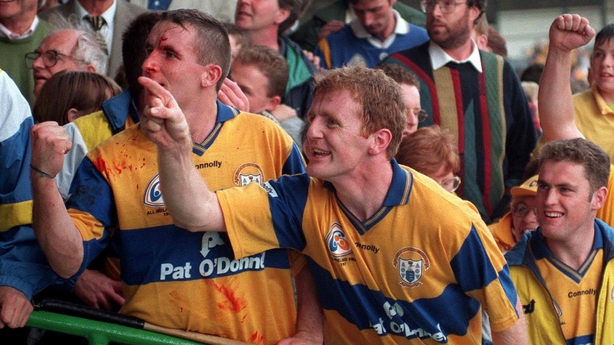 When Clare won in '95, the success was widely attributed to their conditioning and their charismatic gaffer prowling the sideline - more so than their hurling quality. However, there was little doubt about the stature of their defensive spine. Seanie McMahon at centre back and Lohan at full-back were the big pillars of the team and Lohan won the inaugural All-Stars Hurler of the Year award (which soon replaced the Texaco award as the primary individual award) in '95.
The fact that he has made an enemy in the traditionalists' bete noire Davy Fitz probably only serves to increase the reverence among a certain demographic.
Poring over the comments of past players and past team-mates, the word "respect" looms large. "Steel" is another. "Candid" and "direct" are also instanced.
His post-match exchanges with reporters are terse though not especially tense. Everything is very much in the Cody-vein, straightforward and commonsensical. Nothing particularly memorable or outlandish is uttered.
By far his most memorable interview was the 'Do-I-need-to-mention-what-everyone-is-talking-about-I-presume?' exchange following the James Owens penalty game against Tipperary in last year's Munster championship, which showcased Lohan's ability to remain calm and lucid - and tonally flat - while boiling with anger. It certainly bolstered Lohan's reputation as a man capable of cutting someone in two without raising his voice.
The heavy breathing and furrowed brow were intimidating enough. Damian Lawlor's tentative suggestion that one might have sympathy for a referee interpreting the fancy new penalty rule was given short shrift.
"Do I need to mention what everyone is talking about I presume? "The boos from the crowd were a reflection on happened."

Brian Lohan spoke about the penalty decision which was a factor in Clare's defeat today. pic.twitter.com/wJO0eVkaZF

— The Sunday Game (@TheSundayGame) July 4, 2021
Squinting from behind his glasses, Lohan comes off as effortlessly forbidding. Cusack Park possibly isn't decked out to accommodate Ed Sheeran gigs at present. But were Clare to lose a home championship game on account of a concert, something in Lohan's bearing suggests he wouldn't appreciate being informed of this.
Lohan isn't associated with any specific tactical template and Clare mixed it up well against Tipperary, the second goal the product of a precise short-passing move down the left-wing, the third being triggered by a long ball boomed into Peter Duggan.
The perception - possibly because of his fire and brimstone full-back play and his rancorous relationship with Davy Fitz - is that Lohan is a traditionalist at heart. But we're all tactics boffins now - even the traditionalists.
"Hurling previously was all about moving that ball quickly, getting it up the field as quick as you can, whereas now it's more of a possession-type game," Lohan observed on Clare FM after his new three-year deal was announced.
"But still, there is a place for moving the ball quickly. But it can't be as haphazard as it was in the past. There has to be a bit more thought going into the game now.
"That's a challenge. You have to keep up to speed with what other counties are doing and keep an eye on how they're playing."
The switch of John Conlon to centre-back, still hotly debated, is looking less a kooky experiment and more a masterstroke as time has gone on. Conlon won an All-Star at full-forward in 2018 and the consensus is that it remains his best position.
However, Clare now have Peter Duggan as the target man inside, with Conlon's re-imagining as a No. 6 a major success on the evidence of Sunday, at least.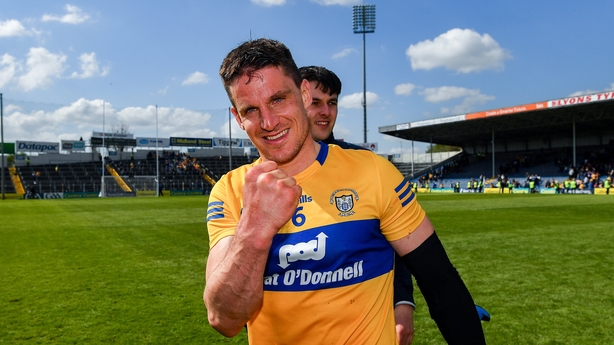 The return of the electric and often inspirational Shane O'Donnell could ignite their forward line. Better again, they know there's more in Tony Kelly after Sunday. Kelly oddly enough seemed to thrive in the absence of any star power alongside him in the forward line in 2020 and '21, as if the stage had been cleared for him.
His scoring stats were considerably more ordinary last weekend, with the likes of Duggan, Ian Galvin and Robyn Mounsey tugging back some of the limelight.
There wasn't a peep out of them going in but the summer could open up for Clare now. Tipperary are effectively buried and likely to be put out of their misery soon.
A Munster title is surely a worthwhile target. Clare are the only elite team in the province without one in the 21st century, the chaotic summer of '98 delivering their last.
The fixture schedule may work in their favour too. They have Limerick - highly likely to have sealed their progression by then - in the final round in Ennis. John Kiely's team haven't been averse to an Italian-style exhibition of 'phoning it in' when a game is of little consequence to them. We witnessed as much in Cusack Park in 2018 (an 11-point win for Clare) and against Tipp in 2019, not to mention their current attitude to the de-fanged national league.
Things could take on a different complexion after the weekend. Cork, after being brutalised by Limerick once again, might find the working conditions more to their liking against a physically lighter Clare team. Since the 2013 All-Ireland win, Clare's record against Cork is notably poor.
But should the form of last weekend hold, the prospect of a summer adventure stretches out in front of Clare and their phlegmatic manager.
We need your consent to load this rte-player contentWe use rte-player to manage extra content that can set cookies on your device and collect data about your activity. Please review their details and accept them to load the content.Manage Preferences
Listen to the RTÉ GAA Podcast at Apple Podcasts, Soundcloud, Spotify, or wherever you get your podcasts.
Watch Galway v Kilkenny in the Leinster Hurling Championship on RTÉ2 and RTÉ Player on Sunday from 1.15pm with live blog on all games RTE.ie/Sport and RTÉ News app. Cork v Clare in the Munster Hurling Championship is available to stream worldwide on GAAGO.ie.